Several players within the financial technology arena introduced new products and entered into various agreements in recent days. Please send news tips and feedback to news@snl.com. For other recent financial technology news, click here.
Payments
Comdata Inc., a subsidiary of FleetCor Technologies Inc., will now serve as Bill.com Inc.'s virtual credit card provider for its business-to-business payments. Comdata is a payments technology provider while Bill.com is a payments company.
______________________________
Universal Air Travel Plan Inc., an airline-owned payment network, and JPMorgan Chase & Co. partnered to allow airlines to accept Chase Pay as a payment and checkout option in their own apps and websites. Chase Pay is a mobile app and digital engagement platform for Chase customers with an eligible personal Chase Visa debit or credit card that allows them to pay online, in app and at merchant locations.
Banking and lending
First Tennessee Bank NA and Capital Bank, subsidiaries of Memphis, Tenn.-based First Horizon National Corp., launched new digital enrollment websites that allow their business clients to enroll in merchant services, get credit approval and shop for Clover point of sale system solutions. The service is powered by First Data Corp.
______________________________
Chicago-based BMO Harris Bank NA teamed up with AutoGravity, a vehicle purchase and sale platform, to enable AutoGravity customers to apply for loans at BMO Harris, through the platform.
______________________________
United Community Bank, a subsidiary of United Community Banks Inc., is rolling out a new digital lending platform provided by RCGILTNER Services Inc. for consumers and small businesses in Georgia, South Carolina, North Carolina, and Tennessee. The service will be available from the second quarter of 2019. Louisville, Ky.-based RCGILTNER is a provider of digital lending technology to financial institutions.
______________________________
Trovata, a California-based cash automation platform, is launching a pilot with Square Inc. and JPMorgan Chase & Co. The pilot platform will provide Square's Treasury team financial data in real time using JPMorgan's Treasury Services application program interfaces. JPMorgan Chase also led Trovata's seed funding round with a strategic investment in the firm.
______________________________
Mobius Capital Partners, a U.K.-based investment manager, selected Northern Trust Corp. to provide asset servicing and Integrated Trading Solutions to support its London-listed Mobius Investment Trust and Luxembourg Société d'Investissement à Capital Variable, the Mobius emerging markets fund. Northern Trust will provide depositary, custody, fund accounting and foreign exchange services to the investment trust, and fund administration to the emerging markets fund.
Insurance and healthcare
Aetna Inc. and Ascension, a faith-based healthcare organization, joined a pilot project applying blockchain technology to improve data quality and cut administrative costs associated with changes to healthcare provider demographic data. The pilot project, Synaptic Health Alliance, was launched in April by Humana Inc., MultiPlan, Quest Diagnostics Inc. and UnitedHealth Group Inc.'s Optum and UnitedHealthcare.
Trading and investing
Canada-based NetCents Technology Inc. launched its first software-as-a-service-based cryptocurrency processing platform with 50,000 merchants onboard.
______________________________
TD Ameritrade Holding Corp. teamed up with the Chinese social media company Wechat International Pte. Ltd. to bring financial market updates, research and investor education to its retail investors in the U.S.
______________________________
Parisian bank BNP Paribas SA will now use Fidelity National Information Services Inc.'s investment solution Cleared Derivatives Margin Advisor, a tool that enables sell-side firms, investment funds and institutional investors to better assess and calculate initial margin requirements on cleared derivatives portfolios.
______________________________
Coinbase Inc. has added Zcash to its portfolio of cryptocurrencies, which will be available for trading in most jurisdictions but will not initially be available for residents in the U.K. and the state of New York, according to a blog post. Zcash uses cryptography to allow users to protect the privacy of transactions.
______________________________
Vestwell, a digital retirement platform, and Bank of New York Mellon Corp. partnered to offer 401(k), 403(b), and employer-sponsored individual retirement account plans to BNY Mellon clients through Vestwell's digital interface.
Data and information management
Kalamazoo, Mich.-based AmeriFirst Home Mortgage Corp., a division of AmeriFirst Financial Corp. began using Servicing Digital, a Black Knight Inc. mobile product that lets users track the value of their homes in real time and provides an estimate of the wealth that can be built from their real estate assets. The service uses Black Knight's property records database, advanced analytics and automated valuation models to provide the insights.
______________________________
Mastercard Inc. and Microsoft Corp. are entering into a strategic collaboration to build a service to help people better manage and use their digital identity.
______________________________
Virginia-based RiskSpan Inc. partnered with S&P Global Market Intelligence Inc. to expand the capabilities of its software-as-a-service platform, RS Edge, which integrates normalized loan and securities data, predictive models and complex scenario analytics for commercial banks, credit unions, insurance companies and other financial institutions. S&P Global Market Intelligence is a division of S&P Global.
______________________________
Moody's Analytics Inc. launched Moody's Analytics QUIQspread, a software that enables financial institutions to automate the spreading of financial statements by using machine learning. The new tool integrates with Moody's Analytics CreditLens platform which lets CreditLens' users run financial statements through the QUIQ spread tool without leaving the platform.
______________________________
McKinley Capital Management LLC, a privately held investment adviser specializing in global and international growth equity strategies, is deploying IHS Markit Ltd.'s Enterprise Data Management Managed Service.
---
Technology, Media & Telecom


Broadband Only Homes Skyrocket In 2018 Validating Top MSOs Connectivity Pivot

Highlights

The segment stood at an estimated 23.6 million as of Dec. 31, 2018, accounting for 24% of all wireline high-speed data homes.

The following post comes from Kagan, a research group within S&P Global Market Intelligence.

To learn more about our TMT (Technology, Media & Telecommunications) products and/or research, please request a demo.

Mar. 20 2019 — The U.S. broadband-only home segment logged its largest net adds on record in 2018, validating Comcast Corp.'s and Charter Communications Inc.'s moves to make broadband, or connectivity, the keystone of their cable communication businesses.

The size and momentum of the segment also put in perspective the recent high-profile online-video video announcements by the top two cable operators as well as AT&T Inc.'s WarnerMedia shake-up and plans to go toe-to-toe with Netflix in the subscription video-on-demand arena in the next 12 months.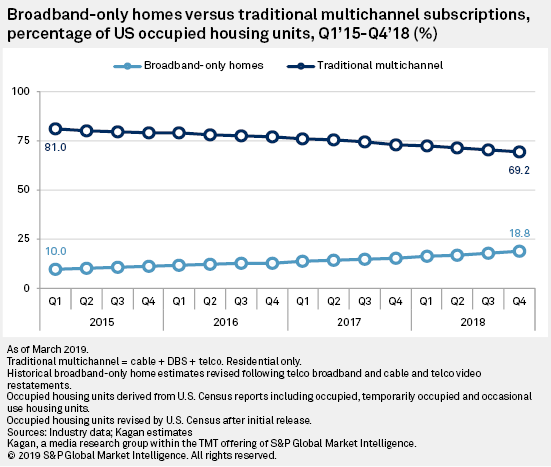 We estimate that wireline broadband households not subscribing to traditional multichannel, or broadband-only homes, rose by nearly 4.3 million in 2018, topping the gains from the previous year by roughly 22%. Overall, the segment stood at an estimated 23.6 million as of Dec. 31, 2018, accounting for 24% of all wireline high-speed data homes.
For perspective, broadband-only homes stood at an estimated 11.3 million a mere four years ago, accounting for 13% of residential cable and telco broadband subscribers.
The once all-powerful, must-have live linear TV model, which individuals and families essentially treated as a utility upon moving into a new residence, increasingly is viewed as too expensive and unwieldy in the era of affordable, nimble internet-based video alternatives. This has resulted in a sizable drop in penetration of occupied households.
As a result, continued legacy cord cutting is baked in and broadband-only homes are expected to continue to rise at a fast clip, with the segment's momentum in the next few years compounded by Comcast's, Charter's and AT&T's ambitious moves into online-video territory.
Note: we revised historical broadband-only home estimates as part of our fourth-quarter 2018, following restatements of historical telco broadband subscriber figures and residential traditional multichannel subscriber adjustments.
Q4'18 multichannel video losses propel full-year drop to edge of 4 million
Learn more
Q4'18 multiproduct analysis sheds more light on video's fall from grace
Learn more
---
Listen:

Street Talk Episode 40 - Digital Banks Take a Page Out of 'Mad Men'

Mar. 20 2019 — Some fintech companies are making hay with digital platforms that tout their differences with banks, even though they are often offering virtually the same products. In the episode, we discuss with colleagues Rachel Stone and Kiah Haslett the deposit strategies employed by the likes of Chime, Aspiration and other incumbent players such as Ally Financial, Discover and Capital One. Those efforts conjure up memories of a Don Draper pitch in Mad Men and likely will enjoy continued success.

No content (including ratings, credit-related analyses and data, valuations, model, software or other application or output therefrom) or any part thereof (Content) may be modified, reverse engineered, reproduced or distributed in any form by any means, or stored in a database or retrieval system, without the prior written permission of Standard & Poor's Financial Services LLC or its affiliates (collectively, S&P).
---
Watch:

Power Forecast Briefing: As retirements accelerate, can renewable energy fill the gap?

Mar. 19 2019 — Steve Piper shares the outlook for U.S. power markets, discussing capacity retirements and whether continued development of wind and solar power plants may mitigate the generation shortfall.
---
Credit Analysis


2019 Credit Risk Perspectives: Is The Credit Cycle Turning? A Fundamentals View

Mar. 15 2019 — On November 20, 2018, a joint event hosted by S&P Global Market Intelligence and S&P Global Ratings took place in London, focusing on credit risk and 2019 perspectives.

Pascal Hartwig, Credit Product Specialist, and I provided a review of the latest trends observed across non-financial corporate firms through the lens of S&P Global Market Intelligence's statistical models.1 In particular, Pascal focused on the outputs produced by a statistical model that uses market information to estimate credit risk of public companies; if you want to know more, you can visit here.

I focused on an analysis of how different Brexit scenarios may impact the credit risk of European Union (EU) private companies that are included on S&P Capital IQ platform.

Before, this, I looked at the evolution of their credit risk profile from 2013 to 2017, as shown in Figure 1. Scores were generated via Credit Analytics' PD Model Fundamentals Private, a statistical model that uses company financials and other socio-economic factors to estimate the PD of private companies globally. Credit scores are mapped to PD values, which are based on/derived from S&P Global Ratings Observed Default Rates.

Figure 1: EU private company scores generated by PD Model Fundamentals Private, between 2013 and 2017.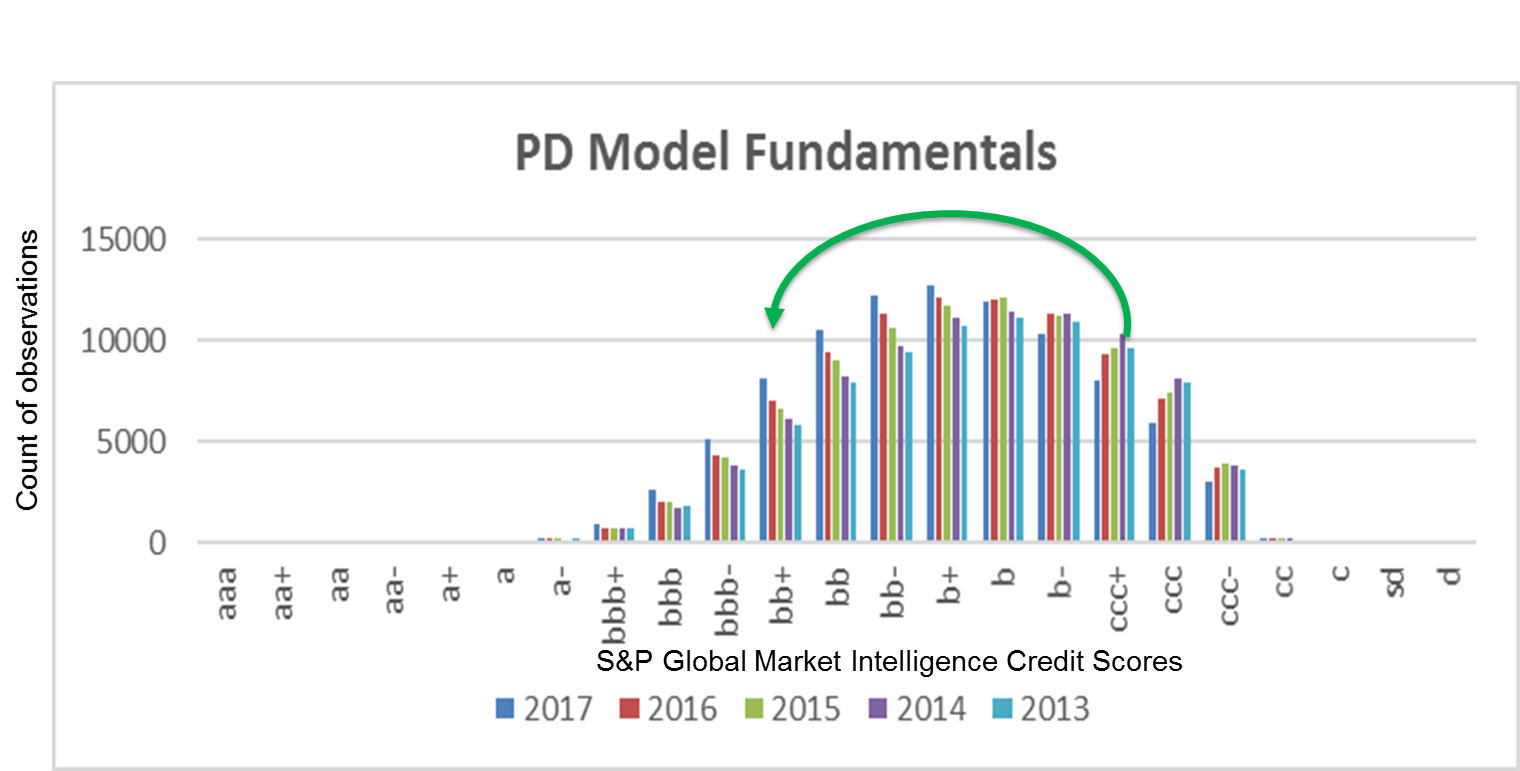 Source: S&P Global Market Intelligence.2 As of October 2018.
For any given year, the distribution of credit scores of EU private companies is concentrated below the 'a' level, due to the large number of small revenue and unrated firms on the S&P Capital IQ platform. An overall improvement of the risk profile is visible, with the score distribution moving leftwards between 2013 and 2017. A similar picture is visible when comparing companies by country or industry sector,3 confirming that there were no clear signs of a turning point in the credit cycle of private companies in any EU country or industry sector. However, this view is backward looking and does not take into account the potential effects of an imminent and major political and economic event in the (short) history of the EU: Brexit.
To this purpose, S&P Global Market Intelligence has developed a statistical model: the Credit Analytics Macro-scenario model enables users to study how potential future macroeconomic scenarios may affect the evolution of the credit risk profile of EU private companies. This model was developed by looking at the historical evolution of S&P Global Ratings' rated companies under different macroeconomic conditions, and can be applied to smaller companies after the PD is mapped to a S&P Global Market Intelligence credit score.
"Soft Brexit" (Figure 2): This scenario is based on the baseline forecast made by economists at S&P Global Ratings and is characterized by a gentle slow-down of economic growth, a progressive monetary policy tightening, and low yet volatile stock-market growth.4
Figure 2: "Soft Brexit" macro scenario.5
Source: S&P Global Ratings Economists. As of October 2018.
Applying the Macro-scenario model, we analyze the evolution of the credit risk profile of EU companies over a three-year period from 2018 to 2020, by industry sector and by country:
Sector Analysis (Figure 3):

The median credit risk score within specific industry sectors (Aerospace & Defense, Pharmaceuticals, Telecoms, Utilities, and Real Estate) shows a good degree of resilience, rising by less than half a notch by 2020 and remaining comfortably below the 'b+' threshold.
The median credit score of the Retail and Consumer Products sectors, however, is severely impacted, breaching the high risk threshold (here defined at the 'b-' level).
The remaining industry sectors show various dynamics, but essentially remain within the intermediate risk band (here defined between the 'b+' and the 'b-' level).
Figure 3: "Soft Brexit" impact on the median credit risk level of EU private companies, by industry.
Source: S&P Global Market Intelligence. As of October 2018.
Country Analysis (Figure 4):

Although the median credit risk score may not change significantly in certain countries, the associated default rates need to be adjusted for the impact of the credit cycle.6 The "spider-web plot" shows the median PD values for private companies within EU countries, adjusted for the credit cycle. Here we include only countries with a minimum number of private companies within the Credit Analytics pre-scored database, to ensure a robust statistical analysis.
Countries are ordered by increasing level of median PD, moving clock-wise from Netherlands to Greece.
Under a soft Brexit scenario, the PD of UK private companies increases between 2018 and 2020, but still remains below the yellow threshold (corresponding to a 'b+' level).
Interestingly, Italian private companies suffer more than their Spanish peers, albeit starting from a slightly lower PD level in 2017.
Figure 4: "Soft Brexit" impact on the median credit risk level of EU private companies, by country.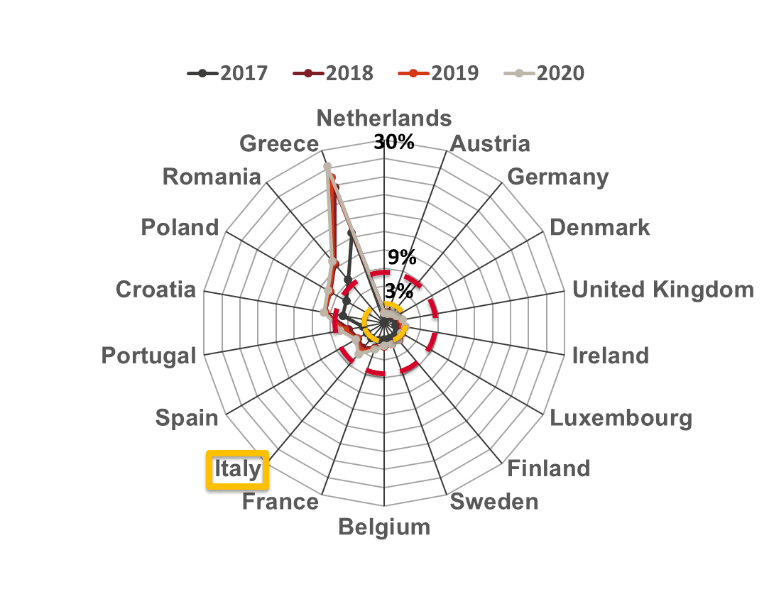 Source: S&P Global Market Intelligence. As of October 2018.
"Hard Brexit" (Figure 5): This scenario is extracted from the 2018 Stress-Testing exercise of the European Banking Authority (EBA) and the Bank of England.7 Under this scenario, both the EU and UK may go into a recession similar to the 2008 global crisis. Arguably, this may seem a harsh scenario for the whole of the EU, but a recent report by the Bank of England warned that a disorderly Brexit may trigger a UK crisis worse than 2008.8
Figure 5: "Hard Brexit" macro scenario.9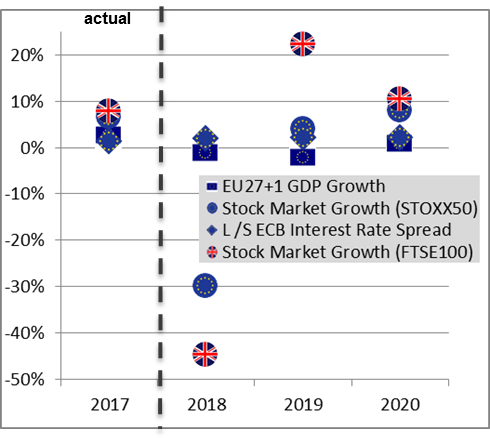 Sources:"2018 EU-wide stress test – methodological note" (European Banking Authority, November 2017) and "Stress Testing the UK Banking system: 2018 guidance for participating banks and building societies" (Bank of England, March 2018).
Also in this case, we apply the Macro-scenario model to analyze the evolution of the credit risk profile of EU companies over the same three-year period, by industry sector and by country:
Sector Analysis (Figure 6):

Despite all industry sectors being severely impacted, the Pharmaceuticals and Utilities sectors remain below the 'b+' level (yellow threshold).
Conversely, the Airlines and Energy sectors join Retail and Consumer Products in the "danger zone" above the 'b-' level (red threshold).
The remaining industry sectors will either move into or remain within the intermediate risk band (here defined between the 'b+' and the 'b-' level).
Figure 6: "Hard Brexit" impact on the median credit risk level of EU private companies, by industry.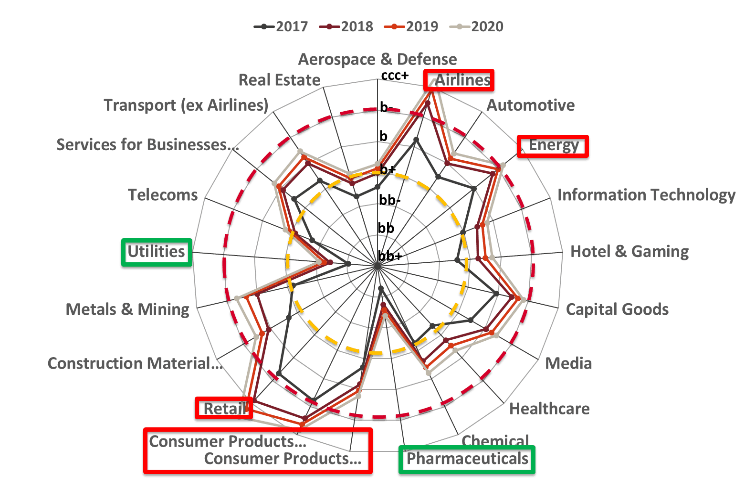 Source: S&P Global Market Intelligence. As of October 2018.
Country Analysis (Figure 7):

Under a hard Brexit scenario, the PD of UK private companies increases between 2017 and 2020, entering the intermediate risk band and suffering even more than its Irish peers.
Notably, by 2020 the French private sector may suffer more than the Italian private sector, reaching the attention threshold (here shown as a red circle, and corresponding to a 'b-' level).
While it is hard to do an exact like-for-like comparison, it is worth noting that our conclusions are broadly aligned with the findings from the 48 banks participating in the 2018 stress-testing exercise, as recently published by the EBA:10 the major share of 2018-2020 new credit risk losses in the stressed scenario will concentrate among counterparties in the UK, Italy, France, Spain, and Germany (leaving aside the usual suspects, such as Greece, Portugal, etc.).
Figure 7: "Hard Brexit" impact on the median credit risk level of EU private companies, by country.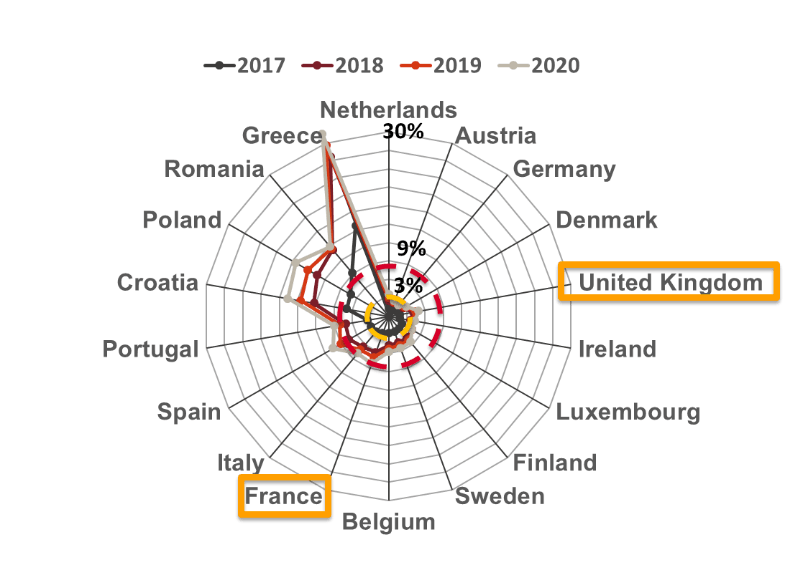 Source: S&P Global Market Intelligence. As of October 2018.
In conclusion: In Europe, the private companies' credit risk landscape does not yet signal a distinct turning point, however Brexit may act as a pivot point and a catalyst for a credit cycle inversion, with an intensity that will be dependent on the Brexit type of landing (i.e., soft versus hard).
1 S&P Global Ratings does not contribute to or participate in the creation of credit scores generated by S&P Global Market Intelligence.
2 Lowercase nomenclature is used to differentiate S&P Global Market Intelligence credit scores from the credit ratings issued by S&P Global Ratings.
3 Not shown here.
4 Measured via Gross Domestic Product (GDP) Growth, Long-term / Short-term (L/S) European Central Bank Interest Rate Spread, and FTSE100 or STOXX50 stock market growth, respectively.
5 Macroeconomic forecast for 2018-2020 (end of year) by economists at S&P Global Ratings; the baseline case assumes the UK and the EU will reach a Brexit deal (e.g. a "soft Brexit").
6 When the credit cycle deteriorates (improves), default rates are expected to increase (decrease).
7 Source: "2018 EU-wide stress test – methodological note" (EBA, November 2017) and "Stress Testing the UK Banking system: 2018 guidance for participating banks and building societies". (Bank of England, March 2018).
8 Source: "EU withdrawal scenarios and monetary and financial stability – A response to the House of Commons Treasury Committee". (Bank of England, November 2018).
9 As a hard Brexit scenario, we adopt the stressed scenario included in the 2018 stress testing exercise and defined by the EBA and the Bank of England.
10 See, for example, Figure 18 in "2018 EU-Wide Stress Test Result" (EBA November 2018), found at:https://eba.europa.eu/documents/10180/2419200/2018-EU-wide-stress-test-Results.pdf
2019 Credit Risk Perspectives: Is The Credit Cycle Turning? A Market-Driven View
Learn More
---