Over the past two years, smartwatches have become the primary growth driver in the wearable technology market. Buoyed by high-profile smartwatch model releases in 2018, most notably the Apple Inc.'s Apple Watch Series 4, estimated global unit shipments of smartwatches surpassed 46 million in 2018, an increase of 15% over 2017.
Along with traditional functionalities, such as notifications and alerts, the integration of fitness and wellness capabilities into new smartwatch models is attracting new buyers who previously would have purchased a lower-priced fitness tracker product.
Definition
Kagan defines a smartwatch as a wearable device that resembles and functions as a wristwatch. In addition to telling time, most smartwatches are Bluetooth and/or Wi-Fi-capable, which enables the watch to extend the capabilities of a wearer's smartphone to the watch. This allows the wearer to use the watch's interface to initiate and answer phone calls from the mobile phone, read or dictate email and text messages, listen to music and perform other tasks often handled by a smartphone.
An increasing number of smartwatches now offer a direct wireless connection, cutting out the need to be paired with a smartphone. Most of these products come with a built-in SIM card, providing a direct LTE connection with a service provider's cellular network. While the price of these products, the most prominent being the Apple Watch Series 4, are higher than non-LTE connected products, in several markets they have become quite popular.
Market drivers and challenges
The market drivers consist of:
The ability to receive notifications for emails, text messages and calendar notifications without accessing a smartphone. These types of "quick glance" notifications allow people with a smartwatch to peek at their wrist and then decide if they need to follow up on a different device (smartphone, laptop PC, tablet PC, etc.).
The ability to customize and upgrade the smartwatch. Consumers enjoy customizing smartphones, personal computers and automobiles, and the ability to customize smartwatches is a strong selling point.
The growth of LTE-enabled smartwatches, which removes the need to be paired with a smartphone.
The ability to have a timepiece that provides "extra" capabilities without costing a great deal more than regular watches. This perceived smartwatch value proposition comes from the idea that as most high-quality watches are priced from $300 to $500, purchasing a smartwatch gives a consumer additional capabilities at approximately the same price. Key among these capabilities are fitness- and health-tracking features commonly found on fitness tracker products. Many current models offer a wide range of fitness-, wellness- and sports-tracking features to include built-in GPS for tracking outdoor workouts and swim proof designs. The Apple Watch Series 4 also provides an FDA-approved ECG monitor to detect heart rhythm irregularities.
Solid demand for smartwatches with LTE connections targeted at children. These so-called "kids smartwatches" allow users to receive notifications or messages, most often from their parents, directly to their watch. The two key markets for these products are North America and China, with product prices currently under $100 in the USA.
Some key challenges influencing the smartwatch market include:
Battery life. Some early models, many of which are still widely available, commonly lost their charge after just eight to 10 hours of use, although most leading vendors are now proving models with a battery life of 24 hours to several days.
The need for legacy smartwatches to be paired with a smartphone.
Some smartwatches still look oversized and "clunky." While this was especially true with early-generation smartwatch products, most vendors have responded by committing additional resources to product design and reducing the form factor of their products. 
Some potential smartwatch buyers do not actually wear watches. This is especially true of consumers in their twenties or early thirties, many of whom have never worn a watch.
Vendor market shares
Apple again dominated the smartwatch market in 2018. We estimate that there were over 21 million Apple Watch shipments last year, as the Apple Watch accounted for 46% of all worldwide smartwatch shipments. While the Apple Series 4 smartwatch, introduced in September 2018, has been very successful, the lower-priced Series 3 still sells well. As of mid-2019, the Series 4 is priced at $349, with the Series 3 selling for $199.
Among other vendors, Samsung Electronics Co. Ltd. with its Galaxy Watch and Fitbit Inc. both enjoyed modest unit shipment growth in 2018, while demand for Garmin Ltd. smartwatches remained steady year over year.
The "others" vendor category of smartwatch vendors accounted for approximately 23% of total unit shipments in 2018. Many of these vendors are based in Asia and sell moderately priced smartwatches for both children and adults. These vendors include companies such as Huami Corp.'s Amazfit, Fossil Group Inc., Huawei Technologies Co. Ltd., Xiaomi Corp., Guangdong BBK Electronics Industry Co. Ltd.'s iMoo and LG Electronics Inc.
Forecasts
Global demand for smartwatches continued to increase in 2018, driven primarily by the introduction of the Apple Watch Series 4. A secondary driver for smartwatch growth is the continuing integration of health and fitness capabilities into the products. This enhancement has proven to be an enticement for consumers who previously would have purchased a more basic fitness tracker product.
Similar to other wearable technology products, the majority of smartwatches are primarily sold in just two regional markets: North America and Asia.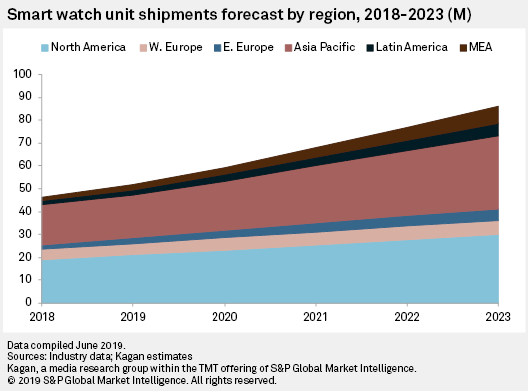 Demand for smart watches has been on an upward trajectory for several years and we expect that growth trend to continue in the future. Throughout the remainder of our forecast period, we are projecting unit shipments to exceed 51 million in 2019, and grow to over 85 million by 2023.
In the U.S., smart watch unit shipments reached 17 million in 2018, again fueled primarily by the Apple Watch. We expect demand to increase again in 2019 as product functionality and battery life improves, attracting new buyers to the market.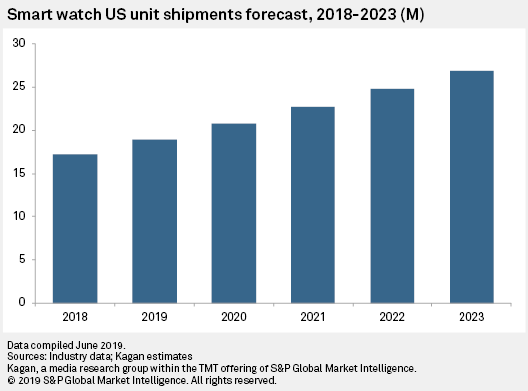 We are forecasting unit shipments to reach about 19 million in 2019, followed by sustained growth in 2020 resulting in over 20 million unit shipments.
Long-term U.S. demand will remain solid. By 2023, we are forecasting U.S. smart watch unit shipments to exceed 26 million.
Revenues for smart watches were an estimated $10.97 billion in 2018, up from $9.90 billion in 2017. Revenues are projected to surpass $12 billion in 2019 as the products penetrate new geographic markets and as pricing remains firm, especially with the inclusion of enhanced fitness and wellness capabilities in a growing number of models. By 2023, we are forecasting global revenues to reach $17.25 billion.