Continuing the return of local pro sports to broadcast TV, the NBA's Utah Jazz will tip off a new presentation play with the start of the 2023-24 season.

Regional sports networks (RSNs) are under pressure from declining subscribers and rising media rights payments. As a result, professional sports teams are looking to local broadcast stations for wider distribution. The Utah Jazz have joined a handful of other professional sports teams in abandoning the troubled RSN model for local broadcast distribution.

Smith Entertainment Group, the club's parent company, has reached a deal with Sinclair Inc.-owned independent TV station KJZZ in Salt Lake City to become "The Home of the Utah Jazz," beginning in October.
Fans will be able to access the club's local/regional games via a broadcast antenna, as well as through cable and satellite providers carrying KJZZ. KUTV, Sinclair's CBS (US) affiliate in Salt Lake City, will be home to some Jazz-related fare throughout the year.
SEG Media also plans to offer the contests and related content through a pay, direct-to-consumer streaming service, more details of which will be released in the months ahead. The service is set to launch in October 2023 and will join a handful of other direct-to-consumer services like NESN 360 and Bally Sports+ that have emerged in recent years to mitigate declines in traditional pay TV subscribers.
The Jazz's move is the latest local rights contract to veer from RSNs, which have been the model by which pro sports teams have distributed their local rights over the past several decades. The RSN business is under siege from the decline of the linear pay TV ecosystem that is shedding subscribers, resulting in reduced margins. Diamond Sports Group LLC, the Sinclair subsidiary that operates the largest number of such networks in the US, is looking to restructure under Chapter 11 bankruptcy protection, amid an $8 billion debt.
Direct-to-consumer (DTC) services have been central to Diamond's local sports strategy and the Chapter 11 proceedings. Diamond has secured streaming rights to 16 NBA and 12 NHL teams it has linear deals with. It has local-market streaming rights to only five of the now 13 MLB teams with which it holds linear rights pacts: Milwaukee Brewers, Miami Marlins, Tampa Bay Rays, Kansas City Royals and Detroit Tigers. The company says streaming is key to expanding its revenue base given the shrinking linear landscape.
During testimony, Diamond CEO David Preschlack said the company had 202,000 DTC subs, but it expects to reach 10 million within five years. The company soft-launched its local DTC offerings with five MLB teams in June 2022 and with its NHL and NBA rosters last fall.
The SEG-Sinclair deal — the financial terms of which were not disclosed — follows the expiration of the team's contract with AT&T SportsNet Rocky Mountain (US) at the end of the 2022-23 NBA season. Warner Bros. Discovery Inc., which owns AT&T SportsNet Rocky Mountain, is looking to exit the RSN business it picked up as part of the company's merger in April 2022. AT&T SportsNet Rocky Mountain is continuing to air MLB Colorado Rockies games this season.
Kagan estimates that AT&T SportsNet Rocky Mountain, under the two-season contract that just expired, paid the Jazz an average of $35 million in rights fees per campaign.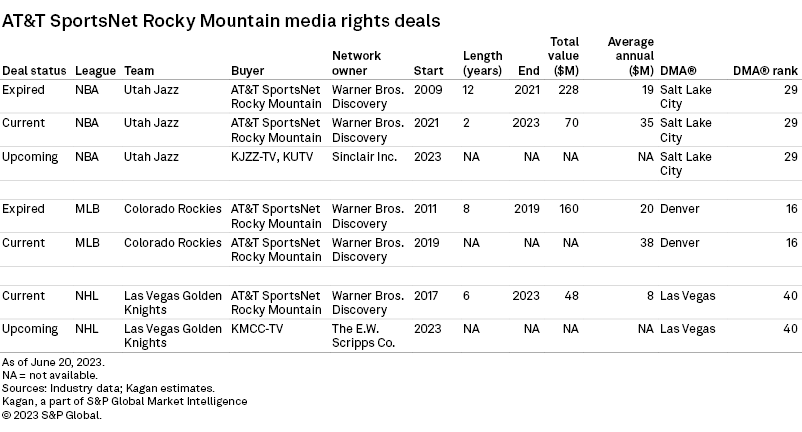 Ryan Smith, governor of the Jazz and chairman of SEG, said in announcing that pact that the top priority has been to expand the audience capability for the club. Smith said under the expiring deal, only 39% of Utah households had been able to access the Jazz games, but with its new approach the club's games will be available to all 3.3 million Utah residents.
As was the case with AT&T SportsNet Rocky Mountain, the Jazz, now under the auspices of SEG Media, will continue to produce the games and content for the Sinclair broadcast outlets, as well as the DTC platform. The new production company will also look to service external partners and other SEG entities. SEG's portfolio also includes Major League Soccer's Real Salt Lake side, the NBA G-League's Salt Lake City Stars, and the Utah Royals, which will make their National Women's Soccer League debut in 2024, as well as the Delta Center and America First Credit Union Field.
The E.W. Scripps Co.'s new Scripps Sports unit struck a multiyear agreement to televise all locally broadcast games of the now NHL defending champion Vegas Golden Knights for free to residents of Nevada and surrounding states. Knights games, which had run on AT&T SportsNet Rocky Mountain, will air on KMCC-TV, which will be rebranded as an independent station ahead of the 2023-24 NHL season. The parties are also committed to offering a DTC option to watch the games.
Nationally, Scripps Sports is in the first season of the multiyear deal to air WNBA doubleheaders on Friday nights.
Last season, the NBA's Los Angeles Clippers reached a deal to offer a package of 15 preseason and regular-season games on KTLA and other Nexstar Media Group Inc.-owned stations. During the company's first-quarter earnings call, Nexstar Chairman CEO Perry Sook said the company had entered into renewal discussions with the Clippers, whose games also appear on Bally Sports SoCal and streaming service Bally Sports+.
Nexstar, the nation's largest operator of TV stations, has also moved into the national sports rights realm as The CW (US) — in which it owns a 75% stake — is carrying alternative golf circuit, LIV Golf.
The NBA's Phoenix Suns inked a deal to air the team's beginning with the upcoming NBA season on Gray Television-owned stations, flanked by a direct-to-consumer offering from Kiswe.
However, a US bankruptcy judge blocked the new contract for the Suns and the WNBA Phoenix Mercury, ruling that Diamond Sports Group was not given the opportunity to negotiate an extension to its expiring contract. The Suns' contract with Bally Sports Arizona concluded with the first round of the 2023 NBA playoffs. The Mercury's local games are airing on Gray's Phoenix television stations KTVK (Arizona's Family 3TV) and the newly launched KPHE (Arizona's Family Sports & Entertainment Network).
As part of the bankruptcy proceedings, Judge Christopher Lopez ruled against Diamond Sports, which had sought to reduce its rights outlays to four MLB teams, given the decreasing linear universe. After a two-day hearing earlier this month, Lopez said Diamond must honor the full value of its agreements with the Texas Rangers, Arizona Diamondbacks, Cleveland Guardians and Minnesota Twins.
Last week, Diamond paid the Rangers; its payments for the other three clubs are due July 1. Whether it will make all or any of those allocations remains to be seen.
In late May, Diamond opted out of its contract with the San Diego Padres, and Major League Baseball has since been producing and distributing the club's local games through its MLB.TV app, as well as linear carriers DIRECTV, AT&T Inc.'s U-verse, Cox Communications Inc. and Charter Communications Inc.'s Spectrum TV, and virtual provider fuboTV Inc.
Economics of Networks is a regular feature from Kagan, a part of S&P Global Market Intelligence.
This article was published by S&P Global Market Intelligence and not by S&P Global Ratings, which is a separately managed division of S&P Global.
Gain access to our full news & research coverage and the industry-specific data that informs our insights.
Request Follow up