China's largest banks continued to expand, while a weakened dollar hampered U.S. banks' rankings against their global peers, according to S&P Global Market Intelligence's latest global bank rankings.
China's "Big Four" state-backed banks — Industrial & Commercial Bank of China Ltd., China Construction Bank Corp., Agricultural Bank of China Ltd. and Bank of China Ltd. — again swept the top four spots, posting a combined $13.637 trillion in assets, up $1.727 trillion since last year's ranking. Interestingly, almost exactly half this growth was due to the yuan strengthening against the U.S. dollar during that time frame.
The top nine banks by assets remained the same year over year, but France's Crédit Agricole Group pushed out U.S.-based Wells Fargo & Co. to take the No. 10 spot.
The U.S.'s JPMorgan Chase & Co. would have taken the No. 4 spot instead of No. 6 if the company reported under IFRS. IFRS requires the gross value of derivative assets to be reported on the balance sheet, instead of U.S. GAAP, which requires the net value to be reported. JPMorgan's assets would increase by $503.03 billion to $3.036 trillion as of year-end 2017 if it reported its gross derivative exposure.
Eighteen of the top 100 banks are headquartered in China and collectively reported $23.761 trillion in assets. The U.S. had the next highest number with 11 banks holding $12.196 trillion in assets, followed by Japan with eight banks at $10.534 trillion in assets.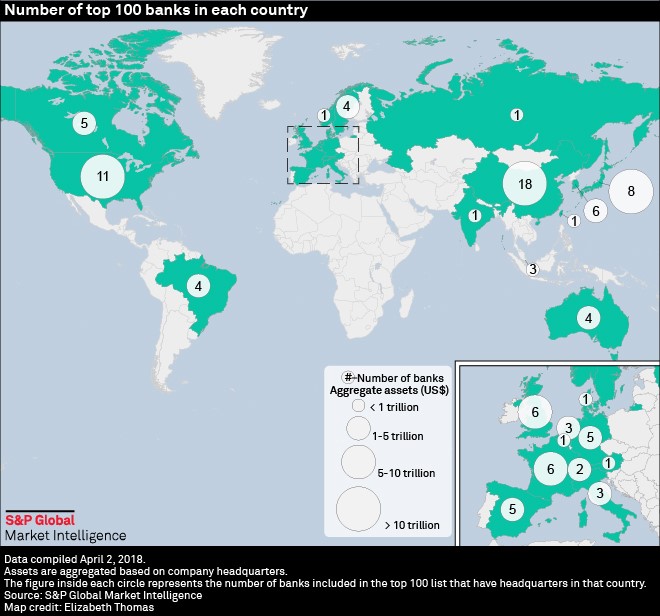 In the latest ranking, company total assets were adjusted for pending mergers, acquisitions and divestitures, as well as M&A deals that closed after the end of the reporting period through March 31 on a best-efforts basis. Assets reported by non-U.S. dollar filers were converted to dollars using period-end exchange rates. Total assets were taken on an "as-reported" basis and no adjustments are made to account for differing accounting standards. The majority of banks were ranked by total assets as of Dec. 31, 2017. In the previous ranking published April 11, 2017, most company assets were as of Dec. 31, 2016, and were adjusted for pending and completed M&A as of March 31, 2017.