Maturing telecommunications infrastructure in developed markets stands to expand the role of telco operators to service enablers as well as providers.
At the recent MVNOs World Congress 2023, S&P Global highlighted key opportunities for telcos to leverage 5G and embedded SIM (eSIM) technologies to power the growing universe of the internet of things (IoT). The S&P Global presentation, which included data and insights from Kagan and 451 Research, focused on three key trends for the industry: opportunities for mobile network operators (MNOs) as specialized companies, industry attitudes toward enterprise IoT deployments, and the role of eSIM in enterprise deployments.
The annual MVNOs World Congress, held June 5–7 in Amsterdam, Netherlands, is one of the largest gatherings of MNOs, mobile virtual network operators, related industry associations, vendors and industry verticals worldwide.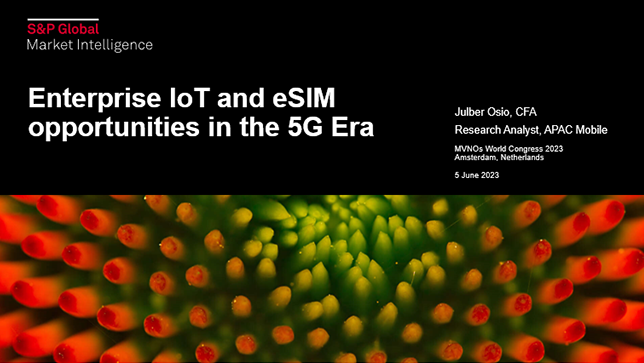 MVNOs as specialized service companies
The idea of MVNOs becoming specialized service companies first emerged three years ago at the MVNOs World Congress 2020. The concept would allow MVNOs to differentiate themselves from the larger MNOs by focusing on delivering specific consumer and enterprise services to customers built upon the connectivity provided by the mobile network operators. In this respect, the smaller MVNOs may be better positioned than MNOs to adapt quickly to support new and emerging technologies.
In take advantage of the service opportunity, MVNOs need to adopt frictionless technologies such as cloud-based networks and eSIM. The rise of 5G is also a critical component because it allows the delivery of specialized solutions through technologies such as network slicing, ultra-reliable low latency communications, and massive machine-type communications, which is particularly relevant for the IoT industry.
Top considerations for enterprise IoT deployments
Recent survey data from 451 Research indicates that more enterprise IoT deployments are reaching maturity. In 451's January 2023 Voice of the Enterprise, Internet of Things survey, 48% of respondents said their enterprises had deployed IoT projects, up from 37% in 2018. Top sectors with IoT deployments in use include manufacturing, energy (oil and gas), and transportation.
Nearly half of survey respondents (47%) indicated that their companies turned to IoT primarily to optimize business processes and operations. Almost as many cited the cost-saving benefits of IoT as a key driver (46%). Thirty-eight percent said their companies were pursuing IoT deployments to develop or improve products and services.
While there are several technology options for IoT connectivity, more companies are choosing 5G to support their networks, citing greater network speed, high network availability and resiliency, and enhanced security features as the most common drivers. Concerns about data privacy or security was the most cited reason for holding back enterprise IoT deployments, mentioned by 43% of survey respondents.
Role of eSIM in enterprise deployments
ESIM technology has features that could address some enterprise IoT drivers and inhibitors.
Cost is among the most touted benefit of eSIMs as the technology's small form factor translates to cheaper manufacturing of devices. Cost reduction could also arise from lower labor expenses as eSIM technology allows companies to deploy, operate, maintain and decommission IoT devices remotely.
ESIMs also cannot be physically removed from devices, which makes them more secure against theft or tampering. ESIMs also use multi-factor authentication, which adds another layer of security against hacking.
451 Research is part of S&P Global Market Intelligence.
This article was published by S&P Global Market Intelligence and not by S&P Global Ratings, which is a separately managed division of S&P Global.
Challenges Opportunities for MVNOs in 5G Era
Read More
2023 Trends in Technology, Media and Telecommunications
Click Here