A strong majority of the respondents to S&P Global's recent consumer metaverse survey expressed concerns about how virtual environments are currently operating. Issues ranging from user privacy and data collection to the security of payment transactions in the metaverse were all viewed as problematic. While these respondent concerns are not overly surprising to anyone who has spent time in a virtual environment, they highlight some key barriers to broader acceptance of the consumer metaverse.

➤ The risks and pain points of the internet carry over to the metaverse, but with additional complications around new user interfaces and platforms that are compounded by a general lack of standardization.
➤ More than 70% of respondents in our survey said they had concerns regarding privacy and data collection, standards of conduct, anonymity and payment security.
➤ The level of concern was fairly consistent across the regions and age groups we sampled, indicating that the metaverse still has a long way to go in making consumers feel comfortable engaging with and spending in virtual 3D environments.

S&P Global defines the metaverse as the long-term vision for the next phase of the internet, which will feature a single, shared, immersive and persistent 3D virtual space where humans and machines interact with one another and with data, enhancing the physical world as much as replacing it.
In practice, the consumer-based metaverse is envisioned as a series of interconnected virtual spaces built for socializing, gaming and shopping. Over the long term, there is potential for these spaces to merge with the real world via augmented reality.
Some of this core experience is already embodied in existing consumer-facing software, such as that available from Roblox Corp.'s Roblox, Epic Games Inc.'s Fortnite Creative and Meta Platforms Inc.'s Horizon Worlds. However, the eventual metaverse would include a higher degree of frictionless interconnection between these experiences as well as a higher degree of user agency.
This is the fifth in a series of articles analyzing the results from our consumer metaverse survey, which polled 4,000 adults in 42 countries around the world during spring and early summer 2023. This article focuses on commercial activities in the metaverse, to include purchases of goods, services and non-fungible tokens (NFTs).
The web-based survey sampled a range of adults across varying locations, incomes and ages, but respondents were heavily tilted toward millennials in urban settings. This dynamic likely produced an outsized representation of digital natives, or virtual environment "early adopters," which while not an accurate representation of the overall population, still provides valuable insights into a wide range of consumer perceptions.
Respondents to our survey are uneasy about user privacy and data collection practices in the metaverse. A significant majority of the respondents, 71.3%, indicated they were either very concerned or somewhat concerned about how their privacy and personal data will be respected in the still-developing metaverse.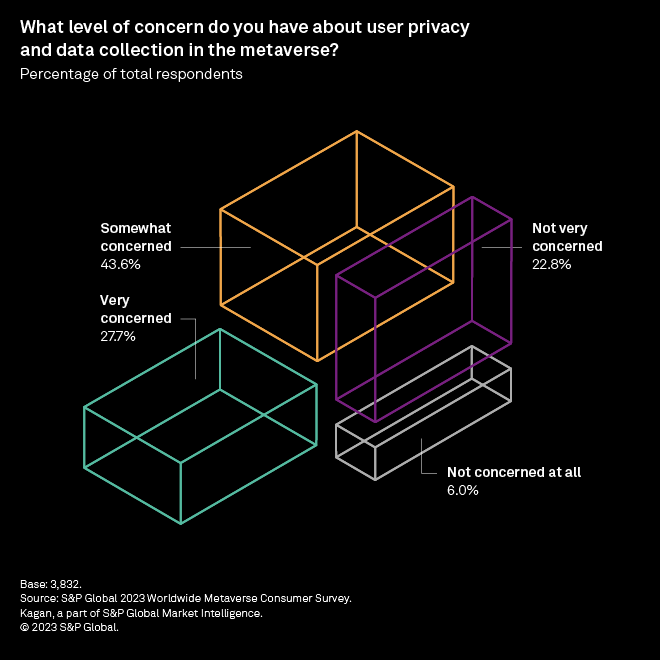 With a number of media stories appearing in the past year highlighting privacy complaints from virtual environment participants, to include concerns about companies potentially tracking what consumers actually do in the metaverse, the response to this question was not unexpected.
Directly related to privacy concerns is how companies operating virtual environments are gathering personal data and, more importantly, what exactly they are doing with that information.
Similar to other nascent technology-based platforms or business models (both cryptocurrency and artificial intelligence are examples), a lack of both standards and industry/governmental regulation of the consumer metaverse are fueling privacy and data collection concerns.
When the survey respondents were queried specifically about their level of concern regarding the establishment of community rules and standards of conduct in the metaverse, 73.8% said they were either very concerned or somewhat concerned.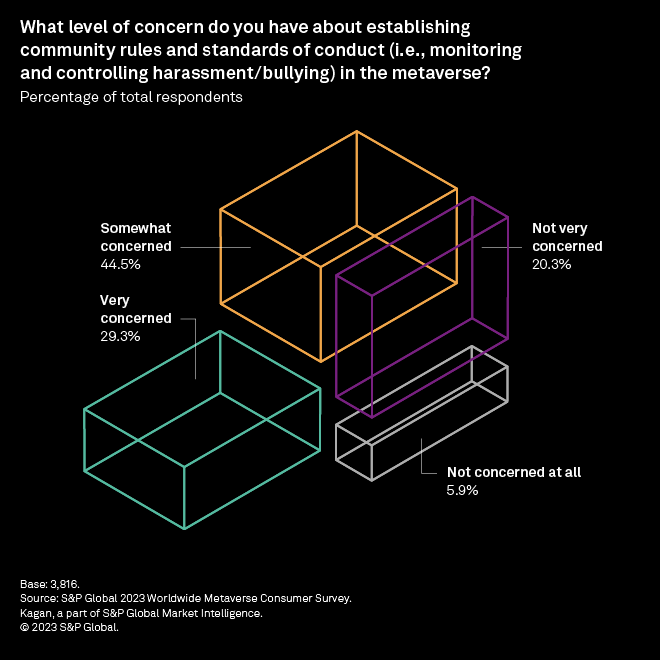 This level of concern is slightly higher than that regarding user privacy and data collection practices, which strongly suggests that the survey respondents are not comfortable with the current "Wild West" reputation of the metaverse.
Concern regarding user security broke down along similar lines, with 72.9% of respondents expressing at least some concern. This question was targeted primarily at establishing the level of comfort a consumer in the metaverse would have maintaining anonymity.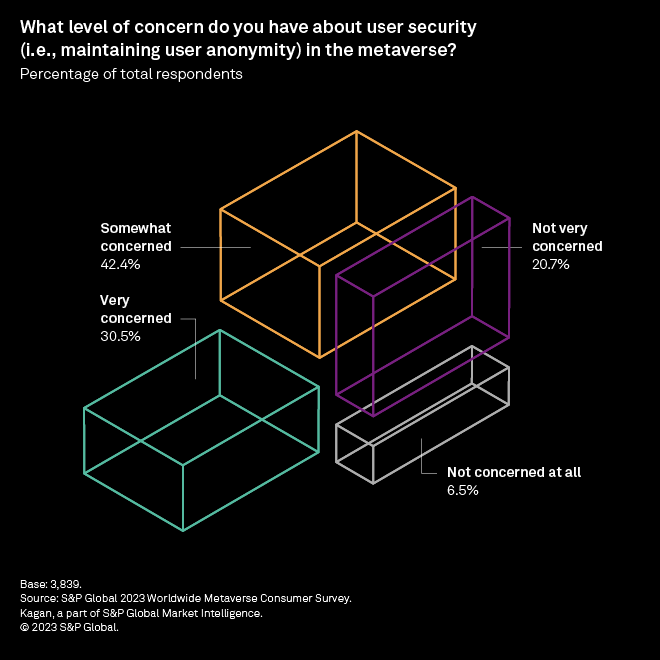 The desire for anonymity will likely be dependent on context. Some experiences will encourage, or perhaps even require, users to maintain their real-world identity as they would on sites such as LinkedIn. As with that type of social media platform, metaverse users will likely wrestle with the unease associated with the possibility of revealing too much personal information.
Users may want to shed the real-world identity when moving into other experiences, such as gaming or niche hobbyist groups, and would likely want assurances that all of their personal details would remain obscured in those instances.
Payment and transaction safety elicited the highest level of concern in our survey, if only by a few percentage points, at 74.8%.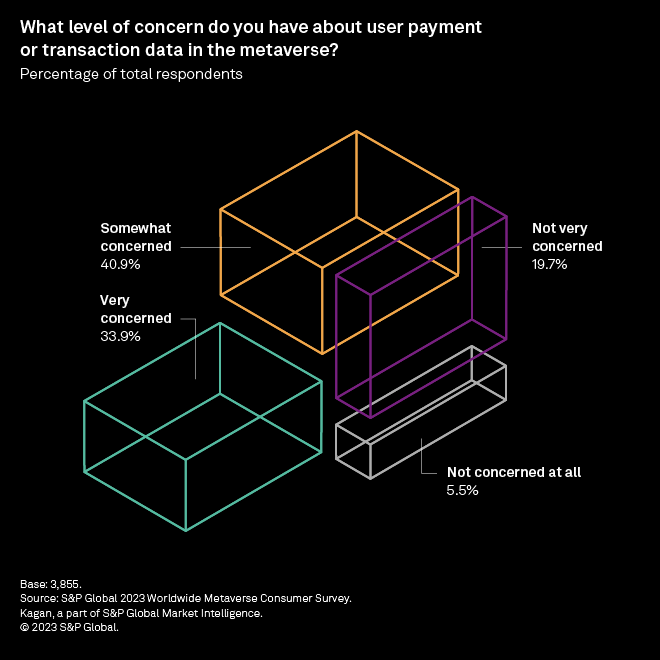 Many of the payment practices and safeguards in place for e-commerce would carry over to the metaverse, particularly as far as purchases with traditional credit cards and payment apps are concerned.
The situation becomes even more fraught if blockchain-related transactions become a prominent fixture in the metaverse. At present, crypto transactions in virtual worlds require users to link a crypto wallet in a fragile, multistep process filled with jargon, handoffs between different apps and multiple authentication measures. This process is not only anxiety-inducing but also introduces multiple points of failure and vulnerability.
Level 1 blockchains, such as bitcoin and ethereum, are known for their security by virtue of being built on a decentralized ledger that relies on consensus of contributing nodes to authorize a transaction.
However, level 1 blockchains are also inefficient and costly, with only a limited number of transactions processed per second. In response, scaling layers are added that then bridge with the base blockchain to allow more transactions to be processed at more reasonable fees.
Many tokens and currencies that are designed for virtual worlds rely on this bridging technique, which is where blockchain hacks have been most common.
Furthermore, companies built around cryptocurrency have developed a reputation for being corrupt or at least corruptible. The headline-making legal troubles around Sam Bankman-Fried, former CEO of cryptocurrency exchange FTX, have crystalized those concerns.
Technology is a regular feature from Kagan, a part of S&P Global Market Intelligence.
This article was published by S&P Global Market Intelligence and not by S&P Global Ratings, which is a separately managed division of S&P Global.

Gain access to our full news & research coverage and the industry-specific data that informs our insights.
Read more