As the smart home market continues to develop in fits and starts, one device has definitely managed to catch the attention of consumers: the smart speaker.
Smart speakers, also called virtual assistants or smart home speakers, have become increasingly popular over the past eighteen months, with total unit shipments surpassing 31 million in 2017, up from just 6.5 million in 2016
Smart Speaker worldwide unit shipments, 2015 - 2017
While smart speakers can function like a traditional speaker, allowing users to play music from a smartphone or the cloud, they also offer myriad other capabilities. One of their most popular features is the ability to respond to voice commands. This allows users to receive hands-free information about the weather, local traffic or the latest sports scores. Voice commands can also do things such as turn on a coffee maker, adjust the thermostat, read an audio book, and even change the channel on the TV.
All smart speakers rely on artificial intelligence, or AI, to carry out tasks, although the responsiveness and raw intelligence offered by smart speakers varies by product. A basic function of AI in a smart speaker is that it permits the smart speaker to learn about a user's habits and preferences over time, thus allowing the speaker to refine and improve its search responses over time.
Two vendors, Amazon with its Echo products and Google with its Google Home smart speaker, have been the leading proponents – and the largest sellers – of smart speaker products. Other notable products include:
• Apple's HomePod
• Sonos' One smart speaker
• Alibaba's Tmall Genie X1
• Xiaomi's Mi AI smart speaker
In addition, several other vendors such as LG Electronics, JD.com, Naver, Baidu and Harmon Kardon offer smart speaker products. Even Facebook recently announced that it was planning to launch a smart speaker product before the end of 2018.
Voice assistants
Voice assistants are generally viewed as the key functionality feature in a smart speaker. For many consumers considering a voice assistants platform, they often also have to select an ecosystem, as the leading voice assistants do not work very well together. This selection becomes increasingly important if a user wants to equip multiple rooms throughout the home.
Voice assistants emerged from two distinct usage backgrounds. The first was solely as a controller for a smart speaker, while the second was a voice controller for a smart phone. Coming from the former category, Amazon's Alexa was originally developed for the Echo smart speaker and then moved into the company's FireTV devices. After Amazon opened up Alexa to third party developers, smart home proponents rapidly expanded its capabilities into features like controlling lights and thermostats by voice.
Google Assistant and Apple's Siri started out as the voice dialing features on Android phones and iPhones. The two systems let the user take calls, make calls, play music, and answer texts on the phone. Both systems are now focused on making their voice assistants more "smart speaker-friendly" by expanding their capabilities beyond the handset and into the home.
Other leading tech companies are also developing and deploying voice assistants for smart speakers, with Microsoft's Cortana currently used in Harmon Kardon's smart speaker product. Samsung's Bixby voice assistant is reportedly in trials with at least one smart speaker vendor, although for now, it is currently only available on certain Galaxy phones.
Most smart home and voice assistant developers tend to segment the utility of voice assistants into three categories: top of the line; decent, but needs work; and still under construction. Both Alexa and Google's Assistant are widely considered "top of the line" as the best voice assistants on the market, with Apple's Siri and Microsoft's Cortana considered decent, but needing improvement. Other voice assistants, such as Bixby and some being deployed by Chinese smart speaker vendors, are widely viewed as "still under construction."
Market drivers
With demand spiking for smart speakers over the past year, a common question asked by those without a smart speaker goes something like "why do I need one of these products?" Or more specifically, what is the value proposition of the smart speaker? There are three broad value props for the smart speaker market:
• Usefulness/utility of smart speakers. The basic value of the smart speaker is in its utility, or more specifically its ability to perform a number of core functions (playing music, responding to voice commands, basic online search, controlling other devices in the smart home, etc.) extremely well.
• Directly tied to this utility is the price of smart speakers, with most products selling at retail for under $100. At this price point, the purchase of a smart speaker can be viewed as a relatively low risk purchase. In other words, if the user does not like it or find it useful, buying one is not going to break the household budget.
• While most consumers only use a smart speaker for a few simple functions, its ability to expand its reach – and its ability to control other devices throughout the home – is also a key driver for use and adoption. The intuitive use of voice control and its perceived "cool" factor (a sentiment highlighted by many smart home advocates) is also driving adoption.
• As homes become increasingly connected and more intelligent, most smart speaker vendors are counting on their products to be the centerpiece of the smart home. While not all smart home proponents want to see the smart speaker as the center of the ecosystem (some notable pay TV service providers are instead positioning the set-top box as the smart home centerpiece), many key players in the technology and telecommunications industries believe the smart speaker is a key steppingstone toward smart home development and adoption.
Market Challenges
The flip side to the growth of the smart speaker market are some key challenges that still need to be more thoroughly addressed by smart speaker vendors. Foremost among these challenges is security.
• Security concerns. Technology and business media publications have had a field day recently with stories of Amazon Echo products "spying" on users. One specific story highlighted how a family in Oregon found out Alexa recorded at least one private conversation and sent it to a contact in their address book.
Amazon confirmed that the incident did occur, and noted that the family's Echo device woke up due to a word in background conversation sounding like "Alexa." The subsequent private conversation was heard as a "send message" request. When Alexa responded out loud "To whom?" the background conversation was interpreted as a name in the family's contact list and a recording was sent to that person.
While this event seems to have been quite unusual, the fact that it did occur highlights the security and privacy challenges facing the smart speaker market. While smart speaker vendors are rapidly applying resources to better address security concerns, stories like this one are an obstacle to market growth.
• Another challenge to the market is a general lack of compatibility between smart speaker products and other connected devices. Leading vendors such as Amazon, Google and Apple have designed their products to interact and function with other compatible devices that often use proprietary software of operating systems. While Amazon has been aggressive in allowing third-party developers to integrate Alexa functionality into their products, for the most part Google relies on Android-based products to connect to its Home smart speaker, while Apple relies on IoS-based products for its connected ecosystem.
• Interconnection between the three ecosystems is tricky at best, and often just not possible. As Kagan does not see any serious drive for standardization among smart speaker products or technologies, this issue is going to remain a significant challenge for the near future.
• Related to compatibility with other products is the challenge of ecosystem complexity. While a key driver for the smart speaker market is the growing interest in the potential of the smart home, the caveat to that driver is how to best connect smart speakers with other devices in the home. Again, within the same smart speaker ecosystem (Amazon, Google, Apple, etc.), it is achievable. However, when third-party devices and services provided by cable operators, telcos or even security firms are added to the mix, the complexity of integrating a smart speaker into a broader ecosystem becomes a serious challenge.
• While Kagan identifies ecosystem complexity as a market challenge, we also recognize that some of the leading smart speaker vendors are purposefully designing their ecosystems to work best with their own proprietary platforms and products. This "silo" effect for a given ecosystem can offer the smart speaker vendor advantages over a more standardized and compatible ecosystem. As the smart home continues to develop, and as new revenue opportunities emerge from this development, having a proprietary ecosystem could turn out to be savvy business move on the part of some vendors.
Vendor Market Shares
Amazon, with its Echo smart speaker product line, dominated vendor market shares in 2017. On a global basis, Amazon accounted for just over 60% of smart speaker shipments, with Google's Home smart speaker accounting for 31% of shipments.
Both Amazon and Google experienced strong growth in unit shipments in 2017. Amazon's shipments grew from an estimated 5.5 million smart speaker products in 2016, while Google increased from an estimated 500,000 units shipped.
Alibaba and Xiaomi collectively shipped an estimated 1.5 million smart speakers last year, with almost all of their shipments occurring in China, while Sonos shipped an estimated 4000,000 units.
Apple's HomePod smart speaker does not appear in these rankings, as it did not begin shipping until February 2018.
Worldwide smart speaker forecast
Since their introduction in 2015, demand for smart speaker products has risen impressively, making the product category one of the notable recent successes in the global consumer electronics market. After exceeding 31 million units in 2017, smart speaker shipments are projected to hit 50 million units in 2018.
Shipments
Kagan's longer-term forecast is based on several assumptions, to include:
• the increasing demand for smart speaker products
• their increasing utility, especially in regard to voice-enabled search and response capabilities
• the growing demand for smart home functionality
• an increase in demand for smart speakers in regions like Europe and Asia
This final point is particularly important, as current demand for smart speakers relies overwhelmingly on the North American market. In 2017, 83% of global smart speaker shipments were to North America.
Unit shipments are forecasted to surpass 70 million in 2019 and rise to 142 million by year-end 2022.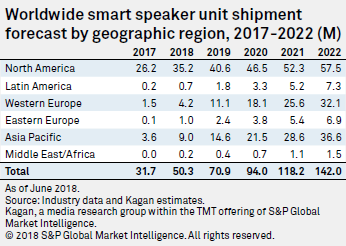 While a few countries in regions outside of North America are experiencing some solid demand for smart speakers, such as the United Kingdom, Germany, France, China, and South Korea, the key market to date has been the U.S. With the expanding availability of smart speakers in Asian and European countries, coupled with voice assistants integrating new language capabilities, we expect smart speakers to appear in an increasing number of households outside of the U.S.
Revenues
Revenues for smart speaker products reached $2.52 billion in 2017 and are on track to exceed $4 billion in 2018. Average selling prices, or ASPs, for smart speaker products are generally below $100, with occasional sales promotions offering full-featured products for less than $50.
While most shipments have been concentrated among the sub-$100 price point, there are some notable higher-priced products available. These include the Sonos One, priced at $199 and Apple's HomePod, priced at $350.
On a regional basis, North America produces the lion's share of smart speaker revenues. In 2017, North American consumers accounted for an estimated $2.1 billion of the total $2.5 billion in product revenues.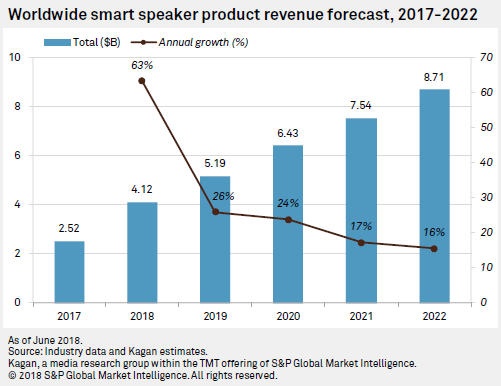 Google And Amazon At The Forefront Of U.S. Renewable Energy Investment
Learn More