Emerging metaverse platforms and technologies tracked by S&P Global Market Intelligence drove an estimated $4.21 billion in revenue in the second quarter, down 2.9% year over year, marking the fourth consecutive quarter of year-over-year contraction for the segment. The drop was primarily due to falling demand for the market's current lineup of virtual reality hardware, but new devices on the horizon offer an opportunity for a return to growth later this year.

➤ Metaverse hardware revenue fell to a two-year low as consumers stayed on the sidelines waiting to see what Meta Platforms Inc. and Apple Inc. will release later this year and early next year, respectively.
➤ Metaverse applications from gaming platforms to digital twin services are growing revenue at a steady, if unspectacular, rate, giving the segment some underlying stability.
➤ There is an opportunity for hardware and software to align in an upward growth trajectory later this year and into 2024 as a new round of virtual reality headsets could spur hardware sales and fuel further growth for software and services.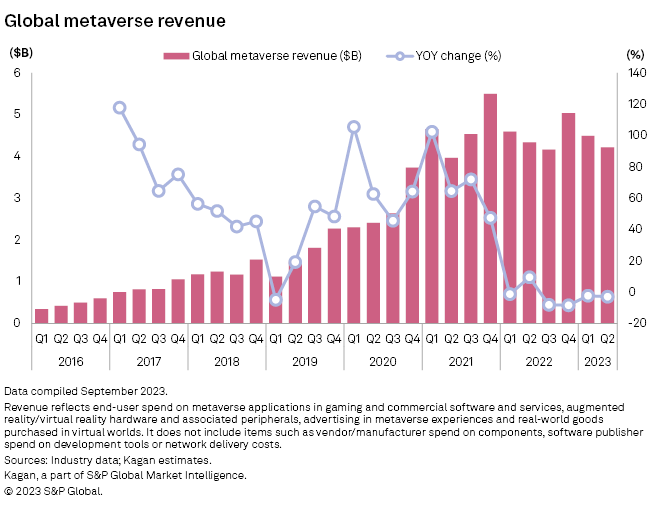 S&P Global defines the metaverse as the long-term vision for the next phase of the internet, which will feature a single, shared, immersive and persistent 3D virtual space where humans and machines interact with one another and with data, enhancing the physical world as much as replacing it.
Our quarterly revenue tracker is built on a historical annual data set tracking augmented reality and VR headsets; metaverse-leaning video game experiences; commercial spending on metaverse applications such as digital twins; and emerging opportunities around advertising, e-commerce and other revenue streams. To guide those figures into quarterly allocations, we use data from publicly reporting companies exposed to the metaverse, including Accenture PLC, Roblox Corp., Meta, Microsoft Corp. and Sony Group Corp.
Revenue from metaverse hardware, which is largely composed of augmented and virtual reality headsets, declined 34.8% year over year to $0.79 billion. Metaverse hardware has not yet been able to cultivate much in the way of long-term organic demand. Instead, the segment relies on tech enthusiasts to drive a surge of sales at the launch of a new or upgraded device. Then, that new device limps along for a year or two with moderate interest from gamers and commercial clients. When it becomes clear that new headsets are imminent, sales all but evaporate.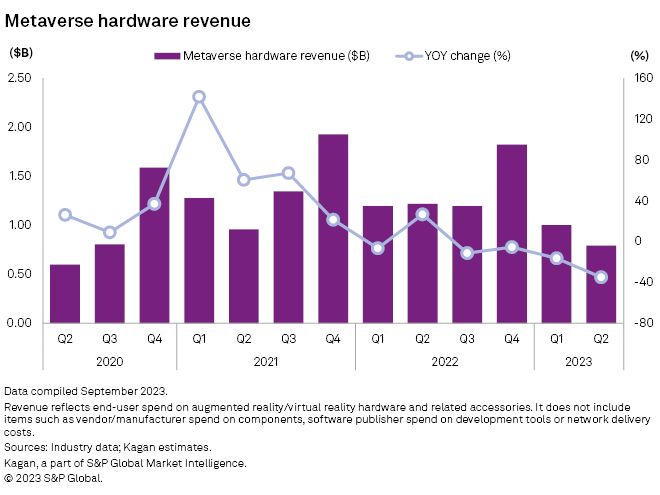 The market is currently in that wait-and-see trough with Meta expected to release the Quest 3 in October and Apple planning to enter the segment in early 2024 with the Vision Pro. Revenue in the recent period was further constrained by Meta's decision to reset the price of the Meta Quest 2 back to $299 after moving it up to $399 in August 2022.
Among the segments we track, commercial software and services took the biggest stride in the quarter, growing an estimated 11.4% year over year to $1.86 billion. We continue to see evidence of industrial and enterprise operations adopting digital transformation strategies for their plant and productivity stacks, which in turn drives commercial metaverse revenue.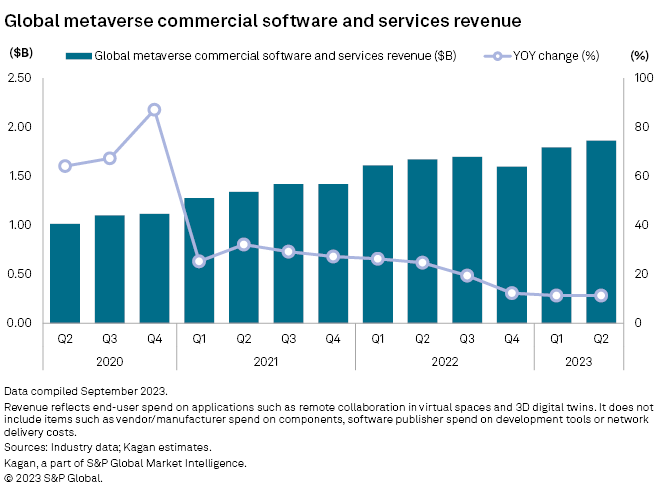 For instance, systems integrator Siemens AG reported that its digital industries revenue grew 9.9% year over year to $5.77 billion. We include a fraction of this overall revenue profile for our metaverse estimates to account for the deployment of digital twins, 3D visualization tools and detailed simulations.
Furthermore, sales at Vuzix Corp. and HTC Corp. grew in the quarter, indicating that adoption of commercial-focused metaverse interface devices is growing. We expect this expanded installed base is feeding an increase in spend on metaverse software and services at industrial and enterprise operations.
Enterprise-level digital twin platform manager Matterport Inc. reported a 38% year-over-year increase in revenue to $40 million in the quarter on the strength of growing subscribers. In June, Matterport announced Genesis, an initiative to incorporate generative AI into its digital twin design and optimization platform, likely boosting its sales pitch.
We are also modeling a gradual increase in spend from the broader commercial market on generative AI tools for use inside virtual worlds, such as virtual assistants leveraging large language models and automated asset generation.
Metaverse gaming revenue, which includes avatar-driven experiences such as Roblox as well as non-fungible token-based games such as SKY Mavis PTE. Ltd.'s Axie Infinity, snapped a five-quarter losing streak in the most recent period, growing 7.5% year over year to $1.51 billion.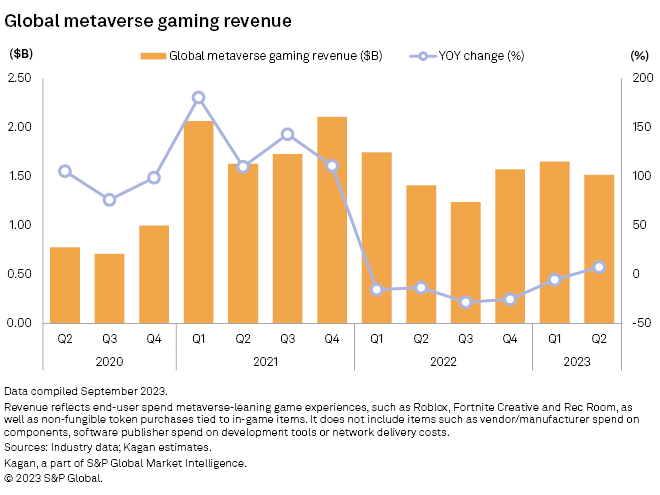 The NFT-gaming market collapse that began in early 2022 weighed on the metaverse gaming segment through the first quarter of 2023. We had expected a new wave of NFT-based games and other metaverse experiences to launch in mid-2023, but many of those projects appear to be stuck in prolonged development cycles, curbing any substantive growth potential for the segment.
However, we believe that the NFT market stabilized in the second quarter after falling to a relatively low level in our overall gaming stack. Now that there is relatively little NFT-related activity left to account for, the steady growth at consumer-facing metaverse hubs such as Roblox and Epic Games Inc.'s Fortnite Creative can be seen more clearly.
A particularly interesting catalyst to watch is Epic's focus on bringing more creators to its ecosystem to rival Roblox, including higher payouts for developers and a new set of development tools. These efforts are meant to generate more virtual environments and spending opportunities for end users.
Our model estimating gaming revenue now includes publicly reported inputs from Reality, a metaverse hub operated by Japan-based GREE Inc. Reality is a relatively small business, boasting just $10 million in quarterly revenue, but it grew 16.1% year over year in the recent quarter.
Our estimates for advertising, e-commerce and other opportunities were still mostly non-material in the second quarter of 2023, with each registering less than $50 million in revenue per quarter.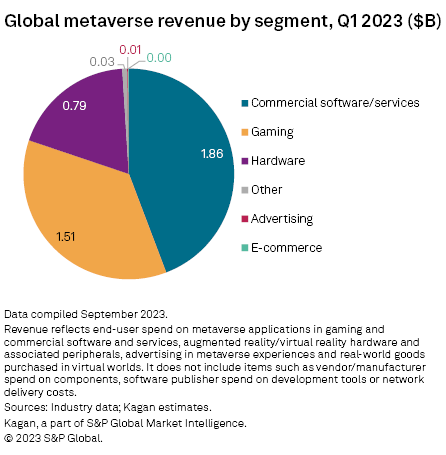 We expected advertising to play a larger role in consumer-facing metaverse experiences in the second quarter as Roblox launched a new initiative around programmatic advertising called "immersive ads." However, the company did not report substantive progress in the most recent quarter in the context of a weak overall ad market.
Metaverse e-commerce for real-world goods purchased in virtual worlds still has a hazy outlook as few substantive initiatives have been articulated.
Technology is a regular feature from Kagan, a part of S&P Global Market Intelligence.
This article was published by S&P Global Market Intelligence and not by S&P Global Ratings, which is a separately managed division of S&P Global.
Gain access to our full news & research coverage and the industry-specific data that informs our insights.
Click here