Jul. 13 2018 — After a record-breaking first quarter, stock repurchases in the S&P 500 are set to reach unprecedented heights in 2018. With interest rates rising and many companies flush with cash from tax reform, debt analysts expect to see companies continue to return massive amounts of capital to shareholders while also paying down debt.
According to an analysis of S&P Global Market Intelligence data, the first quarter of 2018 set a new record for quarterly share buybacks with $188.46 billion in common stock repurchases. The previous record for the index, which launched in March 1957, was set in the third quarter of 2007, when repurchases totaled about $172 billion, Howard Silverblatt, senior index analyst at S&P Dow Jones Indices, said in an interview. Leading the index in buybacks during the first three months of 2018 was the information technology sector, with common stock repurchases totaling $63.08 billion, more than twice the amount seen in the year-ago period.
In the past, a number of the heaviest repurchasers — including Apple Inc. and Microsoft Corp. — funded their buybacks not with cash, but rather with debt. This is because prior to tax reform, when interest rates remained low, it made financial sense for certain investment-grade issuers to take on debt domestically while keeping large piles of cash overseas as the interest rates on the debt were significantly lower than the tax rates the companies would have faced for repatriating their cash.
That strategy has now been turned completely on its head as companies simultaneously pay down debt and pay out for enlarged capital return programs, debt analysts said.
The spike in buybacks comes at the same time that the U.S. Federal Reserve is raising its benchmark interest rate. The Federal Open Market Committee recently set a target range for the federal funds rate of 1.75% to 2%, up 25 basis points from the previous level. Moreover, the central bank signaled it may take a faster path on rate hikes this year, with some Fed officials favoring increasing the rate four times in total this year.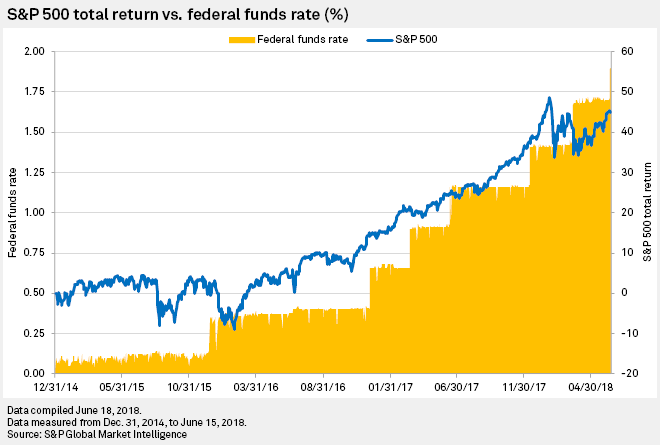 "At the end of the day, companies are starting to balance the needs of the two constituents — both equity holders and debt holders. So there will be significant buybacks but for mega caps that had significant amounts of debt … they are also likely to unwind their debt position as well," Andrew Chang, director of S&P Global Ratings services, said in an interview.
In particular, he expects a "significant increase in share repurchases in calendar 2018 and even in 2019 mostly led by the bigger caps such as Apple, Oracle [Corp.] and Cisco [Systems Inc.] — the really large companies who have been parking their cash overseas in lieu of repatriation for many years." He noted that these repurchases will be funded with cash on hand.
"Now that tax reform has passed, companies don't see the need to borrow anymore and they are asking themselves, 'What should we do with all this excess cash?'" Chang said.
The tax overhaul adopted in 2017 not only slashed the corporate tax rate to 21% from 35%, but it also set a 15.5% repatriation rate for cash held overseas. These changes "set the framework for technology companies to support capital returns with internal resources as opposed to issuing incremental debt," Moody's said. While it expects increased capital return programs, including higher dividends and repurchase levels, it predicts "significantly lower debt issuance from large, cash-rich technology firms that had previously issued debt domestically in order to synthetically repatriate funds."
All in all, the firm expects "a general de-leveraging over the next several years" in tandem with elevated capital returns.
Apple is already practicing that strategy. Citing tax reform, the company in May said its board approved a new $100 billion share repurchase authorization as well as a 16% increase in its quarterly dividend. In the first three months of 2018, Apple was the largest repurchaser of stock in the S&P 500. The company said it spent $23.5 billion to repurchase shares of its common stock. An S&P Global Market Intelligence analysis of the company's consolidated cash flow statement puts the total at $22.76 billion. An Apple spokesman declined to comment on the two figures. As of March 31, the company held cash and cash equivalents of $45 billion, short-term investments of $43 billion, long-term investments of $179 billion, balanced against $122 billion of debt.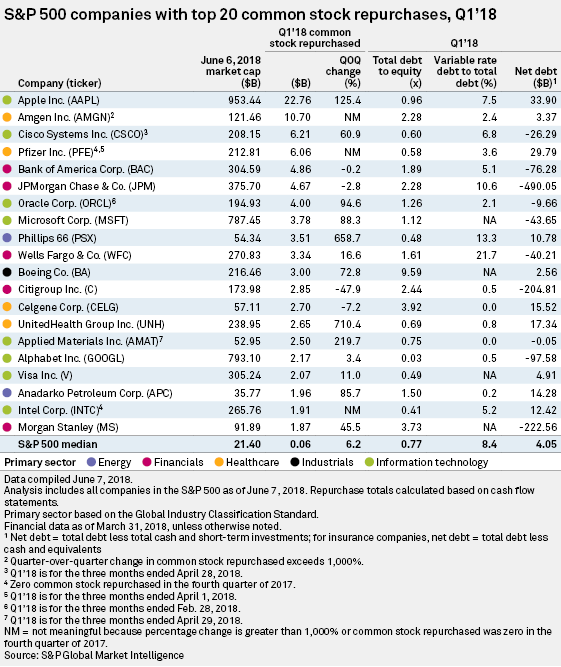 By comparison, the quarter's second largest repurchaser of stock in the S&P 500 was the biopharmaceutical giant Amgen Inc., which spent $10.70 billion on buybacks. The No. 3 spot went to the technology conglomerate Cisco, which spent $6.21 billion on repurchases.
In addition to buying shares, Cisco issued no debt during its most recently ended quarter and repaid nearly $3.65 billion in debt. Total debt declined $11.25 billion during the period.
Chang called the deleveraging occurring in the IT sector a "natural unwinding of the balance sheet."
Looking ahead, Chang said the elevated levels of repurchases seen in the first quarter will likely continue throughout 2018 and even into 2019 or 2020.
"I would say 2018 will not be the peak — it will be 2019 or even 2020," Chang said, noting the large cash balances tech companies are working through. Rather than a short-lived "big bang," Chang said higher repurchases and repayments will continue over the next couple of years "until that point where the companies have rightsized the balance sheet."