Dec. 19 2018 — The growing availability of 4K-enabled connected consumer hardware is reinforcing the role that over-the-top (OTT) video is already playing in filling in for traditional broadcaster's slow pace on UHD, who have to contend 4K equipment upgrades and new workflows.
4K UHD TV and Smart TV ownership
The rate of traditional linear UHD TV channel launches slowed from 60 globally in 2017 to just 10 in the first half of 2018 (refer to chart on slide 3 and the H1 2018 Global Ultra HD update.
The underwhelming momentum of linear channels on UHD has opened up the opportunity for OTT services to promote 4K services as premium, adding a differentiating edge. Netflix for instance carries thousands of hours of UHD content. We counted 18 such OTT services with UHD content, including: Amazon Prime Video, iTunes, Vimeo, Vudu and YouTube. Streaming services have grown in popularity as the traditional and physical (think Blu-ray, including 4K) market declined. Ultra HD 4K Blu-ray has failed to boost the market since its 2016 launch.
Connectivity has become critical as it drives accessibility to 4K content. Consumers are buying 4K TVs and vitally, connected ones that are connected at a higher rate than older Smart TVs according to Kagan Consumer Insight surveys. Kagan's survey data across nine markets found that 4K TV ownership is 10% in Germany and at the top end 25% in China. So penetration of 4K TVs is low but picking up fast.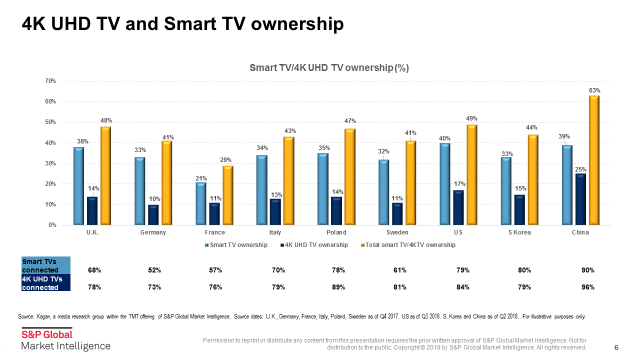 Moreover, cost is no longer a factor for consumers buying 4K UHD TVs as 50+ inch sets from Samsung, Toshiba and others now sell for as little as €500. However, lower cost TVs may also be of questionable quality.
We are seeing operators commit to 4K STBs but little drive on the linear channel side except for some niche channels. Sports will continue to be a natural primary driver of UHD content. However, multichannel operators are accelerating the rollout of 4K set-top boxes to future-proof their installed base of set-top boxes as HD and 4K set-top box costs have neared parity, while the new 4K devices help improve customer retention and growth.
Set-top boxes: showing real momentum
4K set-top boxes have moved from being part of a service provider's high-end product offering to the mainstream STB in some parts of North America, Europe and Asia. The cost differential between HD and 4K STBs is minimal, so providers moving to 4K in their next-gen STBs even without UHD content, often relying on Netflix or OTT carriage deals.
In unit terms, the largest region for 4K STB shipments will be Asia Pacific for the length of the forecast due to adoption in China, Japan and South Korea.
To date, China Telecom has deployed 50 million 4K UHD set-top boxes to its IPTV subscribers. As of the third quarter 2018, 40% of fixed broadband subscribers are currently on a 100 Mbps or higher plan, with the average download speed at 64.7 Mbps. Within the next few years, China Telecom is looking to introduce 1 Gbps broadband service to residential consumers across major cities in China. China also leads the world in sales of 4K TV sets representing more than U.S., Western Europe and Japan combined. The availability of high-speed broadband and high take-up rate of 4K UHD TV sets makes for much potential in pushing UHD content, especially by OTT providers. Consider how universal OTT aggregation by operators is, as well as the impact of OTT streaming services, both mitigating UHD linear channel shortage.
Streaming Media Players (SMPs)
Reinforcing the drive to 4K are SMPs, typically: Google Chromecast stick, Apple TV box, Amazon Fire streaming stick, Roku box and Roku streaming stick. 2018 has been an important year for SMPs as we saw the number shipped with 4K support pass the 50% milestone in 2018 in Western Europe and North America. Asia will pass 50% next year. Development in other regions is going to be slower and this chimes with the low adoption of pay TV and high speed broadband in these regions.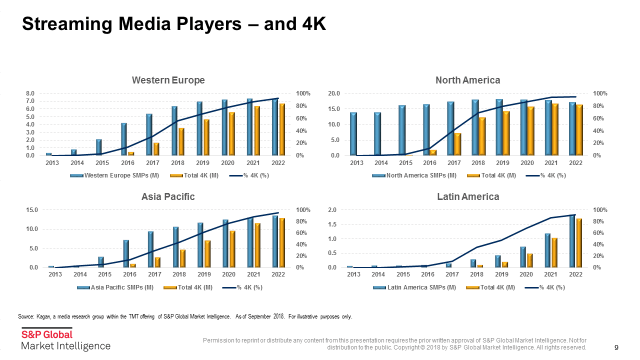 8K already
At the 4KHDR Summit 2018, Japanese broadcaster NHK presented its groundbreaking move on 8K with a linear channel now launched on December 1st, 2018, a year on from its announcement.
The introduction of 8K into the consumer market at this stage, with 4K UHD still fledgling, is likely adding complexity and confusion for consumers. Most in the industry agree that the priority should be given to TV image quality, instead of more pixels with 8K. More pixels add strain to the workflow by increasing bandwidth, storage capacity and distribution requirements, without necessarily improving the experience on a typical screen at home of the viewer, notwithstanding the lack of infrastructure readiness and persisting issues with High Dynamic Range (HDR) and Higher Frame Rate (HFR). HDR in video is a technology that provides better quality (with wider color range and more realistic colors, affecting brightness and contrast ratio) pixels for TV sets, that increasingly offer more pixels (4K over HD and 8K over 4K).
NHK is launching the channel with live satellite feeds of 4K content from Antarctica and 8K from Rome, Italy. 8K screen availability remains a problem as the market for 4K is still in its infancy and Japan is a market where large screen TVs (50 inches plus) are not popular. For this reason NHK is promoting 8K on large screens in public spaces and will feature 12 hours of 8K each day. The Olympics will likely provide the first real test bed for NHK's 8K plans with the 2020 set for Tokyo.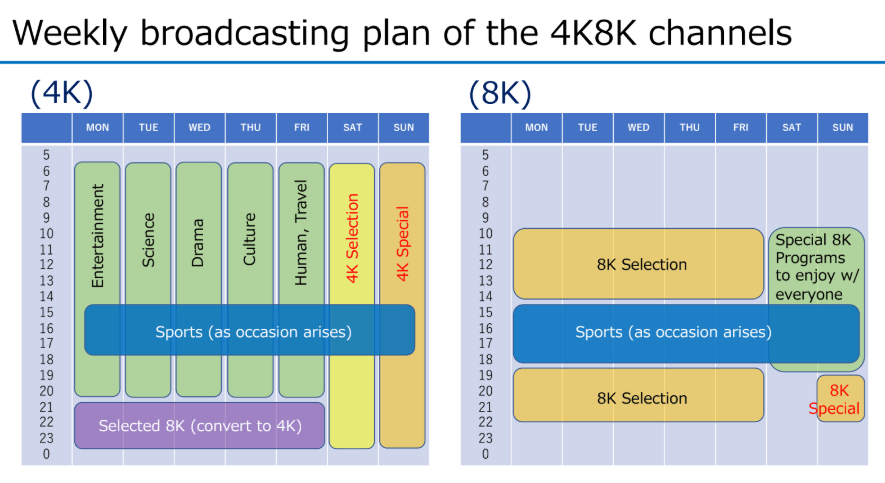 Korean consumer electronics giant Samsung launched its QLED 8K TVs with screen sizes ranging from 65 to 85 inches at a cost of €5,000 to €15,000. The 8K TV sets feature 8K upscaling of content using Artificial Intelligence that employs 250 algorithms compared to 20 on 4K. The ability of its AI-rich TV to read non-8K content in 8K is critical to satisfy consumers buying into the market given the scarcity of content shot in 8K. The TV can reproduce 100% of colors at any brightness level and has a processor that can scale any content to 8K with a 98% success rate.