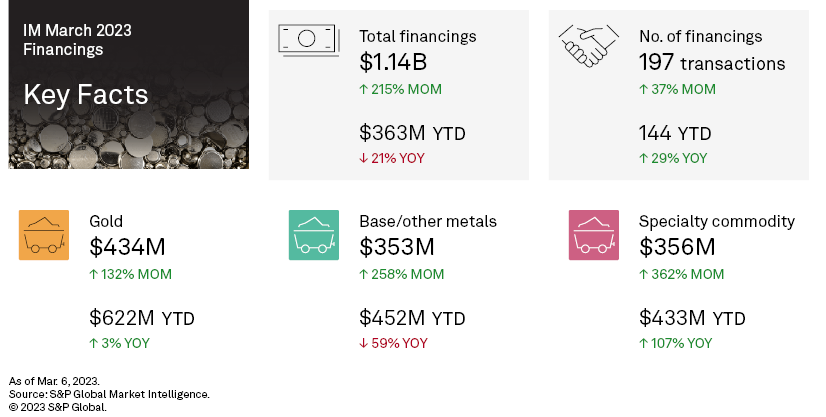 Funds raised by junior and intermediate mining companies more than tripled to $1.14 billion in February after falling to a three-year low of $363 million in January. There were 197 transactions, up 37% month over month. Significant financings, valued at $2 million or more, jumped to 71, from 38 in January, and accounted for 94% of the funds raised. There were four transactions valued at more than $50 million, compared with one in January.
February 2023 financings data is available in the accompanying databook.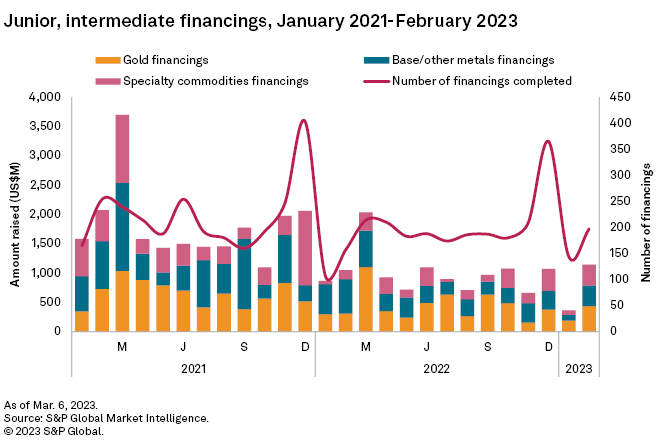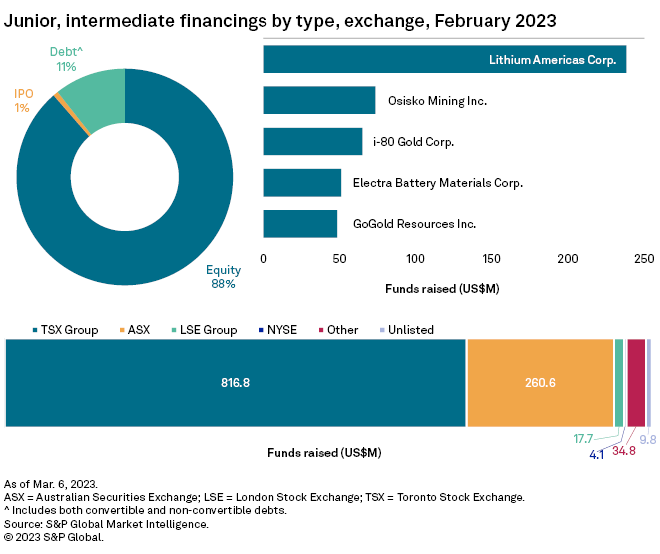 Gold financing more than doubles
The gold financing total jumped 132% month over month to $434 million in February, a four-month high. The number of gold financings increased to 106, and the number of significant financings jumped to 35, from 14 in the previous month.
The largest gold financing, and the second-largest overall, was a C$100 million ($73 million) private placement by Toronto Stock Exchange-listed Osisko Mining Inc. The proceeds of the follow-on offering will be used to advance the Windfall Lake gold project, which recently concluded a feasibility study that estimated annual gold production of 294,000 ounces.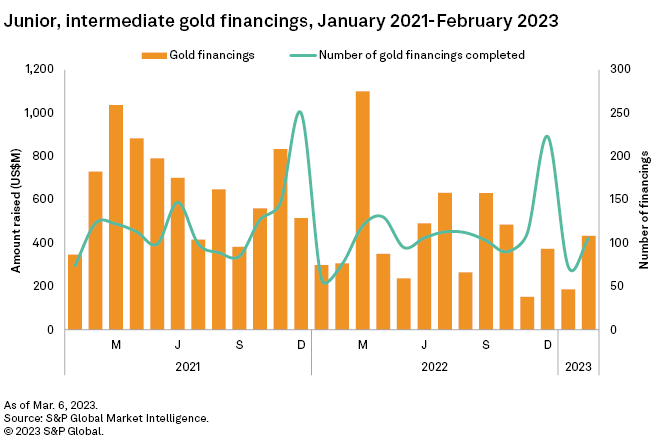 Higher copper, silver, cobalt funding lift base/other group
Funds raised for the base/other metals group surged 258% month over month to $353 million, with all major commodities in the group posting gains except nickel. The number of transactions increased to 66, bouncing back from the 12-month low of 50 in January. The number of significant financings increased to 25, up 56% from 16 in the previous month.
The largest base/other metals financing, and the fourth-largest overall, was a convertible bond offering by TSX Venture Exchange-listed Electra Battery Materials Corp. amounting to $51 million. A portion of the proceeds will be used for capital expenditures associated with the expansion and recommissioning of the company's hydrometallurgical cobalt refinery in Ontario.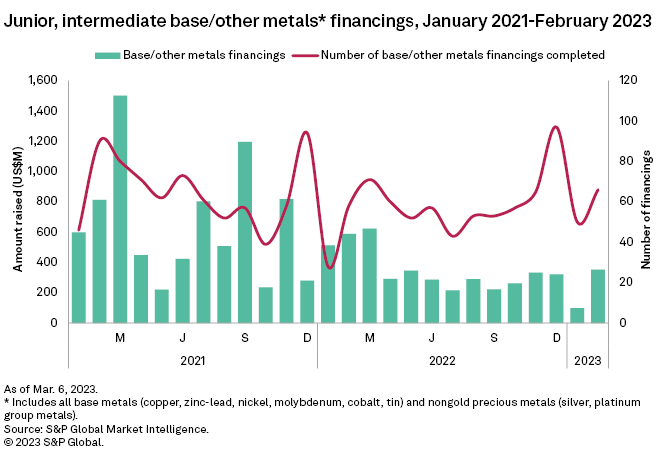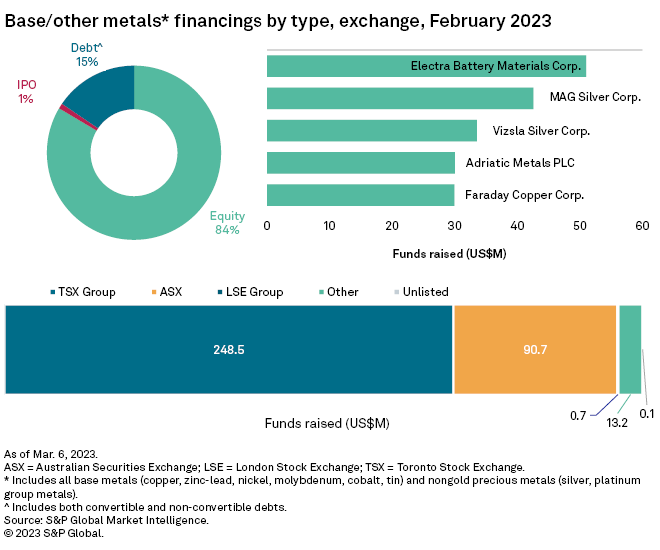 Specialty commodities up nearly fivefold as lithium bounces back to 14-month high
Fundraising for specialty commodities jumped 362% month over month to a two-month high of $356 million, buoyed by one large transaction. The number of financings increased to 25 from 21, while the number of significant financings increased to 11, from eight in January.
The largest specialty commodities fundraising, and the largest overall, was a C$320 million ($238 million) follow-on private placement offering by Lithium Americas Corp. that was sold to General Motors Co. The C$320 million was the first tranche of the full transaction with gross proceeds of C$650 million ($483 million). The proceeds will be used primarily for development and working capital at Lithium Nevada, which recently completed its feasibility studies and is expected to enter phase-one production in the second half of 2026. The mine's estimated average annual production is about 40,000 tonnes of lithium carbonate equivalent in the first 25 years of operation.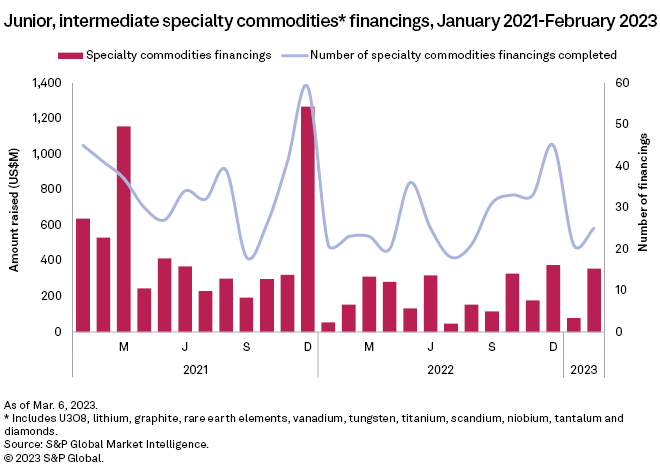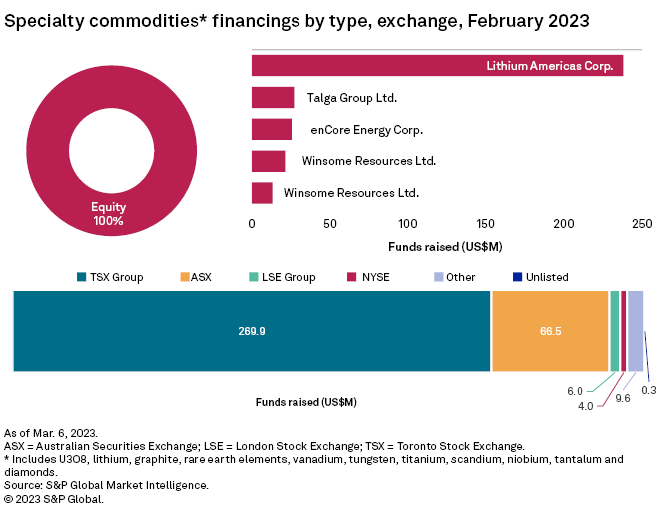 This article was published by S&P Global Market Intelligence and not by S&P Global Ratings, which is a separately managed division of S&P Global.
Gain access to our full news & research coverage and the industry-specific data that informs our insights.
Request Follow Up