Nov. 02 2018 — Hurricane Maria laid bare the banking system's dependence on telecommunications systems, and showed how unprepared banks were for the sudden disruption in cell service.
"The thing that I think surprised most everybody was the communication failure," Puerto Rico Commissioner of Financial Institutions George Joyner said during an interview in his San Juan offices. "I was here for both Hugo and Georges [massive hurricanes that hit Puerto Rico in 1989 and 1998, respectively]. At that time cellular wasn't such a big component of the telecommunications infrastructure."
And the industry's reliance on cell service is growing, despite the sputtering infrastructure. Banks in Puerto Rico closed at least 27 branches in the year after Hurricane Maria hit — representing roughly 8% of the island's total branch network, an S&P Global Market Intelligence analysis found.
Some branches closed due to damage. In other cases, banks used the storm as an opportunity to shrink their physical footprint and put more emphasis on mobile offerings.
OFG Bancorp, for example, closed a dozen branches, or about a quarter of its network, following Maria. OFG President and CEO José Rafael Fernández said the hurricane "fit perfectly" into the bank's digital strategy by driving more customers to start adopting technology.
"Maria hit and everybody had to close their branches. There was no electricity, there was no communication, and we had to get branches up to speed as fast as we could. And we did," Fernández said in an interview in San Juan.
"But in the process, customers realized that they had to look for fuel, they had to do other more important things than going to the branch, like going to the supermarket … and all of a sudden they started utilizing mobile more."
Despite the closures, banks say they remain committed to brick-and-mortar locations in Puerto Rico, where the branch remains a key part of daily life and in-person contact is valued among customers.
"I visited branches in the aftermath of the hurricane early in the morning," Fernández recalls. One day he went to a branch at around 4 a.m. and found a line of 200 people waiting for the bank to open. Another morning in the early hours, he went into a branch to discover something even more surprising — a bank teller blow-drying a customer's hair.
"We had to send an email to all the employees saying, 'Look, blow-drying hair in the branch can break the generator, so please be careful!" he said.
'A desperate time'
Even with working generators, there was no getting around banks' inability to provide critical services.
A traffic jam in Puerto Rico as people search for cell service in September 2017, shortly after Hurricane Maria hit.
Source: Lourdes Aponte Rosario
Sometimes, the ATMs ran dry, and it was normal to see lines of customers wrapped around the block.
"You could fill those machines up and the money would go like that," Alvarez said, snapping his fingers. "We weren't panicking, but we were concerned that we needed cash."
Many ATMs were not operational.
At Popular, Alvarez described a return to "old-fashioned" banking in the first days after the storm — including hand-written I.O.U.s.
"There were no systems, no nothing. We had a couple of branches where people were really in need of money. And we had to give the instruction that anybody who showed up with a Popular debit card, give them $100 against an I.O.U.," he said.
"At the end of the day I think we lost less than $5,000 on that. People were very honest and we had cases where somebody would say 'I only have $60 in the bank so don't give me $100.' But it was a desperate time. In the aftermath of the storm, cash is king. People needed money."
Banks on the island began holding daily phone calls with U.S. federal banking and credit union regulators, the U.S. Treasury, Homeland Security, the Federal Emergency Management Agency and EVERTEC Inc., the company that manages cash on behalf of the Federal Reserve in Puerto Rico. Puerto Rican banks are subject to the same federal regulations as their mainland counterparts; they are also regulated locally by the Office of the Commissioner of Financial Institutions of Puerto Rico.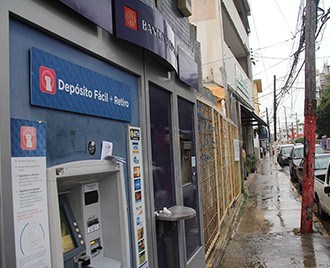 A Popular bank branch in San Juan, a year after Hurricane Maria.
Source: Lindsey White
The first order of business was to make sure the island had enough cash, according to Joyner, the island's financial commissioner, who was also on the calls.
"The New York Fed had already pre-positioned about $350 million here in Puerto Rico in the reserve," Joyner said. "After the hurricane struck, they were able to get another $700 million in here within a week. It came in on pallets on one of the relief flights."
Joyner describes these calls as "very open."
"Everybody was talking about their branch networks and what they were doing and how they were going to move cash around," he recalls. "We had the armored car company also involved in the calls. And so it was a lot of different people from a lot of different sectors coming together all cooperating with each other."