Jun. 01 2018 — S&P Global Market Intelligence's recently updated five-year outlook for the U.S. banking industry suggests that additional expansion in net interest margins lies ahead. That expansion, coupled with a lower corporate tax rate, should allow profitability to nearly reach precrisis levels, before credit quality sours and serves as a headwind to earnings. The greatest changes in the near term, however, will come in banks' deposit bases, and further rate increases should soon create clear separation between winners and losers in the industry.
Click here to read the 2018 U.S. Bank Market Report.
Fed rate hikes creating divide among banks' deposit franchises
The Federal Reserve raised rates three times in 2017, including once late in the fourth quarter. The moves helped push the U.S. banking industry's cost of interest-bearing deposits to 0.49% from 0.36% in 2016. While deposit costs rose steadily in 2017, they moved notably higher in the fourth quarter even though the third rate hike came with just a few weeks left in the year.
Deposit betas, or the percentage of changes in market rates that banks pass on to their customers, climbed to 19.6% in 2017 from 13.5% in the first half of the year and 12.2% in 2016. While the fed funds rate did not increase much in the fourth quarter, the industry's deposit beta was 72.5% in the period.
In 2017, 13 of the top 100 banks by deposits recorded betas exceeding 41%, the same level recorded by the industry in 2005, which was the first full year during the last rate tightening cycle. Economists expect the Fed to raise rates three more times in 2018, and we expect the industry's overall beta to rise to 45% as depositors digest recent increases in short-term rates and banks' funding needs grow.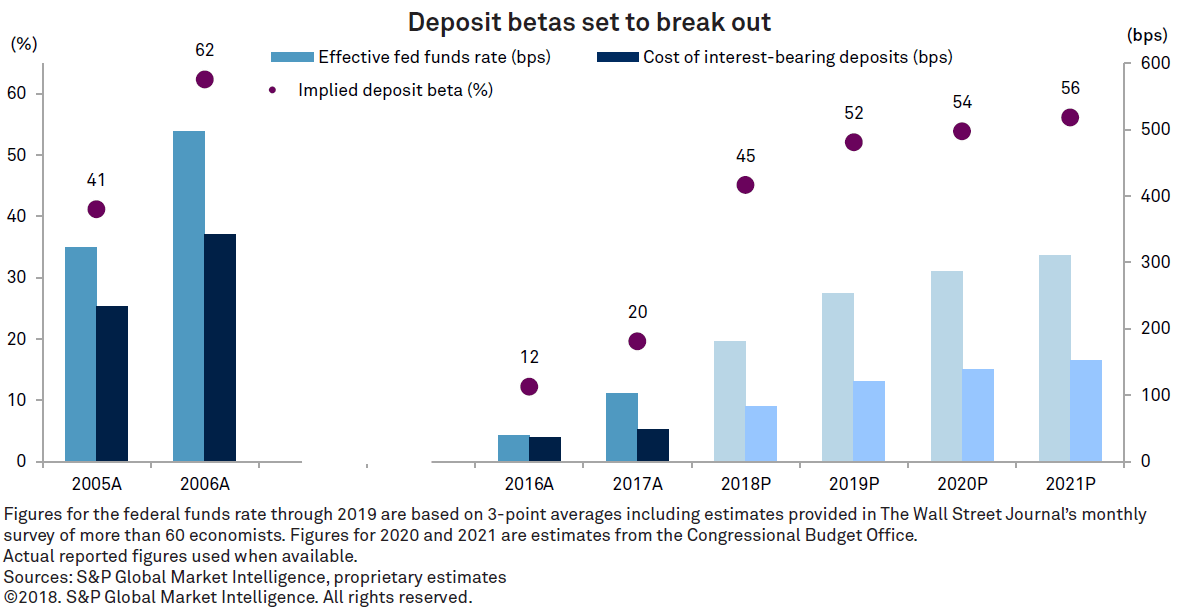 Banks with greater exposure to online products and to commercial and high-net worth clients have already experienced higher betas. Goldman Sachs Group Inc. recorded a deposit beta of nearly 60% in 2017. Goldman has worked to build its consumer deposit base and improve its liquidity profile, adding more than $100 billion in deposits since year-end 2007, largely through an online retail channel that is dubbed Marcus after the firm's founder. The growth has come at a cost as Goldman offers some of the highest rates on savings accounts and 12-month CDs.
Dallas-based Texas Capital Bancshares Inc. experienced an even higher deposit beta in 2017. The bank, which largely focuses on commercial customers, recorded a beta of 70% last year, but its cost of interest-bearing deposits still remained well below the expense recorded by Goldman in the fourth quarter.
Meanwhile, some banks such as Kansas City, Mo.-based Commerce Bancshares Inc. recorded a deposit beta of just 4% in 2017. Commerce still has a relatively low loan-to-deposit ratio at 68.46% and boasts a high level of noninterest-bearing deposits at about 35% of its deposit base. This allows the bank to lag peers in the market and let higher cost funds run off its books.
Certain large institutions such as Bank of America Corp. had previously recorded relatively low deposit betas but began to report more notable increases in deposit costs in the second half of 2017, largely due to higher rates on money market accounts with high-wealth clients.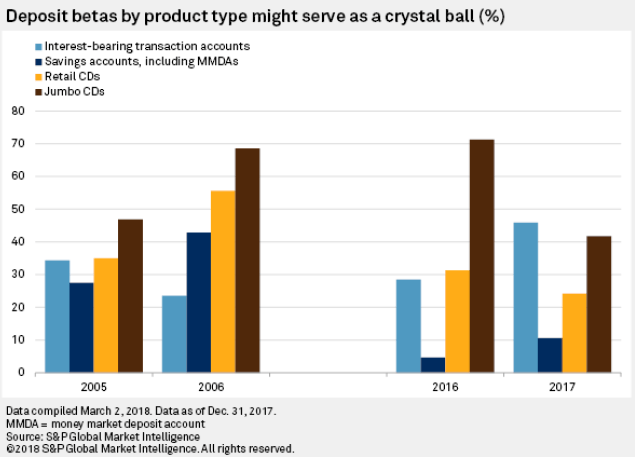 Money market accounts ballooned in the aftermath of the crisis as liquidity flooded into the banking system. For several years, regulators advised modeling for potential runoff in that liquidity. Money market accounts have not appeared to be particularly rate sensitive yet, but those products could bear watching.
Betas on money market and savings accounts more than doubled in 2017 but still clocked in at just under 11% last year. Betas on those accounts eventually eclipsed 40% during the last rate tightening cycle. They seem poised to move again in that direction as banks put more of their excess liquidity to work and loan-to-deposit ratios rise.
Competition limiting the benefits of higher rates
Rising deposit betas will limit how much banks' net interest margins expand in 2018. Some of the benefits of higher interest rates will be further mitigated because banks have reached further out of the yield curve in both their securities and loan portfolios, with hopes of bolstering income.
We still expect loan yields to rise by more than 20 basis points in 2018, buoyed by improved loan demand. While stronger loan growth would otherwise alleviate recent pressures on yields, our projections assume tax reform will spark even fiercer competition for credits as banks struggle to lever excess capital.
Against that backdrop, we expect net interest margins to rise 3 basis points to 3.24% in 2018 and then to 3.28% in 2019.
Stronger loan growth, the expected margin expansion and a lower corporate tax rate should cause earnings to jump in 2018. Earnings growth should slow in 2019 as deposit costs increase at an even quicker pace and credit costs begin to rise.
The banks that experience even greater margin expansion in 2018, and accordingly stronger earnings growth, will be those institutions with genuinely stable deposit franchises. The market already witnessed in the fourth quarter of 2017 that not all banks will boast the same benefits from higher interest rates. That divide is likely to grow as the Fed continues its bias toward tightening the money supply.

This is the first article highlighting our recently updated outlook for the banking industry. Stay tuned for another article that will focus on the impact of the new reserve methodology with which banks must comply beginning in 2020, known as the Current Expected Credit Loss model.
Scope and methodology
S&P Global Market Intelligence analyzed nearly 10,000 banking subsidiaries, covering the core U.S. banking industry from 2005 through 2017. The analysis includes all commercial and savings banks and savings and loan associations, including historical institutions as long as they were still considered current at the end of a given year. It excludes several hundred institutions that hold bank charters but do not principally engage in banking activities, among them industrial banks, nondepository trusts and cooperative banks. The analysis divided the industry into five asset groups to see which institutions have changed the most, using key regulatory thresholds to define the separation. The examination looked at banks with assets of $250 billion or more, $50 billion to $250 billion, $10 billion to $50 billion, $1 billion to $10 billion, and $1 billion and below.
The analysis looked back more than a decade to help inform projected results for the banking industry by examining long-term performance over periods outside the peak of the asset bubble from 2006 to 2007. S&P Global Market Intelligence has created a model that projects the balance sheet and income statement of the entire industry and allows for different growth assumptions from one year to the next.
The outlook is based on management commentary, discussions with industry sources, regression analysis, and asset and liability repricing data disclosed in banks' quarterly call reports. While taking into consideration historical growth rates, the analysis often excludes the significant volatility experienced in the years around the credit crisis.
The projections assume future Fed funds rates and 10-year Treasury yields based on a monthly survey of more than 60 economists conducted by The Wall Street Journal. Interest rate assumptions for 2021 and 2022 are based on the Congressional Budget Office's annual outlook. S&P Global Market Intelligence does not forecast changes in interest rates or macroeconomic indicators and aims to project what the banking industry will look like if the future holds what most economic observers expect.
The outlook is subject to change, perhaps materially, based on adjustments to the consensus expectations for interest rates, unemployment and economic growth. The projections can be updated or revised at any time as developments warrant, particularly when material changes occur.
The full 2018 US Bank Market Report is available to S&P Global Market Intelligence subscribers, along with supplementary data exhibits and an industry projections template that allows for different growth assumptions in each year. Contact us for more information.