Apr. 10 2019 — Uncertainty over global growth, trade wars, the Federal Reserve's cautious outlook on interest rates and recent M&A deals have lifted interest in gold and gold mining companies. Gold mining equities' market capitalization has halved since 2012. This devaluation and a push for consolidation has increased M&A activity, with majors capitalizing on the reduction in enterprise values in 2018.
As the gold price began to decline after hitting its peak in 2011, gold mining companies began shifting their focus to maximizing value over volume, with greater emphasis on delivering returns to stakeholders than on increasing production. Recent M&A deals tie into this theme as companies look to unlock synergistic cost savings through lower average costs and increased value. This shift has seen gold production remain relatively constant among the top 30 gold mining equities between 2014 and 2018, at about 43 million ounces per year, with a 3% increase expected in 2019. The consensus earnings margin outlook of 30% for gold mining equities is supported by our view on 2019 all-in sustaining cost, or AISC, margins at 33%.
In 2019, average enterprise value, or EV, to EBITDA of the top 30 listed gold majors is expected to go below seven for the first time in six years. This is the result of a modest decline in EV due to declining net debt offsetting a rise in market capitalization, along with an expected increase in earnings. The drop in the ratio could explain the heightened M&A activity among the gold majors. Barrick Gold Corp., Newmont Mining Corp. and Goldcorp Inc., which were recently active in M&A, are forecast to have EV-to-EBITDA ratios of 6.3, 6.5 and 7.6, respectively, according to consensus. These are below the S&P 500, which has averaged 11.9 year-to-date but are closer to the S&P/TSX Global Mining Index, which has averaged 7.0 over the same period. Expanding this to the group analyzed, 16 of the 30 listed gold majors are expected to have ratios lower than the group average of 6.6 in 2019 and are therefore potentially undervalued versus their peers.
Prior to its merger with Barrick, Randgold's EV-to-EBITDA ratio in 2018 was 16.8, more than double the group average. Enterprise values have recovered significantly from the recent lows of 2015, which were driven by a decline in market capitalization despite growing gold production and falling all-in sustaining costs. Gold prices are expected to average US$1,294/oz in 2019. With gold failing to break US$1,350/oz at the start of the year, this represents a 2% increase year over year. Concurrently, total gold production by the listed majors is expected to increase 3% in 2019, which, along with higher byproduct revenue as a result of stronger prices, will increase their revenue by 4%, or US$3.3 billion, in 2019. The increased revenue and an 8% reduction in costs are driving the 3% increase in EBITDA margin.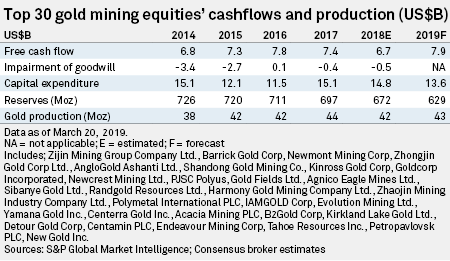 For the majors covered here, rising production in 2019, higher metals prices and lower costs could increase free cash flow by US$1.3 billion, or 19%, year over year. Companies will use this increased cash flow to lower net debt, which is expected to fall 19% year over year in 2019, placing the majors at their lowest level of leverage in five years. The majors have been focusing on returns to shareholders. Higher earnings have led to dividend payouts increasing 103% to US$2.0 billion in 2017 from US$1.0 billion in 2016 and remaining at about US$2.0 billion in 2018. Acquisitions and investments made during the price peaks around 2011 have since required significant impairments due to reserve and cutoff grades being overinflated due to the high gold price at the time. This has led to over US$15.9 billion of goodwill impairments since 2012. Recent transactions have highlighted a more cautious and capital-conscious industry. The Barrick/Randgold merger was a nil-premium takeover, as was Barrick's attempted takeover of Newmont.
With strengthened balance sheets and increasing cash flow, the miners have more options available for spending. They can increase their production or reserves base by investing more in new or current operations or in M&A, they can maintain returns to shareholders through buybacks and dividend payments, or they can continue to pay down total debt. Capital expenditure is expected to decline slightly in 2019. If this continues, then delivering short-term returns to shareholders could restrict longer-term growth, ultimately destroying shareholder value. Gold exploration budgets have increased for the past two years, with the major gold producers accounting for just over half of the global gold exploration budget for the third consecutive year. Despite the recent budget increases, reserves among the top 30 listed majors have declined at a rate of 1.5% year over year since 2014. With production in 2019 expected to deplete 6% of their current aggregate reserves base, the listed majors will need to replace 33 million ounces this year just to maintain that rate of decline. If gold exploration proves unsuccessful and production levels are sustained, mergers and acquisitions will be the only means of securing a long-term pipeline of gold production.
Vale Dam Burst — Implications For The 2019 Iron Ore Marketplace
Learn more
Webinar Replay: State of the Market - Mining Q4 2018
Learn more