Kagan estimates global game console shipments grew 15.4% year over year to 11.3 million in the first quarter as Sony Group Corp. single-handedly pulled the segment out of a five-quarter spiral of year-over-year declines.
Things were starting to look dire for the console market, but Sony delivered on its promise to keep shipments flowing into early 2023 and was able to offset slumping year-over-year sales from its peers. Sony will have to keep up the pace over the next few quarters to continue to grow the market because Nintendo Co. Ltd. confirmed it will not release a Switch successor this year. Furthermore, Microsoft Corp. appears rudderless as it fights to keep its Activision Blizzard Inc. deal alive, and Meta is still months away from a Quest 3.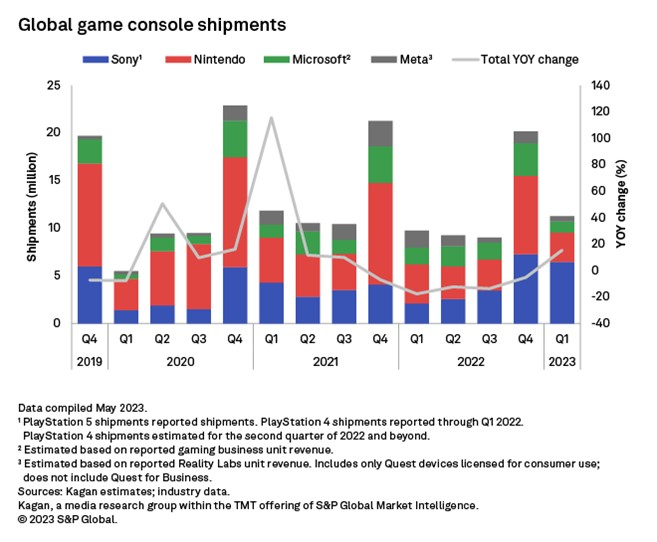 The PlayStation 5 launched in the fourth quarter of 2020 but spent the next two years in supply chain purgatory, leaving consumers with long waits to snap up meager supply. Sony slowly worked its way through chip shortages and logistics delays and finally uncorked in the fourth quarter of 2022.
It continued to pour units into retail channels in the first quarter of 2023, growing 208% year over year to 6.5 million shipments. PS5s were readily available at big-box stores such as Walmart Inc., Target Corp. and Best Buy Co. Inc. in the quarter, which was a rare occurrence during the pandemic.
Units continued to be in stock as of early May, and some retailers started discounting the PS5/God of War: Ragnarök bundle the company introduced in November 2022, a sign that supply that has started to catch demand.
With that in mind, we expect shipments to be steady or lower quarter over quarter in the near term but continue to widely outstrip year-ago shipments.
The PS5 is now just 1.8 million units behind the PlayStation 4 when comparing 10 quarters of sales from their respective launch periods. The delta was 5.7 million units in the prior period (Quarter 9).
Sony was the top console vendor by shipments as of the first quarter, taking a definitive lead over Nintendo as the Switch continues to lose momentum.
Switch shipments fell 25.3% year over year to 3.1 million, comparable with pre-pandemic levels. We expect the release of the long-awaited sequel to The Legend of Zelda: Breath of the Wild in May to buoy console sales somewhat in the second quarter, but double-digit declines are likely to persist with or without new hit software as the console reaches saturation.
Nintendo said it has no plans to release new hardware through March 2024, which would make the gap between the Switch and its successor at least the second-longest in the company's history of TV-compatible game consoles.
The Famicom/Nintendo Entertainment System was the company's primary console for seven years and four months after it was introduced in Japan in July 1983 and replaced by the Super Famicom/Super Nintendo in November 1990. The Switch will be seven years old in 2024, after being released in March 2017.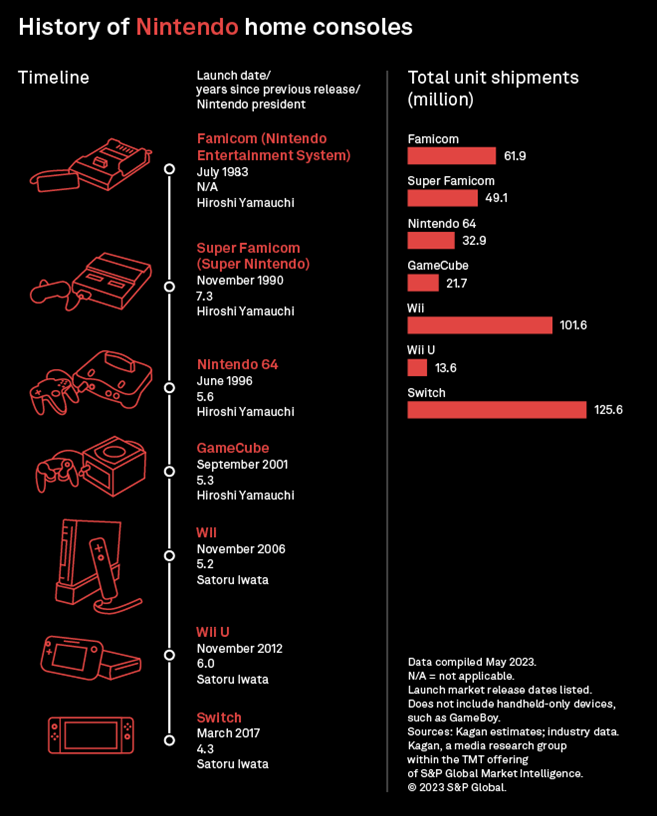 It is likely that Nintendo is simply trying to stay out of Sony's wake as the PS5 finally ramps up shipments and that it will wait for that momentum to wane before rolling out new hardware.
But it is also worth noting that this would be the first hardware transition for Nintendo Chairman and President Shuntaro Furukawa, who took over in 2018 after a short tenure from Tatsumi Kimishima, who succeeded a 13-year run by Satoru Iwata.
Iwata rose through the ranks of Nintendo as a programmer, contributing to titles such as Kirby and Earthbound. He oversaw the release of the Wii and the Switch, known for being affordable, relatively underpowered hardware with novel control schemes.
By contrast, Furukawa's background is largely in accounting and marketing. He may take this moment to consider the margin benefits of pushing more of Nintendo's publishing efforts to mobile, PC, the cloud or even third-party consoles.
And for those thinking that Nintendo would not dare scale back on hardware; remember, it already has. The company used to make two devices per console generation: a handheld device and a TV-based console. Now it makes one hybrid device.
Microsoft shipments fell 33.2% year over year to an estimated 1.2 million units in the first quarter. Xbox units have become harder to find at retail as PlayStation units have emerged in force, but Microsoft made no mention of a supply crunch in its earnings materials.
The company is struggling to deliver compelling content to drive console purchases and is likely keeping inventory tight until new blockbuster titles arrive.
That may take longer than Microsoft had anticipated as its bid to acquire Activision Blizzard founders. A UK regulator recently rejected the deal, saying it would hurt competition in the gaming space. The company has said it will appeal the decision, but even a successful appeal would set the deal closing back months.
Meanwhile, games from Microsoft's acquisition of Bethesda, completed in March 2021, have left gamers wanting. Cooperative multiplayer shooter Redfall, which launched in May, has a 57 average on Metacritic out of a possible 100. RPG Starfield was first slated to launch in November 2022, was then moved to the first half of 2023 and now is expected to launch in September 2023.
Microsoft also has a robust cloud gaming division that it could further leverage in lieu of selling expensive Xbox hardware. We expect its cloud ambitions to become more defined after the Activision Blizzard matter is settled.
Meta Platforms Inc.'s Quest 2 shipments fell 68.9% year over year to an estimated 600,000 units, the lowest quarterly shipment count since the device's launch. The Quest 2 continues to struggle after the $100 price increase Meta imposed in August 2022.
Meta said a new consumer-focused headset will launch later in 2023, and CEO Mark Zuckerberg said in an interview during the Meta Connect conference that it will cost between $300 and $500.
In-game NFTs forecast to grow into $15B market by 2027
Read Now
Inflation cools global smart TV demand in Q4 2022 as shipments fall to five-year low
Read Now