Deutsche Telekom AG (DT), Orange SA, Telefónica SA and Vodafone Group PLC have formed an ad tech joint venture to gain a foothold in a lucrative pan-regional digital advertising market dominated by US technology firms such as Alphabet Inc. and Meta Platforms Inc. While operator ventures into ad technology have not always gone to plan, the focus this time is on their prime assets: their customers.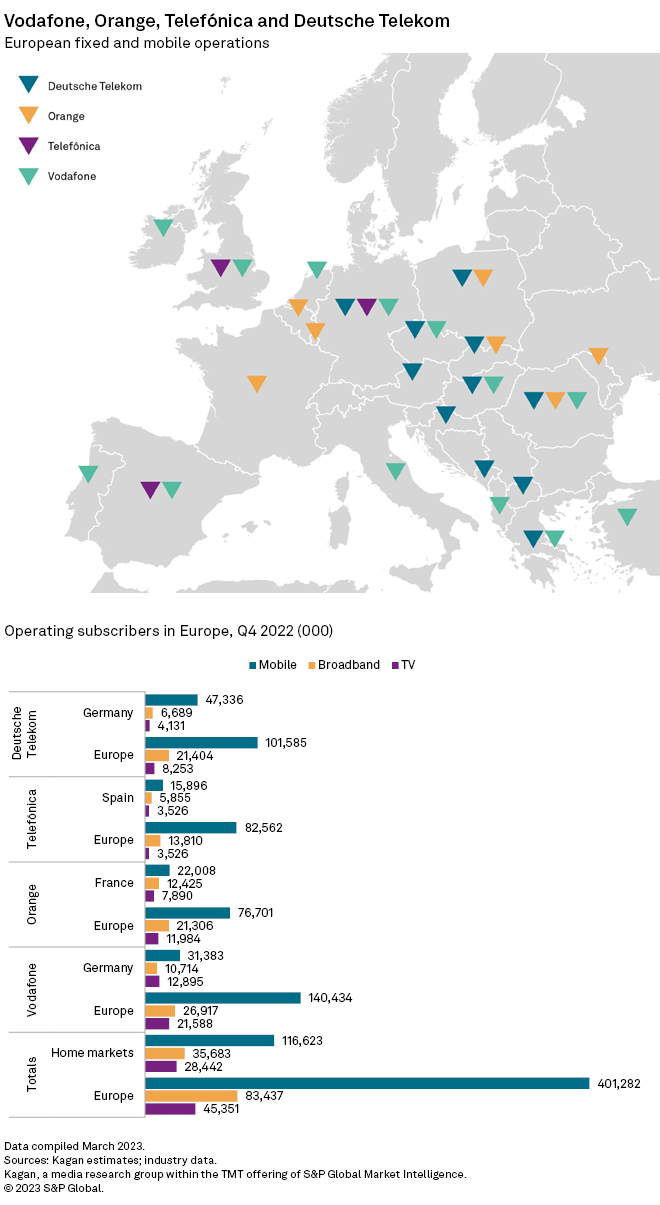 Major European telcos Deutsche Telekom, Orange, Telefónica and Vodafone have formed a joint venture that will allow them to monetize their customer base data via digital advertising. Entering this market should prove lucrative, with digital advertising projected at nearly three-quarters of total ad spend in Western Europe in 2027, according to Magna Global. Though compliant with the General Data Protection Regulation, the joint venture has attracted scrutiny from data privacy advocacy group European Digital Rights.

The four operators have considerable reach in their home markets, representing 116.6 million mobile, 35.7 million broadband and 28.4 million TV customers. Should they take their venture beyond these markets, that reach extends to 401.3 million mobile, 83.4 million broadband and 45.4 million TV subscriptions in Europe. The digital ad opportunity is significant, and it should comprise 71.6%, or $141.7 billion, of Western Europe's total ad spend in 2027, according to Magna Global estimates. Total ad spend is expected to hit a five-year CAGR of 4% to reach $198.1 billion by 2027.
Telecom operators have spent a decade pursuing a more influential role in digital advertising. Several operators have attempted to break into the digital ad market via acquisitions, although they faced constant regulatory obstacles that ultimately have seen those investments sold off. The European Commission has given the joint venture its unconditional approval, suggesting they may now be able to break into the market. The new venture plans to use the privacy portal TrustPid for data protection-compliant ad targeting opportunities that leverage their customer data.
The four companies have taken equal 25% stakes in a newly formed holding company, with Vodafone and DT acting as the driving forces in the group. Vodafone conducted the first trial last year, testing the platform on its network and DT's in Germany, partnering with local online publishers and advertisers. This allowed the wider group to evaluate the platform's functionality and assess revenue opportunities and compliance complications.
Vodafone Group revenue fell from 2017 to 2022, although EBITDA margins remained relatively stable. With little growth in adjacent business lines, such as pay TV, a foray into digital advertising would be an opportunity. Deutsche Telekom has delivered a more impressive financial performance in recent years, although its domestic revenues have been flat during this time, with growth down to operations outside Europe. Orange SA has seen tepid growth but a consistent margin performance, while Telefónica reported a slight increase in revenue in 2022 after a difficult few years addressing its debt burden.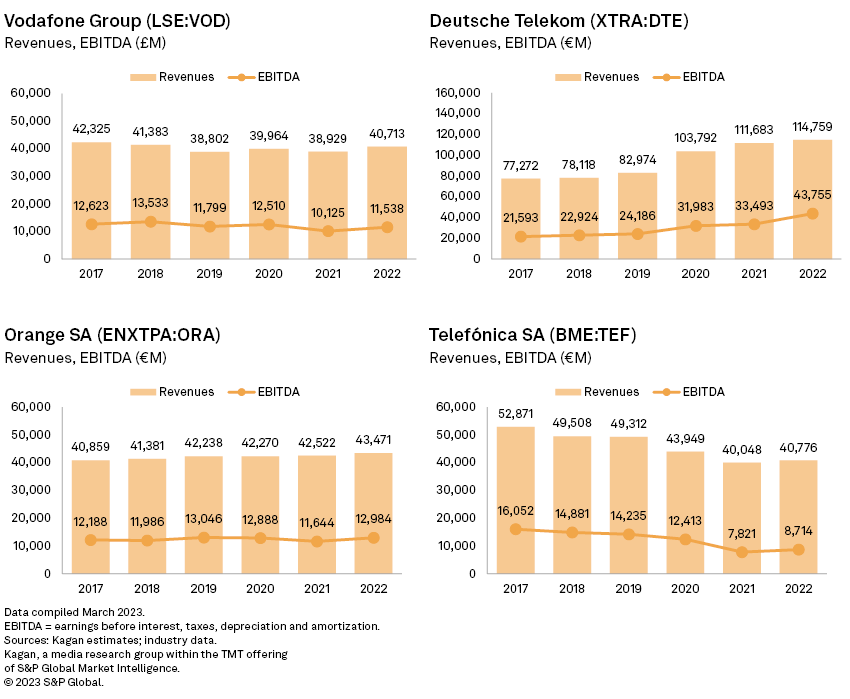 The new platform has been designed to comply with European data policies such as General Data Protection Regulation (GDPR) and the ePrivacy directive. It requires users to opt in and consent to share their information with their chosen brands to ensure the mechanism is compliant. Data is transmitted via pseudo-anonymous digital tokens that cannot be reverse-engineered. TrustPid stakeholders suggest that the temporary nature of the tokens illustrates that permanent identities cannot be shared with publishers, website owners or app owners.
Telefónica's ad tech investments have primarily focused on developing mobile advertising capabilities. In 2013, Telefónica formed a joint venture with mobile operators Vodafone and EE in the UK, establishing Weve, a mobile programmatic ad tech platform, which it fully acquired. However, requiring consumers to opt-in for mobile ads, battling ad blockers, and rivaling Apple became a challenge for the platform, and it was shut down in 2018.
Orange launched its advertising business over 10 years ago, aiming to monetize its media assets, with ad offers including Orange (consumer telco services), Orange Mail, Orange Pro (SMEs), OCS (TV/video content), Sosh (youth offers/bundles). Partnering with key ad tech specialists, the company sells ad packages and data-leveraging tools such as Ad4Sales and Segment TV. With its Ad4sales product, the company can reach 5 million subscribers on Orange and SFR and layer it with System U's 7.5 million loyalty customers to connect ads to retail sales using MarketingScan. With Segment TV, it offers addressable TV on 14 channels based on its user base and location to reach 2.7 million subscribers who have opted in for those ads.
It also runs the Orange Ad Mobility service as an expert platform to capitalize on the growth in e-commerce and localization. The Ad Mobility unit works with Kairos Fire, SmartTraffik, Retency and Adsquare to measure the impact of in-store campaigns with key performance indicators (KPIs) such as redirections on the site, the number of interactions/clicks, the number of routes triggered, the number of calls made before, during and after a campaign. Key features include geolocation (GPS relay antennas, for referencing on maps, for instance), geotargeting (residential), roaming (triggered routes), auto (types of fuel consumed) and tourism (places of interest).
Orange has moved to explore deep monetization of its assets to ensure they can serve the digital ad market by onboarding advertisers' first-party data, implementing effective KPIs, and innovating on cross-platform targeting, including addressable TV.
Major US operators Verizon Communications Inc. and AT&T Inc. invested in ad tech technology in 2015 and 2018, respectively. Verizon invested $4.4 billion to acquire AOL in 2015 and $4.6 billion in Yahoo in 2017 to combine its mobile reach with those companies' digital ad recognition to challenge ad tech giants Facebook and Google. By 2021, Verizon announced the sale of its media unit to Apollo Funds for $5 billion, having failed to establish a competitive platform and grappled with the cost and hurdles of increasing privacy laws on advertising.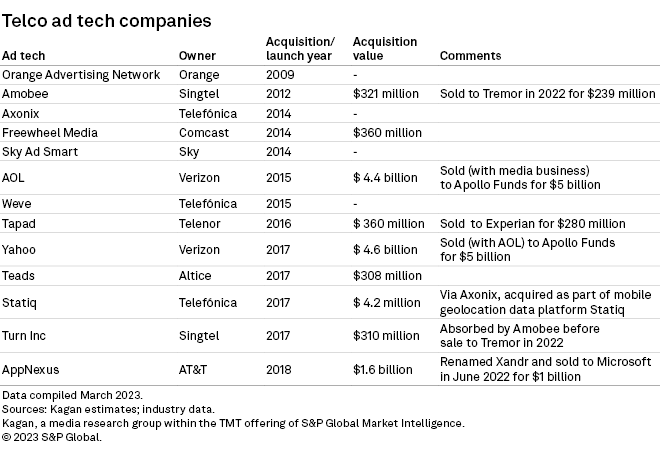 The data protection debate
The European telcos present their case to be able to monetize the traffic from their users on their network infrastructure from a competition and a data compliance perspective. Nevertheless, the data privacy advocacy group European Digital Rights (EDRi) has raised concerns that the development effectively embeds ad tracking into the internet's infrastructure.
The EDRi sees TrustPid as a first-party cookie system that incentivizes advertisers, websites and apps to track user activities and behavior to sell micro-targeted ads. It takes the view that the telcos are using TrustPid to separate their data collection, which would not stop a user's identity from being monopolized online.
US provider Verizon used a similar technique in 2012, called the "supercookie." The US Federal Communications Commission settled the "supercookie" probe in 2016, forcing Verizon Wireless to obtain affirmative consumer consent before sending unique identifier headers to third parties.
A further area of confusion was noted by German news site Spiegel, which suggested Apple iCloud Plus subscribers using "iCloud Private Relay" can get around TrustPid's system because user data is encrypted and redirected through Apple's servers, which the telco's users cannot access. Vodafone and DT have complained to the European Commission while lobbying to monetize their end customers' data traffic.
There have been successful cases of addressable ads by operators such as Sky's Ad Smart and broadcasters such as Mediaset Italia's media arm, Publitalia, which has offered addressable ads since 2019 on its Mediaset Play platform, monetizing audience data that have opted in to share their activity information.
Should the European Commission allow operators to monetize their customer database, telco operators today are in a prime position to provide programmatic, targeted advertising across fixed and mobile networks, online properties and video platforms. Beyond the implementation of privacy laws such as GDPR, in the past year, digital revenues have been hit by the introduction of Apple's IOS device tracking ID. Additional headwinds are also expected with Google's plan to eradicate cookies by 2024, Android's privacy sandbox, and Apple's potential other security measures, including email anonymization. Should telcos build a reliable sell-side platform, they can bridge the new gap of addressable with their first-party data, which they have tracked for years, without jeopardizing the identity of their customers.
Global Multichannel is a service of Kagan, a media research group within S&P Global Market Intelligence's TMT offering.
This article was published by S&P Global Market Intelligence and not by S&P Global Ratings, which is a separately managed division of S&P Global.
Gain access to our full news & research coverage and the industry-specific data that informs our insights.
Request Follow Up