Jun. 15 2018 — Most big European banks have seen a fairly small impact on their capital levels from the first-time implementation of the new IFRS 9 accounting rules, which came into effect from Jan. 1, 2018, but the early disclosures are patchy and concerns over future provisioning remain.
Provisions for expected, rather than already incurred, credit losses were the biggest change introduced by the new International Financial Reporting Standard, IFRS 9. Under the rules, banks are required to hold capital against expected credit losses on all of their assets regardless of their current level of quality.
Provisions for newly originated performing assets, dubbed Stage 1 assets, are made for the next 12 months, while lifetime provisions are required for assets at risk of default, categorized as Stage 2, and nonperforming assets, dubbed Stage 3.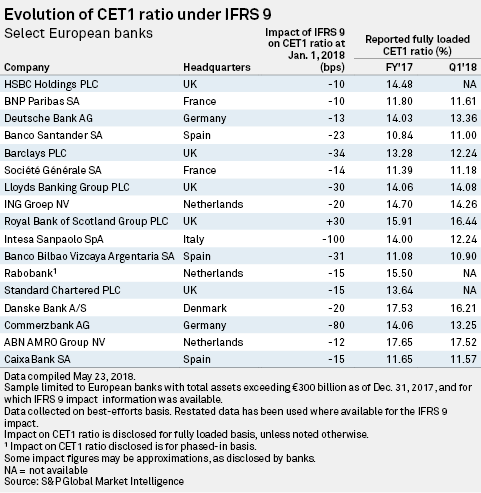 Higher provisions affect retained earnings, which are an essential component of the banks' Tier 1 equity and the most loss-absorbent type of capital. Assigning risk weights to a larger proportion of their assets also reduces CET1 ratios, which are a key metric regulators use to assess a bank's capital strength.
The average CET1 ratio drop estimated by the European Banking Authority for banks in the EU due to the requirements of IFRS 9, ahead of its implementation, was 45 basis points.
Manageable capital erosion
Based on most recent available disclosures, most of Europe's leading banks have seen a decline of between 10 basis points and 34 basis points, with the exception of Italy's Intesa Sanpaolo SpA and Germany's Commerzbank AG, which booked negative effects of 100 basis points and 80 basis points respectively.
Royal Bank of Scotland Group PLC is the only bank in the sample to book an increase, of 30 basis points, which it attributed mainly to the reclassification of one "material portfolio." This was reclassified from amortized cost, and some business model choices were implemented, resulting in an increase to 2018 opening equity before tax of £600 million, the bank said in a special IFRS 9 transition report.
However, it is too early to judge the overall impact of IFRS 9 from the banks' initial reporting, given that not all lenders have disclosed the impact, and that the repercussions of the change to a more forward-looking kind of reporting are still not fully known.
"Learning how the IFRS 9 machine really works is what we would like to see for another quarter," Commerzbank CFO Stephan Engels told analysts on the German bank's first-quarter earnings call. "[The first quarter] unfortunately is always not a very good indicator because [it] tends to be a bit shorter in terms of provisioning," he said.
Accounting loophole
Regulators also discovered an unexpected side effect shortly after the new rules were implemented, in the form of a loophole that allows banks with large amounts of nonperforming loans to front-load provisions for those loans to take advantage of a phase-in agreement for IFRS 9.
To help lenders put the new rules in place without jeopardizing their capital position, regulators agreed to a transitional period during which banks can continue to use the old provisioning approach when they calculate regulatory capital.
Earlier in April, the Financial Times reported that several banks have already been contacted by representatives of the ECB's Single Supervisory Mechanism regarding potential front-loading of provisions. Regulators were mainly worried about banks in Italy and Spain, according to the FT.
Get peace of mind when estimating expected credit losses, with access to default and ratings migration data, statistical models, and scorecards that assess probability of default, loss given default, and macro-economic considerations.
Credit Analysis Diamond Bank Meets IFRS 9 Challenges With our Scorecard Suite
Learn More
Learn more about our solutions for IFRS 9 impairment
Learn More