The final film in the current cycle of Marvel films, "Avengers: Endgame" has achieved over $1.2 billion in opening weekend ticket sales globally for Disney, CNN reports. In terms of merchandising it could prove to be the most successful of the five main Avengers films since "Marvel's The Avengers" in 2012. Panjiva data for U.S. seaborne shipments shows that imports associated with "Avengers" reached 2,692 TEUs year-to-date in 2019.
That was 19.2% higher year over year, the period running up to the release of the previous installment "Infinity Wars". The proof of the success of the series though will depend on the performance during the year-end holiday season. The most successful of the five films so far has been 2015's "Age of Ultron" which yielded 8,457 TEUs in 2015 which was 14.1% higher than for 2018.
SAVING THE BEST FOR LAST, IF THE HOLIDAYS PAN OUT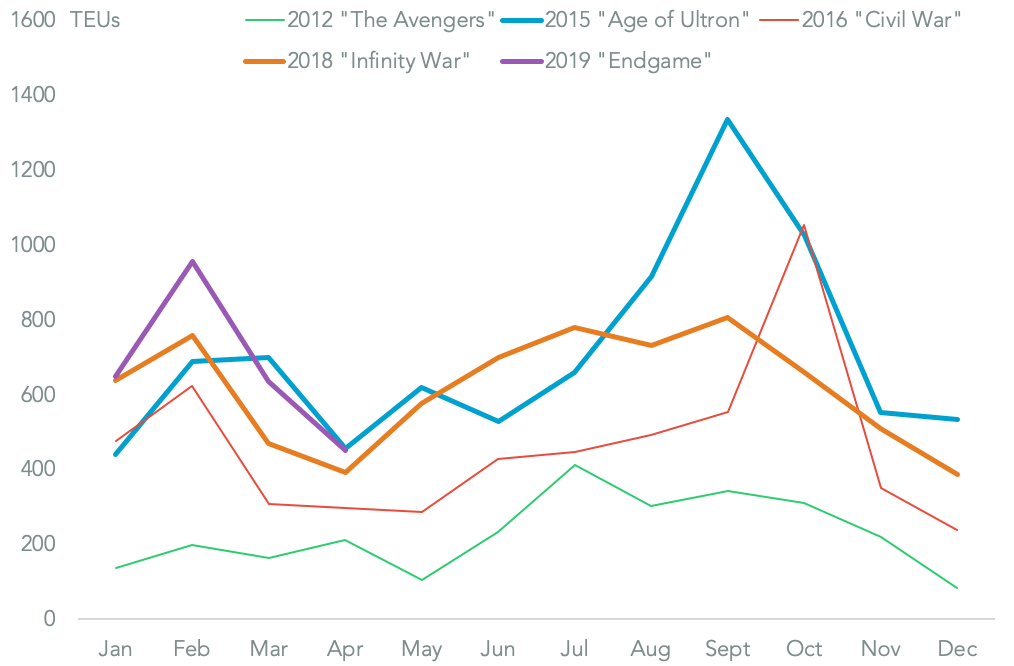 Chart segments U.S. seaborne imports associated with "Avengers" by year and name of film released that year. Source: Panjiva
The improvement in pre-movie imports also marks a contrast to the "Star Wars" series - which is also a Disney franchise - which has seen a steady decline in imports of merchandise of the same period. There was a peak of 12,096 TEUs of Star Wars-related products imported in the four months running up to the release of "The Force Awakens" - the first of the most recent "main sequence" films released in 2015 - which had dipped to 4,408 TEUs ahead of 2017's "Last Jedi". By the time of the release of "Solo" in May 2018 imports had dropped to 1,991 TEUs.
Yet, while sequentially less successful than Avengers in terms of sequential development, Star Wars has been more successful over the long-run with 60,311 TEUs of imports since Jan. 2012 compared to 35,682 TEUs, or 1.7x more.
AVENGERS AT ITS BEST IS ONLY JUST BETTER THAN STAR WARS AT ITS WORST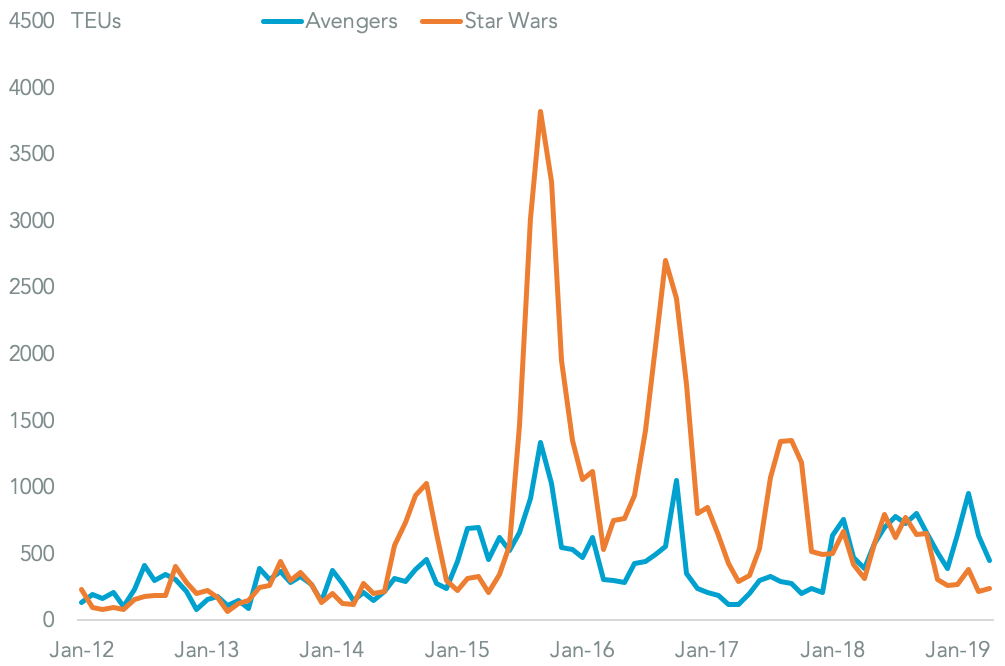 Chart compares U.S. seaborne imports associated with "Avengers" and "Star Wars". Source: Panjiva