Charter Communications Inc. and Walt Disney Co. sent waves through the industry on Aug. 31 after they failed to renew their carriage deal, leaving millions of Charter video subscribers without popular Disney channels like ESPN, Disney Channel and Freeform. The dispute highlights a growing frustration from multichannel operators over increasing payments for programming that fewer people are watching.

The rising popularity of streaming services has disrupted the traditional cable business and forced multichannel operators to evaluate the amount of money they are paying programmers for content. The dispute between industry titans Charter and Disney has the potential to change how the industry operates going forward. The rising cost of sports content has caused networks to pass off higher fees to operators, which have then passed them off to consumers. However, as cord-cutting continues to plague the industry, the cycle of rising fees is reaching a breaking point.

Financial impact to Disney
We used our 2023 basic cable network license fee estimates and first-quarter 2023 Media Census subscriber estimates to calculate the annual amount that Charter is paying Disney to carry its stable of basic cable networks. We estimate that Charter's carriage payment obligations to Disney are just under $2.3 billion in 2023. This has grown from an estimated $2.16 billion in 2019, when Charter and Disney last renewed their carriage agreement.
The rising cost of programming
We estimate that the price that Charter is paying for the 17 Disney-owned basic cable networks has grown at an average annual rate of 6.7% from 2019 to 2023, making the 2023 fees 29.6% higher than the 2019 fees. ESPN is the highest-priced network in our database at an estimated cost of $9.42 per subscriber per month. The network can demand a lofty price because of its high-priced sports media rights deals. However, Disney has begun shifting sports rights to its ESPN+ streaming service, which Charter believes is unfair. Disney has also been discussing bringing on a strategic partner to bring the linear ESPN network direct-to-consumer, which would devalue its importance in traditional cable bundles and potentially spur additional cord-cutting.
Linear viewership on the decline
Concurrently, the average 24-hour ratings for the Nielsen Holdings PLC-rated networks have been on the decline over the past decade. As a result, Charter is paying a higher price for a product that is being used less by its subscribers. Total 24-hour ratings at the Disney-owned networks have fallen over 50% in the past decade from the peak in 2013 to 2022 for the 14 basic cable networks rated by Nielsen. The children's networks have seen the largest declines, with the flagship Disney Channel's average 24-hour rating of 0.15 in 2022 marking an 88.6% decline from 1.32 in 2013. Aside from the changes in viewing behavior away from linear toward streaming, Disney has also launched the Disney+ streaming service, which Charter believes is cannibalizing viewers due to an overlap in content.
Cord-cutting driving down operator video margins
One of the driving factors of declining linear viewership is cord-cutting. We estimate that the US video market lost 6.4% of its subscribers in the second quarter of 2023. The continued decline in paying subscribers, combined with higher carriage fees, has negatively impacted profit margins for the video products offered by operators. While Charter has seen video subscriber erosion at a lesser rate than some of its industry peers, the operator has seen its quarterly reported video subscribers decline steadily since 2015. Charter reported 14.7 million video subscribers as of the second quarter of 2023, down from 17.4 million in the first quarter of 2015 and marking a 15.5% decline. The decline in paying subscribers has taken a toll on Charter's reported video revenues, which fell to a low of $4.19 billion in the second quarter of 2023.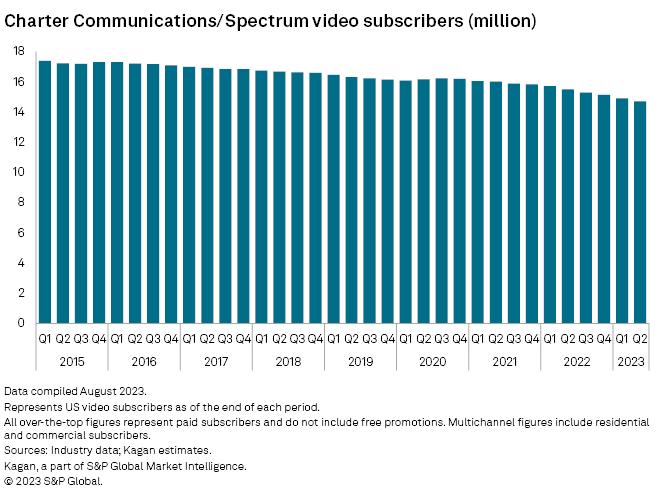 Industry impact
The carriage dispute between Charter and Disney highlights an industry undergoing a challenging transition from linear to streaming. While both companies are invested in making these relationships work, there are obvious pain points that might result in changes to the status quo. If Disney makes concessions on pricing, it has the potential for other programmers — such as Paramount Global and Warner Bros. Discovery Inc. — to lose negotiating leverage with operators moving forward and be forced to accept lower rates for the linear networks. On the flip side, if Charter agrees to Disney's demands, smaller operators might be put in a position to abandon video altogether as the margins no longer make sense. While we do believe that a deal will eventually be reached and Disney's channels will return to Charter's lineups, the impact of the dispute has the potential to alter future carriage negotiations across the industry.
Economics of Networks is a regular feature from Kagan, a part of S&P Global Market Intelligence.
This article was published by S&P Global Market Intelligence and not by S&P Global Ratings, which is a separately managed division of S&P Global.
Gain access to our full news & research coverage and the industry-specific data that informs our insights.
Read more