Oct. 08 2018 — According to Kagan analysis, the seven developed Asia-Pacific markets we track — Australia, Hong Kong, Japan, New Zealand, Singapore, South Korea, Taiwan — have a total average spectrum depth of 5,058.68 MHz. Australia has the largest portfolio, totaling 1,209.81 MHz, while South Korea has the smallest at just 460.00 MHz.
The 1800 MHz and 2000 MHz bands are the most licensed since most mobile operators still use them for 3G services. The 700 MHz, 2000 MHz and 2500 MHz bands are also popular for 4G deployment.
Frequency division duplex, or FDD, is dominant in the region, accounting for 83.6% of total spectrum. Japan has the most extensive use of time division duplex, or TDD, totaling 231.20 MHz, while New Zealand uses the most spectrum bands for TDD, totaling four. In contrast, other countries just use one or three bands for TDD.
Factoring in population, Japan has the densest spectrum market, with each MHz serving about 262,774 subscriptions as of the end of 2017, while the same ratio for New Zealand sat at just 6,767 subscriptions.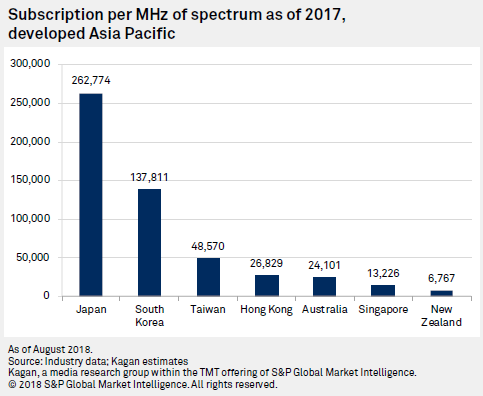 South Korea in June 2018 became the first in Asia-Pacific to auction spectrum for 5G. Regulator Ministry of Science and ICT, or MSIT, auctioned 280 MHz in the 3.5 GHz band and 2400 MHz in the 28 GHz band to the three incumbent operators, for a total price of $3.35 billion (3.6183 trillion South Korean won).
Australia is next in line, with its planned auction of the 3.6 GHz band in November 2018. Hong Kong, Japan and Taiwan have also announced intentions to auction 5G spectrum, but plans are still in deliberation.
Towers
Mobile operators own the majority of towers in developed Asia-Pacific markets, with independent tower companies having a relatively insignificant market presence. South Korea has the most towers, reaching almost a million, followed by Japan with half a million.
The disparity between urban and rural population density has an impact on mobile operators' tower deployment strategy. Tower-sharing is more prevalent in countries with sharply uneven population distribution, such as Australia and New Zealand. Since building towers in sparsely populated areas is risky and expensive, mobile operators have more incentive to cooperate, either through domestic roaming or through tower sharing agreements. Australia and New Zealand have the highest subscriptions-to-towers ratio in the region, at a respective 2,095 and 1,587. Both countries also have government-led programs to encourage tower expansion to regional areas: Australia's Mobile Black Spot Program and New Zealand's Rural Broadband Initiative.
Taiwan, Japan and South Korea have smaller population density disparity between urban and rural areas, giving rise to more independent tower deployment strategies for mobile operators. These countries, together with Singapore and Hong Kong, have promoted the use of small cells to boost coverage in urban black spots — indoors, subways and highways — leading to higher nationwide tower counts.
Subscriptions, service revenue and ARPU
Japan is the largest market in developed Asia-Pacific in terms of total mobile subscriptions, totaling 168.5 million in year-end 2017. The fastest-growing mobile market is Hong Kong, with year-over-year subscription growth of 7.0%. Mobile subscription growth in the region's saturated markets is likely to come from the elderly, rural and immigrant populations, which are starting to adopt more advanced mobile technologies. Markets in the region also have low population growth rates — some, like Japan, have negative — causing mobile operators to focus on customer retention and attracting younger customers.
Looking at 4G subscriptions year-over-year growth puts Singapore at the top spot, with 25.6% in 2017. The country's 2G shutdown in April 2017 caused rapid migration of 2G/3G users to 4G. Similarly, Taiwan's intended 3G shutdown at the end of 2018 pushed mobile operators to launch a 4G migration campaign, leading to a 25.0% increase in 4G subscriptions.
Japan is also the biggest market in terms of service revenue, totaling $56.59 billion in 2017, while Australia has the highest ARPU at $29.52. However, Japan's service revenue and ARPU are shrinking the fastest in the region, due to local currency depreciation and market stagnation. Australia, New Zealand and Taiwan achieved positive service revenue and ARPU growth rates in 2017 due to the migration of customers to higher-value 4G plans.
Wireless Investor is a regular feature from Kagan, a group within S&P Global Market Intelligence's TMT offering, providing exclusive research and commentary.