Global capex in the mining industry across 15 commodities will drop by 6.4% year over year in 2020, driven by a decline in development capex.
Total capital expenditure in the mining industry across 15 different commodities will fall by US$5.4 billion in 2020, primarily driven by a drop in development capex for copper and gold projects. Year-over-year reductions from projects moving from the construction to production phase will outweigh increases coming through from early stages of the project pipeline, due to a lack of financed new projects. Within the copper and gold sectors, almost all regions will see decreases, while new iron ore projects in Australia will drive development capex higher in the Asia-Pacific region.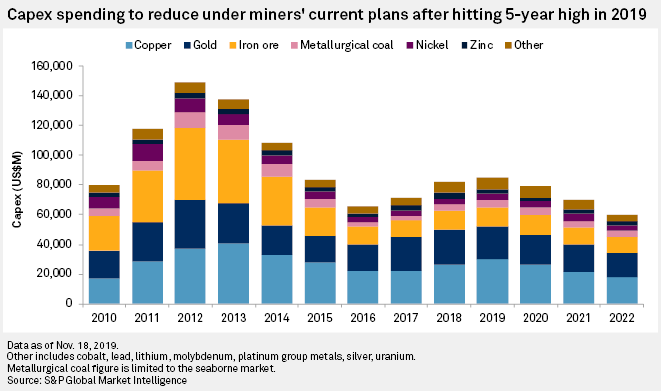 This 6.4% year-over-year reduction in capex follows an expected five-year high of almost US$85 billion in 2019. In 2020, capex levels will retreat to those last seen in 2018; however, the number of projects expected to begin construction in 2020 is lower than in 2018. Therefore, the majority of capex will be contributed from those projects already under construction or in production. The outlook to 2022 is currently for a gradual continued capex reduction. This will likely evolve, however, as miners make decisions to finance new projects and expansions based on market conditions.
To learn more about our capital expenditure coverage
Request Demo
Mining Exploration Insights Improved Drilling Activity Offset By Drop In Financings
Learn more
Consensus Price Forecasts — Diverging Trends For Precious And Industrial Metals
Learn more