According to MediaCensus data, the top U.S. cable internet service providers did not show aggressive signs of expansion into telco footprints. Altice USA Inc. expanded its reach the most compared to its multiple system operator peers in the year ended September 2022, entering 86 unique telco-served ZIPs. Comcast Corp. and Charter Communications Inc. were not present in new telco ZIP codes but grew their household footprint significantly over the last year (425,000 and 329,000 subs, respectively) within those territories.
Cable broadband operators in unique ZIP codes — defined as ZIP codes containing at least one top telco — where telcos also have subscribers collectively grew their subs by 1.2% year over year. Meanwhile, telcos lost 0.9% of their subscribers.
On average, Comcast, Charter, Cox Enterprises Inc. and Mediacom Communications Corp. in their respective footprints added subs in ZIP codes where a top telco was present. Altice USA lost subscribers, mostly to Verizon in their overlapping footprints.
AT&T Inc. lost 125,000 subs nationwide in the 12 months to Sept. 30, 2022. However, the top MSOs added 526,000 subs to AT&T's footprint. This was led by Charter, whose presence garnered nearly 17.7 million residential subscribers in AT&T's footprint — a 1.7% difference from the third quarter of 2021. Charter also served approximately 43% of the ZIP codes AT&T subscribers can be found in, making it the cable operator with the biggest shadow over AT&T's operating region. Arguably, Charter has seen better quarterly additions in its overall subscriber base compared to AT&T, where the former utilizes the advantages of DOCSIS to deliver up to 1 Gbps, and will deploy DOCSIS 4.0 in a multiyear plan.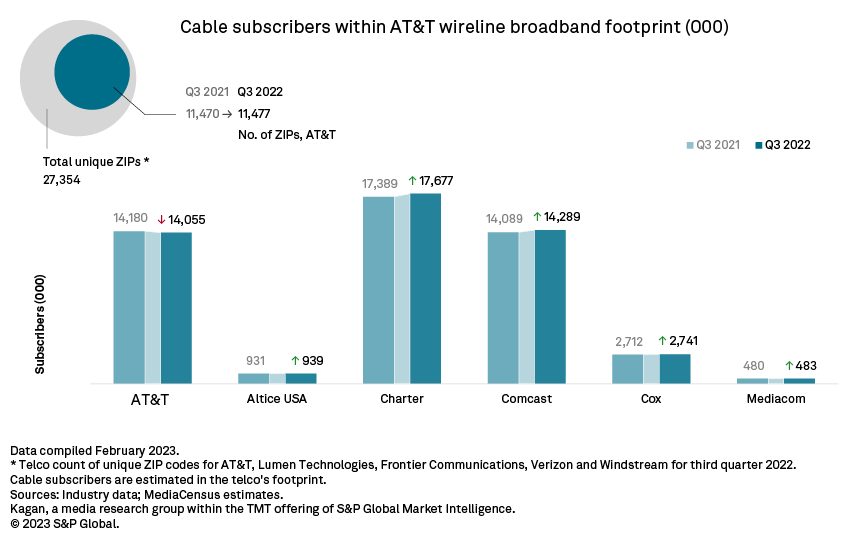 Verizon Communications Inc. added 118,000 new subscribers, ending at nearly 7 million. In its footprint, we estimate the five cable competitors lost about 58,000 subscribers, mostly due to declines from Altice USA and Charter, whose combined erosion lost 91,000 subscribers. Altice USA and Charter executives have commented on the strong presence of fixed wireless access in its operating territory, a fact that is consistent with Verizon's push to get the product in people's homes. However, Comcast's 22,000 year-over-year additions in the Verizon footprint moderated the total cable decline. Verizon is the only operator whose footprint lost cable broadband subscribers overall, according to our estimates.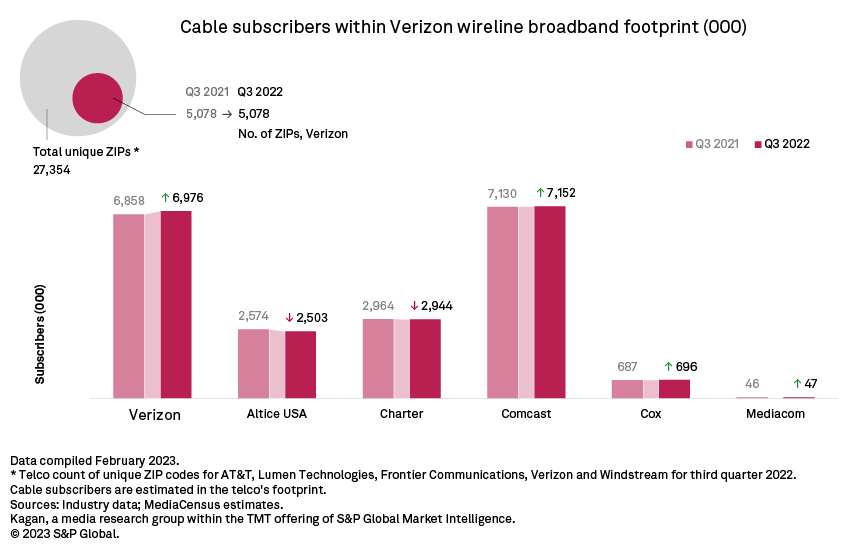 The top cable operators in Lumen Technologies Inc.'s footprint added about 314,000 subscribers, with Comcast leading the charge. Comcast also owns the biggest market share in the telco's total wireline broadband territory, with 7.3 million residential subs, 1.8x more than Lumen's. Of note, Lumen lost over 317,000 subs in the same period. While this does not automatically translate to conversions to cable, it underscores the imminent threat cable broadband plays in Lumen's operating territory, despite the aggressive expansion of Quantum Fiber.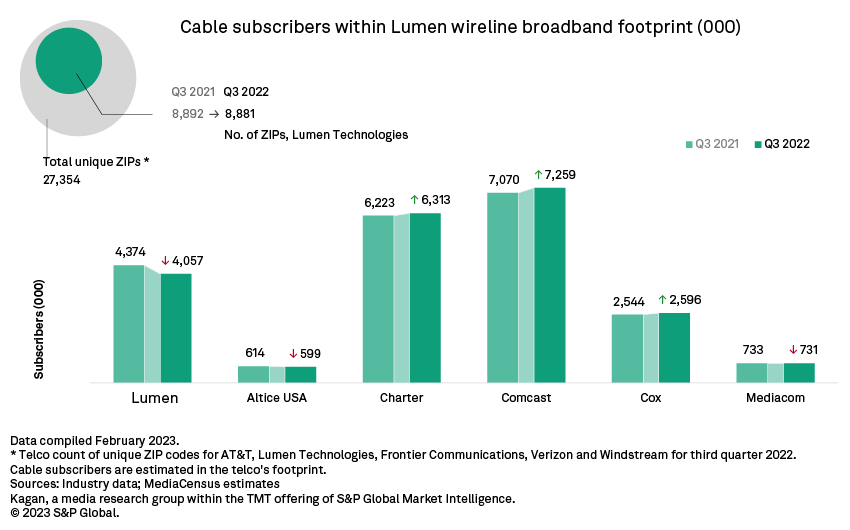 Our analysis of the telco/cable broadband footprints at the ZIP-code level involved a two-step process. First, for each of the listed telcos, we took all ZIP codes in which broadband customers were served in the third quarters of 2021 and 2022.
Second, we distinguished all of the inventoried ZIP codes that also included Altice USA, Charter Communications, Comcast, Cox Communications and Mediacom wireline subscribers during the periods.
Note that the presence of both a major telco and a top cable MSO in a ZIP code does not necessarily mean there is consumer choice, as the operators may not overlap. However, it does signal greater competition compared to ZIP codes where multiple operators are not present.
Closing the digital divide, one home at a time
Read More
Unfavorable macroeconomic environment dampens fiber buildout expectations
Read More