Computer network manufacturer Netgear reported a 20.1% year over year growth in its revenues in Europe. Corporate Development Director Christopher Genualdi stated the firm "saw increased orders from our U.K. partners in anticipation of the originally scheduled Brexit deadline of March 29 in an effort to mitigate potential supply interruption" according to S&P Global Market Intelligence.
Netgear will not have been the only exporter to the U.K, that has benefited from such a phenomenon. Panjiva analysis of official data shows U.K. imports of telecoms and network equipment reached £23.2 billion ($29.9 billion) in 2018 after increasing by just 4.2% compared to a year earlier. That followed a period of extensive growth however that has seen total imports in the past 12 months reach 34.8% higher than the 12 months before the Brexit referendum.
FOUR YEARS OF GROWTH AHEAD OF BREXIT
Chart shows U.K. imports of telecoms and sound equipment on a monthly, quarterly and annual-average basis. Calculations based on Office of National Statistics data. Source: Panjiva
Yet, there's been a marked acceleration at the start of 2019. Imports of capital equipment - typically telecoms networks - climbed 16.7% year over year in February, up from 11.2% in January and 6.0% in 2018. There's also been a rapid turnaround in consumer equipment - typically phones - with a 17.1% surge in February after an 8.2% contraction in January. In aggregate imports rose 16.2% in February, up from 9.0% in January.
While growth may have continued in March - Brexit was originally due to occur on Mar. 29 - it will likely have reversed in April as a result of the delay discussed in Panjiva's research of Apr. 11.
POST REFERENDUM INVESTMENT, PRE-BREXIT SURGE IN TELECOMS SPENDING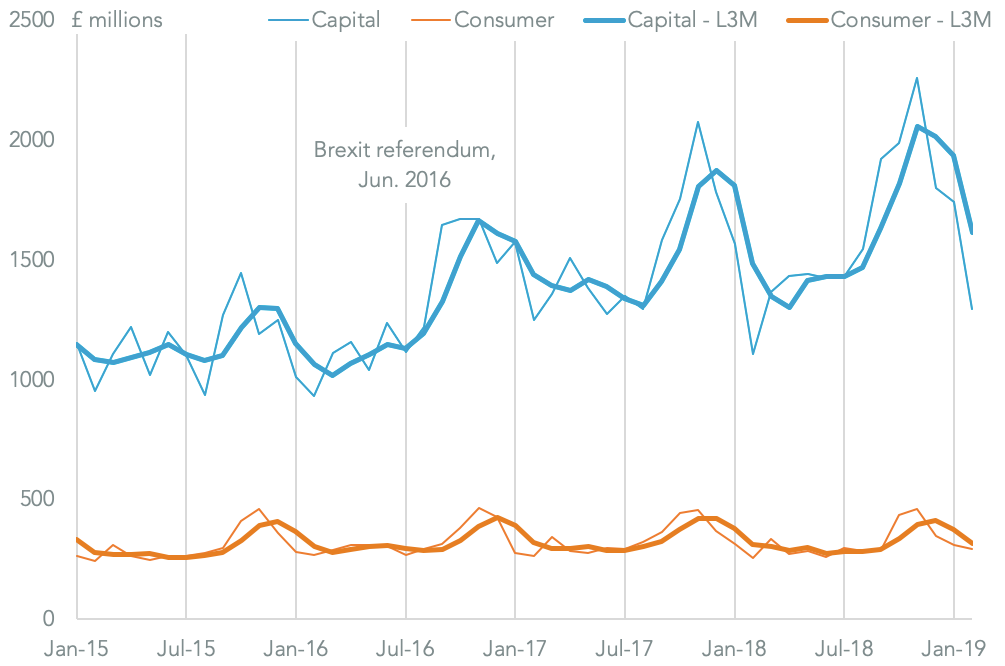 Chart segments U.K. imports of telecoms and sound equipment by usage on a monthly and three-month average basis. Calculations based on Office of National Statistics data. Source: Panjiva