Oct. 10 2018 — Toronto-based Barrick Gold Corp.'s proposed merger with London-listed Randgold Resources Ltd. would create what the companies term "a new champion for long-term value creation in the gold industry," based on a large share of the world's "Tier One" producing mines, low total cash costs and strong management. Incidentally, the New Barrick Gold Group would become, at least in the short term, the largest global gold producer by volume and by market capitalization. The addition of Randgold's 1.2 million ounces of projected attributable production in 2018 to Barrick Gold's 4.8 Moz for the year pushes the combined entity's production above the 5.2 Moz projected for its closest peer Newmont Mining Corp.
Pending approval by both companies' shareholders, the deal is expected to close in the March 2019 quarter. The following analysis is based mostly on data compiled and analyzed separately for both companies as part of our Gold Reserves Replacement Strategies, 2008-2017 study.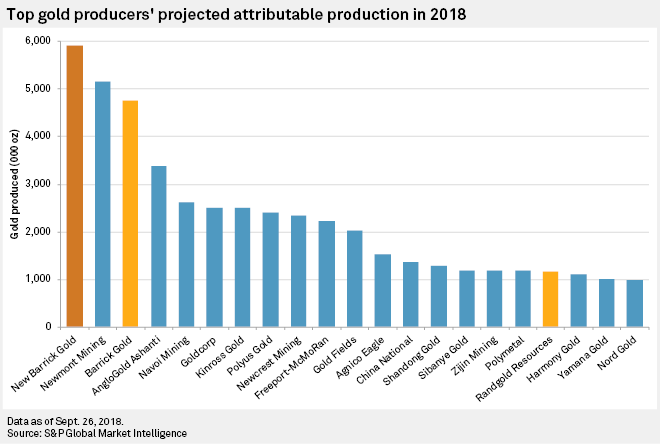 When prices turned downward in 2012, Barrick acted
Once the world's largest gold producer in its own right, Barrick's attributable output of 5.3 Moz in 2017 was down 30% from 2008 and only just above that of Newmont. Output was expected to fall further in 2019, to 4.4 Moz, reflecting a strategic shift in the company's activities, away from a focus on production growth towards a prioritization of margin and an emphasis on balance sheet repair.
In 2013, in response to the declining gold price, Barrick wrote down US$13 billion of assets and placed 12 of its mines under review, which represented roughly 25% of the company's gold output at the time. Operations with all-in sustaining costs of more than US$1,000/oz — among them Bald Mountain, Round Mountain and Marigold in the United States and Plutonic in Western Australia — were put on the chopping block to improve free cash flow.
In 2015, Executive Chairman John Thornton articulated the company's strategy as one of focusing on gold, with no plans to diversify into other metals or to add to its existing copper position. Thornton outlined a plan to focus investment in the company's core regions to sustain high-quality, long-life assets in attractive jurisdictions.
Barrick's divestment and debt-reduction strategy is apparent in its M&A activity from 2015, when gold hit a six-year low annual average of US$1,160/oz, to year-end 2017, when it shed more than 14 Moz of gold in reserves through divestitures while halving its debt burden to US$6.4 billion.
Randgold did not engage in the same hunt for production growth that Barrick pursued in the late 2000s. While the company's gold output has been rising steadily over the past 10 years, tripling from 376,476 oz in 2008 to 1.1 Moz of attributable production in 2017, Randgold has consistently marketed its strategy as one of high hurdle rates, cautious reserve-price assumptions and a focus on margins. In terms of recent operating strategy, there is much that is complementary between the two companies in the proposed merger.
An enlarged portfolio of top-tier gold mines
Both companies bring to the merger what they consider "Tier one" mines, defined as having at least 500,000 oz/y of production, with total cash costs in the bottom half of the industry cost curve, over at least a 10-year mine life. Barrick has three: the Cortez and Goldstrike mines in the Barrick Nevada complex and Pueblo Viejo. Randgold has two: Loulo-Gounkoto and Kibali. The new management team is giving high priority to evaluating all assets with a focus on maximizing value on a relative few as quickly as possible and examining options for gaining value from others, including strategic partnerships and outright divestitures.
On an all-in sustaining cost basis, the five "Tier one" assets sit comfortably below or close to the median cost (US$983/oz), with a number of other producing assets also in the bottom half of the cost curve.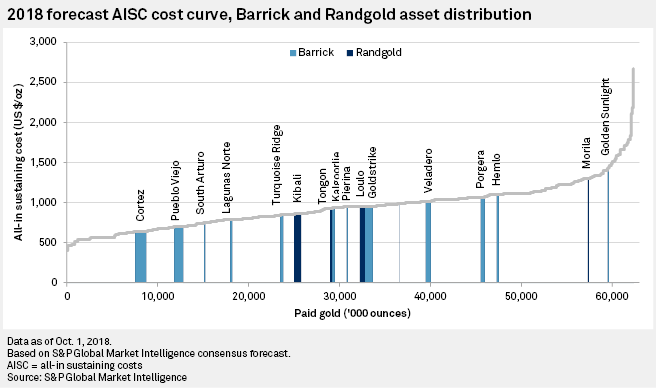 Concurrent with the Randgold merger announcement, Barrick reported a US$300 million mutual investment with Shandong Gold Mining Co. Ltd. The company said the investment is based on a two-pronged strategy: to have Shandong act as the vehicle for a Barrick push into China and to become a bigger partner in Latin America. Shandong's involvement could help pave the way forward for the stalled Pascua-Lama project in Argentina, looking at "an analysis of potential synergies between Lama and the nearby Veladero operation." On the company's first day of trade on the Hong Kong stock exchange, Shandong Chairman Li Guohong confirmed that negotiations centered on Pascua-Lama were under way. Barrick and Shandong formed a working group on the project when they struck a deal for nearby Veladero in 2017.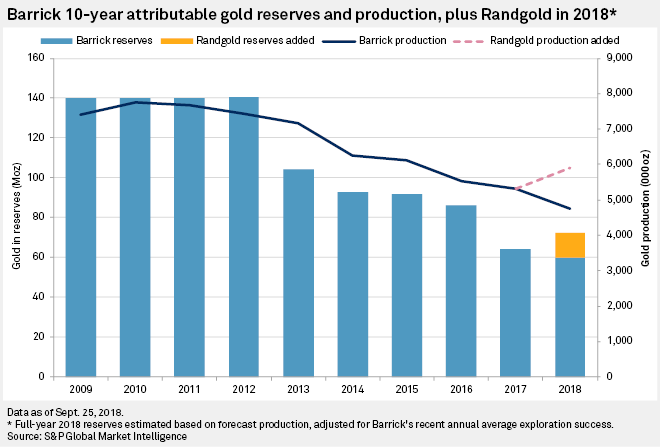 Trimming of the reserve base
Both companies currently have remaining reserves life of 11 years, based on their 2017 rate of production. Barrick's reserves base has been shrinking since 2013 — first because of a sharp cut in the reserves-calculation price in 2013, to US$1,100/oz from US$1,500/oz in 2012, and second because of the string of noncore asset divestitures averaging nearly 4 Moz of reserves annually over the past five years. Year-end reserves have fallen to 64.4 Moz of gold in 2017 from 138.5 Moz in 2008. Randgold, which has used a conservative US$1,000/oz or less in reserves calculations over the past 10 years, has been able to maintain year-end reserves between 16 Moz and 14 Moz since 2009.
Bringing more projects into production
While it holds a number of the world's largest undeveloped gold deposits, including Pascua-Lama, Alturas and Norte Abierto-Cerro Casale in Chile and Donlin in Alaska, Barrick's biggest challenge has perhaps been an inability to bring its own development projects to fruition. Randgold management's strong reputation for "developing and operating profitable gold mines in difficult environments" is seen as complementary to Barrick's "operational capabilities," according to Randgold CEO Mark Bristow, who has been named CEO of the New Barrick.
Barrick's pipeline consists mainly of expansion projects at existing mines, including Turquoise Ridge and Cortez Deep South in the USA and Lagunas Norte in Peru — all targeted to come online in 2021 or 2022. This reflects the company's conservative focus on brownfields investment. However, it has also invested in early stage exploration in the past 10 years and has shown considerable success in finding new orebodies, particularly in Latin America and Nevada. With total grassroots exploration budgets of US$804 million from 2003 to 2017, the company is credited with shares in 11 major gold discoveries, seven of which it still holds.
Although Randgold's development pipeline is currently modest, the company has successfully found and brought online four significant discoveries since the mid-1990s — all in West Africa, including Morila, Loulo and Gounkoto in Mali and Tongon in Cote d'Ivoire.
According to CEO Bristow, the company is aggressively hunting for its next big project in the African gold belts, as well as further afield, while also aiming to start developing three new projects over the next four years. Randgold's strategic threshold for all projects is a 20% internal rate of return at a US$1,000/oz gold price; new stand-alone deposits must, however, have a minimum size of 3 Moz of gold.
Randgold's flagship Loulo-Gounkoto gold mining complex in Mali, already one of the largest of its kind in the world, is still expanding, with the Gounkoto super pit and the new Baboto satellite pit joining its Yalea and Gara underground mines. Development of the Gounkoto super pit will extend the mine life by five years and make a significant contribution to the Loulo-Gounkoto complex's 10-year plan, which envisions production in excess of 600,000 oz/y at a gold price of US$1,000/oz.
In Senegal, the feasibility study for Randgold's Massawa gold project is nearing completion, with a development decision scheduled for the end of this year. According to Joel Holliday, Randgold's general manager of exploration, "continuing exploration is focused on expanding the Massawa reserve, and while it is still short of Randgold's 3 million ounce minimum requirement, the project's other metrics are positive."
Massawa was discovered by Randgold in 2007 and is one of the larger undeveloped gold deposits in West Africa. Its relatively long gestation period is a reflection of the company's tenacity and thorough approach to exploration, and a further example of its discipline in bringing projects to account.
Further refinement
The similarity in the two companies' currently projected production life suggests a merger that is focused primarily on maximizing the value of existing mines and projects, rather than on adding production. While the Randgold merger is at the forefront of Barrick's near-term plans, the company has clearly maintained its focus on core and 'strategic' assets, low production costs, preserving margins and value creation for shareholders. A forthcoming article will examine the potential scenarios for the evolution of the company's asset structure as this strategy takes hold.
Learn more about our global metals & mining service.
Webinar Replay: State Of The Market - Mining Q2-2018
Learn More