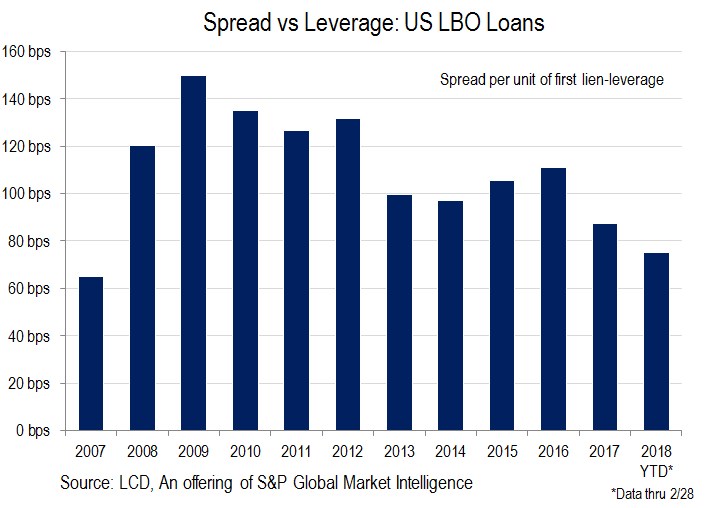 First-lien leverage on loans backing U.S. LBOs has crept to a record-high in 2018 as yield-starved institutional investors flock to these deals, looking to put huge cash stores accumulated over the past 18 months to work.
Those yields aren't what they used to be, however.
Indeed, by one metric, LBO loans are less attractive for an investor now than at any time since the financial crisis.
Specifically, LBO loans this year offer institutional investors 75.1 bps of spread per unit of leverage (SPL). That's down noticeably from 87.5 bps last year and 111.5 bps in 2016, according to LCD.
Spread per unit of leverage is defined as the ratio of potential return (spread) that an investor might receive, per unit of risk (leverage). Of course, the higher the SPL, the better the compensation for the investor, holding risk constant. In this analysis, it is measured as the institutional loan spread divided by a deal's first-lien leverage.
While LBO loan SPL is way down from prior years, it is higher than the 65.2 bps in 2007, before the onset of the financial crisis (it soared to 120.3 bps in 2008). – Staff reports
Try LCD for Free! News, analysis, data
LCD comps is an offering of S&P Global Market Intelligence. LCD's subscription site offers complete news, analysis and data covering the global leveraged loan and high yield bond markets. You can learn more about LCD here.