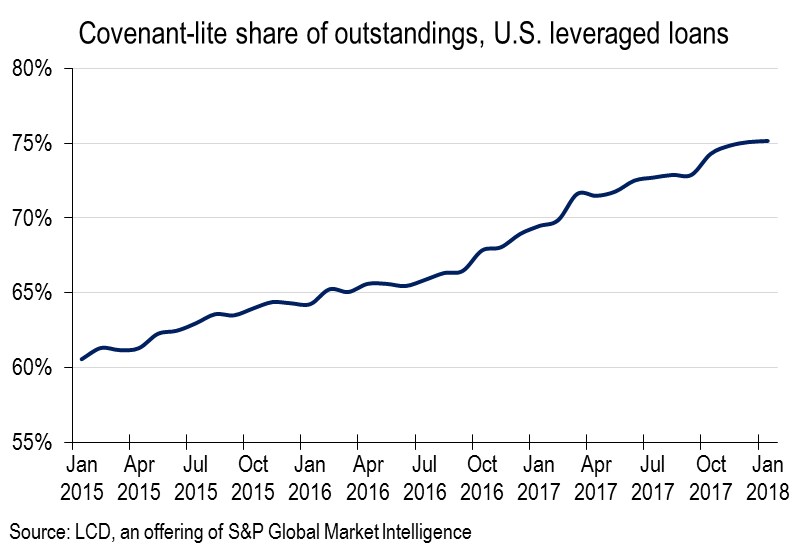 Covenant-lite loans, an issuer-friendly feature that offers less protection for lenders and investors than traditionally structured credits, now account for a record 75% of outstanding U.S leveraged loans, according to LCD.
January is the 10th straight record month for cov-lite market share, as those credits remain the norm in a lending segment that has just completed a year of unprecedented issuance. As recently as 2015 the cov-lite share of the market was roughly 60%.
Cov-lite deals in some ways are structured akin to high yield bonds. They feature incurrence covenants, meaning an issuer must meet financial tests only if it wants to take particular actions (pay a dividend to its private equity owner, for instance). Fully covenanted loans, on the other hand, are far more restrictive. They entail maintenance covenants, where an issuer must meet financial tests each quarter, whether or not it wants to undertake an action.
Cov-lite loans are not without their detractors, of course. Market bears say the massive amount of cov-lite debt now outstanding will impact recoveries on leveraged loans when the current credit cycle – now approaching its tenth year – turns.
Historically, cov-lite loans have defaulted at about the same rate – or slightly less often – than traditionally covenanted loans, though at the end of the last credit cycle – coinciding with the financial crisis of 2007-08 – there was a fraction of the cov-lite loan amount outstandings that there is today.
About the overall record U.S. leveraged loan issuance in 2017: There was $502 billion of higher-yielding institutional issuance last year, along with $146 billion or pro rata credits (revolving debt and amortizing term loans, usually bought by banks, as opposed to other investors), for a total of $649 billion, according to LCD. – Tim Cross
You can read more about how cov-lite loans work in LCD's Loan Market Primer (it's free).
Try LCD for Free! News, analysis, data
LCD comps is an offering of S&P Global Market Intelligence. LCD's subscription site offers complete news, analysis and data covering the global leveraged loan and high yield bond markets. You can learn more about LCD here.