Covenant-lite has been the talk of the leveraged loan market for a while now.
Specifically, when the current, long-running credit cycle finally turns, how much less will investors recover on these loosely structured deals, if they end up in default, than on defaulted loans offering traditional safeguards?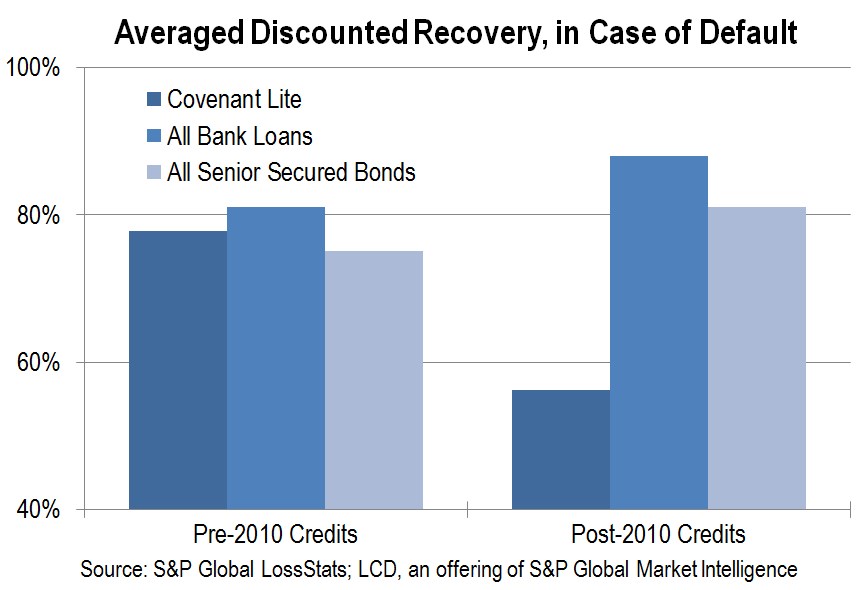 It is far from an academic question. Right now roughly 78% of the more than $1 trillion in outstanding U.S. leveraged loans are cov-lite, compared to just 29% in 2007, at the peak of last credit cycle (and just before the financial crisis).
Cov-lite loans place fewer restrictions on a borrower than do traditionally structured credits. They have soared in popularity over the past few years as institutional and retail investors have poured tens of billions into the U.S. leveraged loan asset class, looking to take advantage of continued rate hikes by the Fed – leveraged loans are floating rate – and, recently, a steady rise in LIBOR.
For a glimpse into how the current cov-lite market dominance might hinder recoveries on leveraged loans in cases of default, LCD looked at average recoveries on cov-lite credits undertaken prior to 2010 – before the financial crisis – and those undertaken after 2010 (so-called cov-lite 2.0), using data from LossStats.
While the data set for recent-vintage cov-lite loans that have entered and emerged from the default/distressed exchange/bankruptcy processes is necessarily thin – leveraged loan default rates have been stubbornly low for much of the current credit cycle – it offers insight into how today's cov-lite loan binge might impact recoveries.
Specifically, the average discounted recovery rate on cov-lite loans undertaken before 2010 is 78%. That figure drops to 56% for cov-lite loans originated in 2010 and after, according to LossStats.
For purposes of this analysis LCD has used discounted, as opposed to nominal, recoveries. Because restructurings can last years (and years), eliminating the noise of time is important to maintain comparability. The discounted recovery time-values the nominal recovery back to the date of default using the pre-petition default rate, normalizing recoveries over long periods of analysis, and creating parity among the recovery outcomes from various events.
It is important to note, again, that the data set for cov-lite is thin indeed. There are only 40 of those defaulted instruments in total, and only 13 in the 2010-or-later pool. We should also bear in mind that this pool represents cov-lite debt that has defaulted, then recovered. The lurking danger of cov-lite is not just the risk of poor recoveries. It is also the risk of "zombie" credits that do not default, but simply limp through a prolonged downturn. The costs and risks to investors in that scenario is not captured in these recovery numbers.
That being said, there are clear indicators that cov-lite issued after the credit crunch—the 2.0 incarnation—will be more problematic in recovery than were its 1.0 predecessors.
This story is abstracted from a longer piece of analysis by LCD's Ruth Yang, based on data from S&P's LossStats.
Try LCD for Free! News, analysis, data
LCD comps is an offering of S&P Global Market Intelligence. LCD's subscription site offers complete news, analysis and data covering the global leveraged loan and high yield bond markets. You can learn more about LCD here.