Extreme overvaluation of the U.S. high-yield market has given way to very extreme overvaluation. Our updated fair-value estimate of the option-adjusted spread (OAS) of the BofA Merrill Lynch US High Yield Index (formerly known as the High Yield Master II) is 570 bps. The actual spread on April 30, 2014 was 371 bps, for a difference of -199 bps, or -1.53 standard deviations. We define a disparity of one standard deviation (130 bps) in either direction as an extreme. One month earlier, the fair-value estimate was 514 bps, and the actual spread was 377 bps, resulting in an extreme overvaluation of "only" 1.06 standard deviations.
High-yield has now been extremely overvalued for seven consecutive months, the longest streak in history. (Option-adjusted spreads are available from Dec. 31, 1996 onward.) Moreover, the actual spread has been less than fair value (although not always at an extreme) for 23 consecutive months (see the chart below). That is not a record, but it is ominous that the longest such streak on record, 27 months, came to an end in September 2008, the month in which Lehman Brothers collapsed, plunging global financial markets into chaos.
As in the 27-month streak, monetary policy is the key to the present, extended period of overvaluation. The Fed's explicit objective is to push investors into risky assets by artificially depressing interest rates. In response, investors are accepting excessively small compensation for credit risk, so desperate are they to boost their yields. High-yield portfolio managers are not unaware of the inadequacy of spreads, but are willing to skate on thin ice on the assumption that the Fed is committed to rescuing them if anything goes wrong.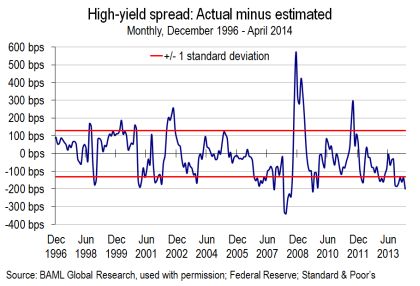 Why did high-yield get a lot richer during April, even though the index's OAS contracted by a mere four basis points? As detailed in "Determining fair value for the high-yield market" (Nov. 13, 2012), five independent variables explain 82% of the historical variance in the option-adjusted spread of the BofA Merrill Lynch US High Yield Index. Comparing the updated numbers with month-earlier figures, we find that Industrial Production dipped from 0.7% to 0.6% and Capacity Utilization receded from 79.2% to 78.6%, with both changes pointing to a wider fair-value spread. Also calling for an increase in OAS was the latest (April) quarterly credit-availability number, derived from the Federal Reserve's survey of senior loan officers. The percentage of banks tightening credit for large and medium-size companies minus the percentage easing worsened slightly, from -13.7% to -11.1% In addition, the yield on the BofA Merrill Lynch Current 5-Year US Treasury Index, which is inversely correlated with the high-yield spread, declined from 1.73% to 1.68%. The speculative-grade default rate, a backward-looking number that has little impact on fair value, rose from 1.5% to 1.7%, as reported by Standard & Poor's.
In summary, the actual spread was little changed, but overall risk increased substantially. The determinants of fair value (other than the credit-availability measure, which is reported only once a quarter) may improve in May. In that case, the spread could once again finish the month close to where it began, but this time the divergence from fair value would shrink rather than expand. Absent an offsetting trend in underlying Treasury rates, high-yield could then post a strong one-month total return. For value-oriented investors with a somewhat longer horizon, however, the present, very extreme overvaluation calls for underweighting high-yield until the market begins to provide better compensation for the full risk of owning the asset class.
Single-Bs lead the league in overvaluation
Applying our fair-value methodology to the BAML High Yield Index's rating subdivisions, as shown in the following table, we find that the single-B segment is the most overvalued. At -240 bps, its gap is -1.87 standard deviations tight to fair value. The lowest-rated bonds are the least overpriced, whether measured by the BofA Merrill Lynch CCC & Lower US High Yield Index, at -0.80 standard deviations, or the pure CCC subindex that we generate from the BAML data, at -1.21 standard deviations.

Covenant quality dips in April
Covenant quality of new high-yield issues declined in April, as illustrated in the chart below. On its scale of 1 (strongest) to 5 (weakest), Moody's reported a mild drop from 4.13 to 4.19. We find a bigger decline, from 4.04 to 4.32. This is somewhat out of character, as our series tends to be less volatile than that of Moody's. That aberration can be written off to statistical noise.
As described in "Covenant quality decline reexamined" (Oct. 1, 2013), our methodology filters out the impact of month-to-month changes in ratings mix of new issues. Those changes contaminate the analysis, because higher-rated speculative-grade issues tend to have weaker covenants than lower-rated ones. (Indeed, Ba issues had an average score of 5.00 – generally indicating covenant-lite status – in April.)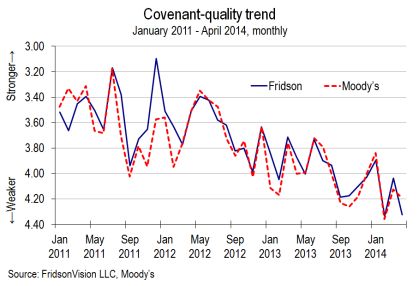 To put this all in perspective, we do not advise portfolio managers to base major investment decisions on monthly covenant-quality data. The quarterly series shown below removes additional statistical noise. Our version of this series presents a smoother (and we believe, truer) trend than that of Moody's, but both show little change since the third quarter of 2013. In absolute terms, the latest quarter's numbers show no meaningful difference between our series (4.07) and that of Moody's (4.10).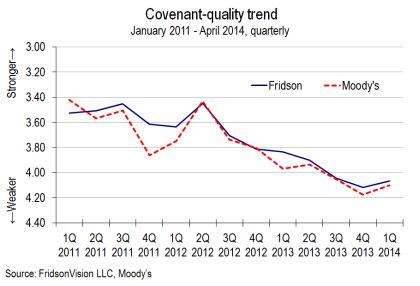 Martin Fridson, CFA
Chief Investment Officer
Lehmann, Livian, Fridson LLC
Research assistance by Kai Chen