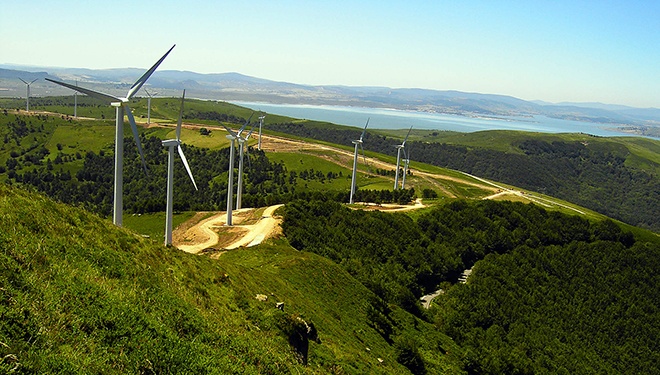 Developers of renewable energy projects, such as this wind farm in northern Spain, are looking to corporate customers as generous government subsidies are reduced.
Source: Iberdrola
Large corporations are set to become an ever more important driver of renewable energy markets in Europe, where the phaseout of generous government subsidies has utilities and other developers looking to the likes of Alphabet Inc., Heineken NV and Daimler AG for stable revenue streams.
Power producers and large companies in many industries, from tech and consumer firms to heavy industries like steel and car manufacturing, are increasingly signing long-term power purchase agreements, or PPAs, for green electricity from wind and solar parks.
Players on both sides of this nascent market believe the contracts will become a lifeline for renewables at a time when states are winding down their costly support schemes.
"We see ourselves as massive stimulants in that market," Marc Oman, EU energy lead at Alphabet's Google LLC, said in an interview. "We help utilities, developers to bring projects to market that might not otherwise exist."
Google is one of a growing number of corporates looking to lock in renewable energy supply for the long-term, as the technology becomes cheaper and investors and the wider public demand more environmental responsibility. The company last month announced a suite of 18 power purchase deals for 1,600 MW of capacity, which it said would generate $2 billion in new infrastructure, and has been matching all of its energy use with renewables contracts since 2017.
Utilities are not placing all their bets on the corporate world's appetite for cheap green power, however, partly because there are few companies with the heft of the big tech firms.
To achieve renewable generation and emissions reduction targets, demand from companies alone is likely not enough, said Javier Vaquerizo, who as head of the global commercial office at Enel SpA subsidiary Enel Green Power is in charge of structuring contracts for one of the largest global utilities.
But corporates, he added, "have a very important role to play."
Europe on the rise
To date, the vast majority of corporate procurement deals have been signed in the U.S., where the tax equity model for renewables has been more favorable for the uptake of PPAs.
The structure of subsidy schemes in countries like Germany still makes signing them either unnecessary or relatively unattractive, but some Northern and Southern European countries with different frameworks, such as Finland and Spain, have driven the trend on the continent.
So far this year, corporate buyers have signed deals for around 1,600 MW of renewable capacity across 13 countries in Europe, including the first such deals in Italy and France, according to industry group WindEurope.
In 2018, corporate PPAs were signed in only seven markets and reached approximately 2,400 MW in total. That came on top of 3,400 MW of on-site renewable generation built by companies for self-consumption.
SNCF, France's state-owned railway company, signed the first large-scale deal in France in June, buying the full output from three new solar farms for the next 25 years. The projects will be built by renewable developer Voltalia SA.
SNCF had already been installing solar panels on some of the land it owns in France and also buys large amounts of power on the wholesale market. Olivier Menuet, president of the group's power hedging and procurement arm SNCF Energie, said the additional benefit of helping to bring new solar farms to fruition was the main reason for turning to PPAs.
"The whole idea was to go out of the market and directly to green producers and develop new [capacity]," Menuet said on a panel at the annual RE-Source conference in Amsterdam, which brings together clean energy buyers and suppliers, on Oct.2.
SNCF spends €1.2 billion on energy every year and now has a target to procure between 20% and 25 % of its energy needs from renewable sources by 2025, Menuet said.
Financial, ESG drivers
Corporate buyers say that, next to boosting their environmental credentials, contracting for renewable power now also makes financial sense.
"When we did our first PPA in the U.S. in 2010, renewables were not as competitive as they are now," Google's Oman said. "Now, renewables are as cheap, if not cheaper, than conventional sources, in all of the markets where we have data centers."
But hurdles still exist. If corporate demand is supposed to drive significant volumes, the industry will need to figure out how it can involve smaller buyers with lower credit. Sami Andoura, leader of the sustainable development team at the European Political Strategy Centre, said achieving climate neutrality across the EU by 2050 would require installing 50,000 MW of wind and almost as much solar capacity every year.
Companies say the rising importance of environmental, social and governance criteria could provide the necessary push for renewable procurement. More than 200 energy buyers have already signed up to the target of becoming entirely powered by renewables as part of the RE100 initiative.
"Of course the big tech companies were a clear step forward, but what you see now is the second tier of companies coming into this market," said Nicolas Clerget, who is in charge of renewable procurement at Dutch brewer Heineken.
The company last year committed to sourcing 70% of its electricity and thermal energy demand from renewables by 2030 and has already signed a range of PPAs. It is also planning to announce targets for reducing so-called scope three emissions, covering the distribution, cooling and packaging of its products.
"We are clearly doing it for sustainability," Clerget said. "The idea is that, at the end of the day, consumers are looking for brands that fit their values."