Co-written by Melissa Doscher, Senior Manager, S&P Global Market Intelligence
Major year-end financial decisions and tax-planning activities were disrupted as politicians in Washington scrambled to reach a deal on tax reform at the end of 2017. But now, with the passage of the most sweeping tax rewrite in over 30 years, much of the apprehension has diminished. The S&P 500 Q4 earnings per share growth rate stood at 13.69% as of February 2, 2018, with many pointing to corporate tax cuts as playing a major role this earnings season. Companies have already started to examine the potential positive and negative impacts to their risk exposure and bottom lines and are changing the way they do business.
With implementation underway, we want to look beyond the political wrangling and controversy, and evaluate potential market implications of the tax reform plan. Following congressional approval of the Tax Cuts and Jobs Act (TCJA), we examined and highlighted notable sector, industry, and company-level probability of default (PD) changes as indicated by our PD Market Signal Model, a structural model that calculates the likelihood of a company defaulting on its debt or entering bankruptcy protection over a one- to five-year horizon.
Telecom companies among the biggest winners
Telecom companies pay some of the highest effective tax rates. The weighted average effective tax rate paid by the U.S. Telecommunication Services sector stood at 34.6% in 2016, while the weighted average rate for U.S. companies is generally about 27.2%.
Figure 1: 2016 weighted average tax rate by GICS sector (%)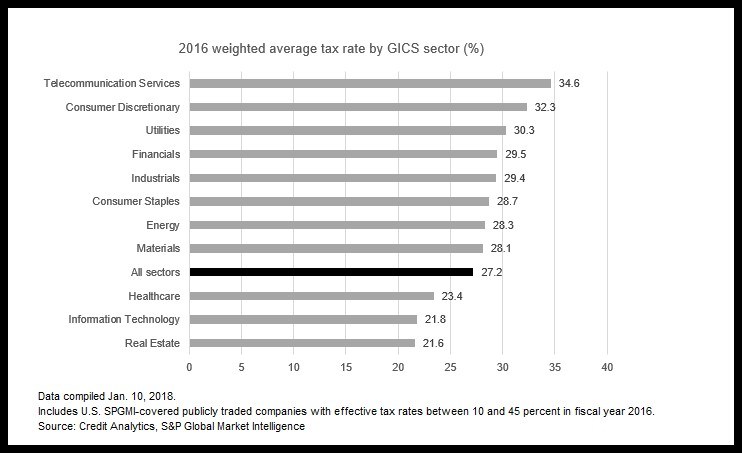 Following TCJA's passage, telecommunication services saw its PD decrease 32.8%, from 1.27% on December 19, 2017 to 0.85% on December 21, 2017, the steepest decline among the GICS sectors.
Figure 2: One-day median market probability of default change by GICS sector (%)
Lower taxes and enhanced deductions on capital expenditures will enable telecom companies to increase their capital investments, including efforts to upgrade and expand their networks. AT&T Inc. saw its PD subsequently decrease 33.0%. In the last quarter of 2017, the corporate tax overhaul helped the telecom book a $19 billion profit that will result in $3 billion in extra cash this year, a sum AT&T plans to spend on bolstering its network.[i]
TCJA and deregulation make telecom companies especially ripe for mergers and acquisitions in 2018. Convergence between telecom and cable and satellite is also expected, as telecom operators seek opportunities to add content offerings amid stagnating revenues.
Taking a deeper dive into subsectors, the household appliances industry, a subset of consumer discretionary, saw the largest drop in PD of 47.8%. Alternative carriers, a subset of telecommunication services, also saw a substantial decline in PD of 45.8%.
Figure 3: Largest decreases in one-day median market probability of default by industry (%)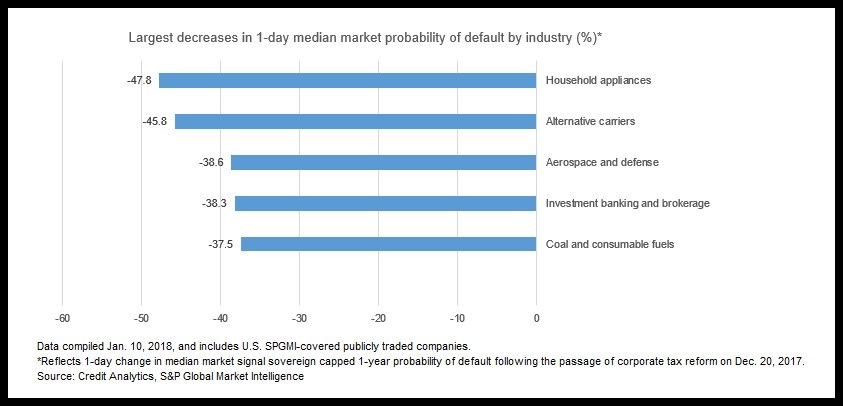 Will real estate and utilities lose out?
Immediately following TCJA's passage, real estate and utilities observed the largest market-perceived escalations in credit risk. Real estate saw its PD increase 21.6% from 0.04% on December 19, 2017 to 0.05% on December 21, 2017, while utilities saw its PD increase 20.2%, from 0.15% to 0.18%. On a subsector level, specialized REITs and residential REITs observed the largest escalations in credit risk, with PD increases of 69.2% and 64.7%, respectively.
Figure 4: Largest increases in one-day median market probability of default by industry (%)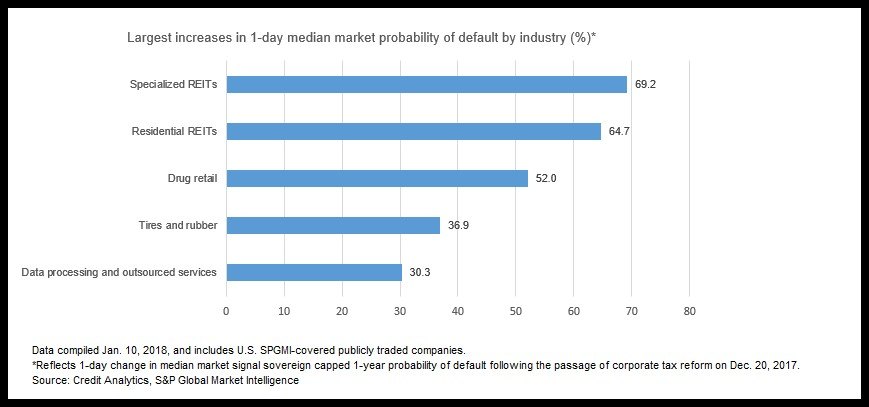 Real estate's and utilities' PD upticks could be the result of dampened enthusiasm for these sectors during the last months of 2017. Before TCJA's passage, much of the gridlock in Congress focused on a provision that eliminates the full deductibility of interest expense, which would raise the cost of financing for highly-leveraged, capital intensive industries such as utilities and REITs. However, the final law appears to exempt REITs and regulated utilities from this rule, allowing extra headroom for the former to pursue new property developments and the latter to invest in infrastructure and alternative energy.#learnMoreAboutLink("credit-analysis")
A tentative tailwind for U.S. companies
On a company-level, roughly 55% noted a decrease in their one-year PD the day following TCJA's passage and 12% saw no change. Companies with both high and low last-twelve-months effective tax rates saw a reduction in credit risk.
Figure 5: 25 highest tax rates covered by S&P Global Market Intelligence (under 45%)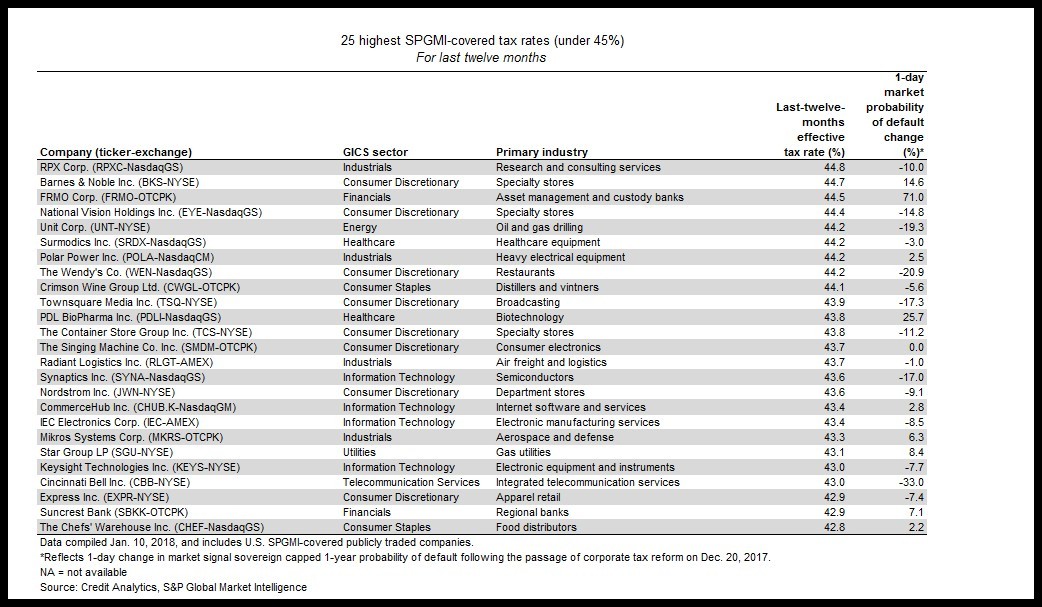 Figure 6: 25 lowest tax rates covered by S&P Global Market Intelligence (over 10%)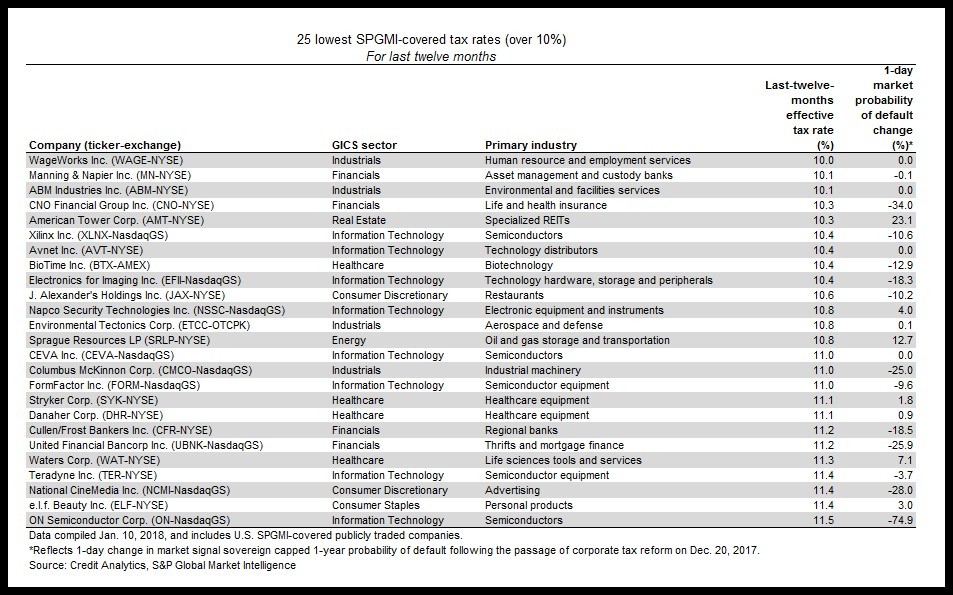 In summary, our PD Market Signal model shows that TCJA did impact the short-term market perceived credit quality of firms. While the legislation's longer term implications remain uncertain, we saw in 1986 how the widely praised 'Reagan tax cuts' led to an implosion in the real estate market and the onset of the savings and loan crisis. More recently, we saw how TCJA fueled an epic stock rally and stellar earnings forecasts. Likewise, the TCJA will most likely have its own winners and losers. Companies, as well as individuals, should be especially alert as the longer term impacts play out.
For more information on how you can leverage our PD Market Signal Model and associated workflow tools, please request a demo.
[i] AT&T Is the Latest Company to Report a Tax Reform Windfall. (n.d.). Retrieved February 02, 2018, from http://fortune.com/2018/02/01/att-earnings-tax-reform/