Feb. 28 2018 — Insurtech startup Lemonade Insurance Co. is demonstrating impressive growth when viewed in the context of Esurance Insurance Co., which was in the vanguard of selling insurance online when it was founded in the late 1990s.
Esurance began writing renters and homeowners insurance more than a decade after its founding. It grew renters and homeowners policies quickly, going from about $9,000 in direct premiums written in the third quarter of 2012 to $25.5 million in the third quarter of 2017. Lemonade, by contrast, hit the $2.5 million mark in five quarters, as opposed to eight for Esurance.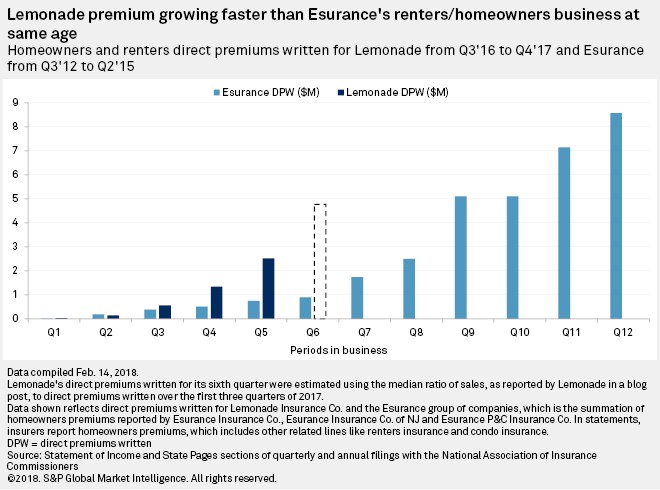 While Esurance had already made inroads in auto, renters and homeowners insurance were new territory back in 2012. It began selling renters insurance in five states that year, added homeowners policies in the following yea, and continued to expand both lines over the succeeding years. This data comes from filings submitted to the National Association of Insurance Commissioners. Insurers report only "homeowners" premiums in these filings, but the category is broader than that. It also includes renters insurance.
But there are also differences between Lemonade and Esurance. Since Esurance sells auto insurance, it offers discounts on homeowners insurance to customers that bundle, which Lemonade cannot do. Esurance is also owned by Allstate Corp., a relationship that offers vast capital resources but, at the same time, means that Esurance does not have the same autonomy that a startup like Lemonade possesses.
While Esurance might not have grown its homeowners business as quickly, it bested Lemonade in another area: loss ratios. On average, its loss ratio was about 70% in its first five quarters of operation, versus 102% for Lemonade. The first quarter of 2017 was particularly rough for Lemonade, when it recorded a loss ratio of 241%. The company acknowledges these struggles, writing in a January 23 blog post that underwriting was "pretty shoddy" in the early days. But with the influx of more data, its underwriting models have improved, Lemonade wrote.
Geography
In terms of where they write business, the two companies took different paths. Whereas New York was the first state where Lemonade wrote, it is still not a major area of focus for Esurance. Esurance does not write renters business in New York (only homeowners), and in 2016 the state made up less than 1% of its total homeowners direct premiums written. Esurance began with several Midwest states — Illinois, Missouri, Ohio, and Wisconsin — and has not specifically gone after states with large metropolitan areas like Lemonade has. For instance, Esurance has avoided California whereas Lemonade quickly expanded into the Golden State. In the third quarter of 2017, Lemonade wrote 1.7x as many premiums in California as it did in New York.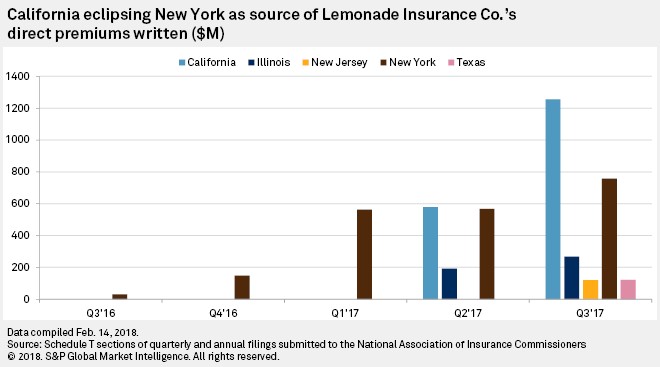 California is a larger market, however. Insurers wrote about $7.70 billion in direct homeowners premium there in 2016, versus $5.25 billion for New York. State Farm Mutual Automobile Insurance Co. was the leader in California, with about 19.5% of the market, while Allstate captured the most market share in New York, with 14.4%. State Farm was not far behind Allstate in New York, though, with 13.8% of the market.
While fourth-quarter 2017 statutory data is not yet available, we know that Lemonade entered Nevada, Ohio and Rhode Island in October and November, based on the company's website. Lemonade has notably avoided Florida, which is not only the largest homeowners insurance market in the U.S., but also has a high average premium relative to the number of households there.
Other startups have also been taking their time before entering the Sunshine State. As Swyfft LLC CEO Sean Maher explained, coastal states require a significant amount of expertise. But his company plans to do business there soon, shooting for a June launch.
Competition
As Swyfft shows, Lemonade has some competition from other insurtech startups. Hippo Analytics Inc. and Kin Insurance Inc. are other examples, though they do not also write renters business like Lemonade does. Meanwhile, there are a handful of companies that offer renters insurance, but not homeowners insurance. These companies write in more states, which makes sense given that it takes much more volume to achieve the same amount of revenue from renters insurance that one would receive from homeowners insurance. On average, annual U.S. renters premiums were only about one sixth of U.S. homeowners premiums in 2015, based on data available from The Insurance Information Institute, an industry association.
We estimate the potential renters insurance market in the U.S. is about $8 billion in size. By our calculations, California was the largest market for renters insurance, at roughly $1.2 billion, followed by Texas with about $854.4 million and New York with $720.4 million.
Esurance can be a case study for the renters insurance market as well. It offered renters insurance in more than 20 states as of the end of 2016, though there were only three where it offered renters but not homeowners coverage: Arkansas, Louisiana, and West Virginia. They illustrate how much less the renters insurance line produces in terms of premium. In 2016, it only generated $423,000 in combined premium from those states.
Selling renters and homeowners insurance online is not a new concept, but companies like Lemonade seem to be putting a new spin on it. Lemonade has added more innovations — such as a chat bot named Maya — and has streamlined the process, which appears to be winning over customers. Whether it can achieve this growth while also turning a profit, though, remains to be seen.