Jun. 22 2015 — Healthcare has seen global M&A activity soar this year. Currently it is the top sector for total transaction values in 2015 with $141 billion[1]. But it's not only M&A that's been increasing, investment in Healthcare by the large Hedge Funds has been very active as we identified in our Hedge Fund Tracker report.
Let's now drill down deeper into Healthcare and the hedge fund activity, identifying some very interesting facts that show hedge fund activity in the pharma industry, and healthcare sector more generally, have grown significantly in recent months and years according to available S&P Capital IQ data.
1. From 1 year ago (Q1 2014 to Q1 2015 13F filings) in absolute terms
- Hedge fund ownership in the Healthcare sector has grown from $118B to $166B (+29%)
- Hedge fund ownership of Pharma (Pharmaceuticals, Biotech and Life Sciences) has grwon from $67.2B to $105B (+56.6%)
- This is compared with only an 18.2% increase overall in hedge fund holdings across all sectors)
2. Looking at total hedge fund ownership in healthcare and pharma as a percentage of total market capitalization
- Currently hedge fund ownership of total market capitalization in Healthcare (and Pharma) ranks below only Consumer Discretionary (7.6% of overall sector as of Q1 2015), Materials (7.4%) and Energy (5.1%).
- Hedge fund ownership across all sectors went from 3.38% in Q1 2012 to 4.08% in Q1 2014 to 4.4% in Q1 2015.
- The percentage hedge fund ownership of Pharma grew much faster than Healthcare.
Hedge Fund Holdings by Sector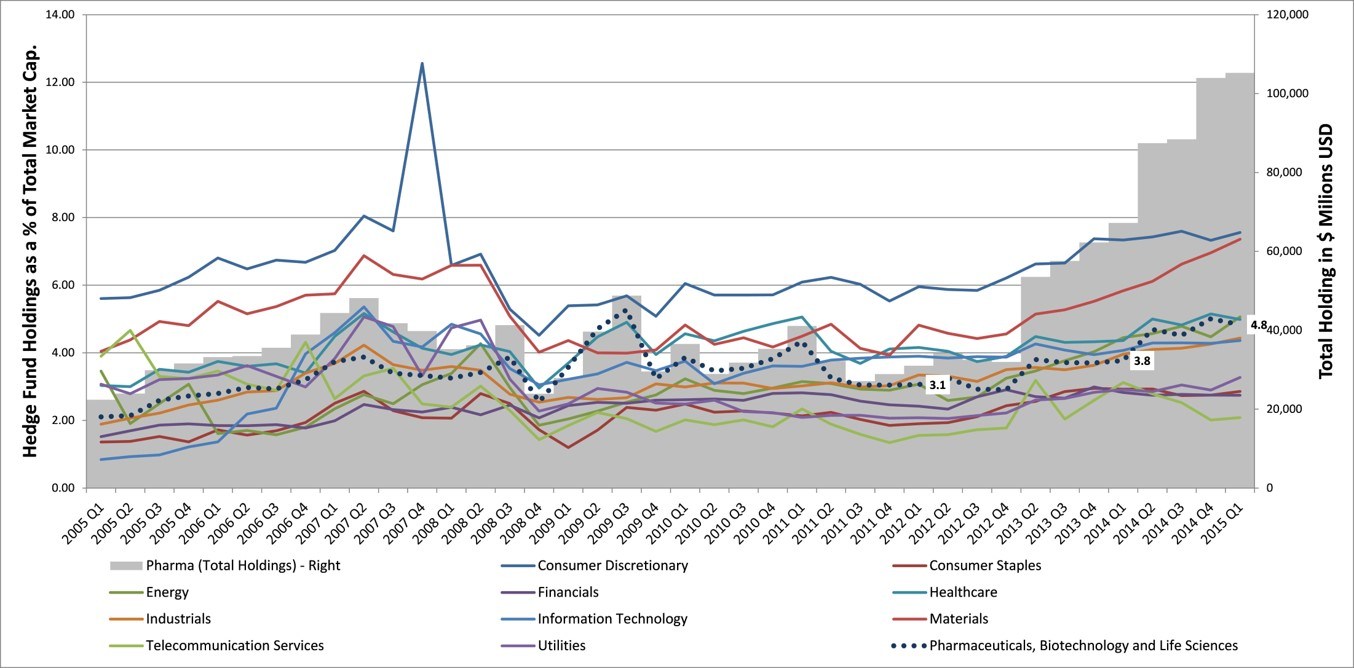 As the chart above shows:
Pharma went from 3.06% in Q1 2012 to 3.77% in Q1 2014 to 4.83% in Q1 2015
Healthcare went from 4.16% in Q1 2012 to 4.36% in Q1 2014 to 4.98% in Q1 2015
3. As a percentage of all deal volume (M&A, Private placements, and Investor Activism) where hedge funds are a buyer, Healthcare is at a 10 year high.
- 2015 healthcare volume through May 21, 2015 represented 29.1% of all hedge fund deal activity. The 10 year average excluding 2015 is 4.8%.

- Pharma (excluding Biotech and Life Sciences) represents 78% of the healthcare volume in 2015 and has been growing since 2013. Pharma represented 7.5% of healthcare hedge fund deal volume in 2013 and 32.7% in 2014. Much of the Pharma & Healthcare volume through May 21, 2015 was driven by the Pershing Square Capital Management, L.P. acquisition of Valeant Pharmaceuticals International, Inc. (TSX:VRX) on March 9, 2015.
4. Average deal volume for hedge funds in the Healthcare and in the Pharmaceuticals space (excluding Biotech and Life Sciences) has grown each year since 2011. Average hedge fund deal size in 2011 in the Healthcare space was $685 Million USD growing to $2,363 Million USD through 2015 Likewise, Pharmaceutical sub-industry average deal size grew from $8.7 Million USD in 2011 to $50.3 Million USD in 2015.
[1] Source: S&P Capital IQ platform, M&A Market overview as of June 8th 2015
LEGAL DISCLAIMER
Form 13F Reports are required to be filed within 45 days of the end of a calendar quarter by institutional investment managers with the U.S. Securities and Exchange Commission (SEC). An institutional investment manager is an entity that invests in, buys or sells securities for its own account, or a natural person or entity that exercises investment discretion over the account of any other natural person or entity. Only securities on the 13F list provided quarterly by the SEC (13F Securities) are required to be included in Form 13F Reports. Therefore, Form 13F Reports may not reflect the most current holdings of institutional investment managers because it is required that the 13F Report include only 13F Securities, is filed on a lag, and some funds may not meet the filing thresholds or other requirements. In addition, because the 13F Reports are as of the last date of the quarter, the 13F Report may not describe intra-quarter activity.