Feb. 13 2019 — The headwinds are picking up for Norwegian Air Shuttle ASA ("Norwegian"), the eighth largest airline in Europe. The carrier has been battling with rising fuels costs, increased competition from legacy carriers, and persistent aircraft operational issues. Norwegian's problems are a continuation of what have been turbulent months for budget airlines in Europe resulting in a collapse of Primera Air, based in Denmark, near-default of WOW air, Iceland's budget carrier, and most recently bankruptcy of Germania.
When we pull back the curtain and review the creditworthiness of European airlines to explore further some of the causes for Norwegian's turbulent period, we see Norwegian's business strategy and financial structure have made the carrier highly exposed. Coupled with the traditionally slow winter season, the airline may have to navigate through the storm clouds forming on the horizon.
A View From Above
S&P Global Market Intelligence has developed CreditModelTM Corporates 2.6 (CM2.6), a statistical model trained on credit ratings from our sister division, S&P Global Ratings. The model combines multiple financial ratios to generate a quantitative credit score and offers an automated solution to efficiently assess the credit risk of both public and private companies globally.1 Within CreditModel, the airline industry is treated as a separate global sub-model to better encompass the unique characteristics of this industry.
Figure 1 shows the overview of S&P Global Market Intelligence credit scores obtained using CreditModel for European airlines. Norwegian's weak position translate into the weakest credit score among its competitors. The implied 'ccc+' credit score suggests that Norwegian is vulnerable to adverse business, financial, or economic conditions, and its financial commitments appear to be unsustainable in the long term. In addition to Norwegian, Flybe and Croatian Airlines rank among the riskiest carriers in Europe and share a similar credit risk assessment. The airlines with the best credit scores are also Europe's biggest airlines (Lufthansa, Ryanair, International Airlines Group (IAG), and easyJet). The exception among the top five European airlines is Air France-KLM, which is crippled by labour disputes and its inability to reshape operations and improve performance.
Figure 1: Credit Risk Radar of European Airspace
Overview of credit scores for European airlines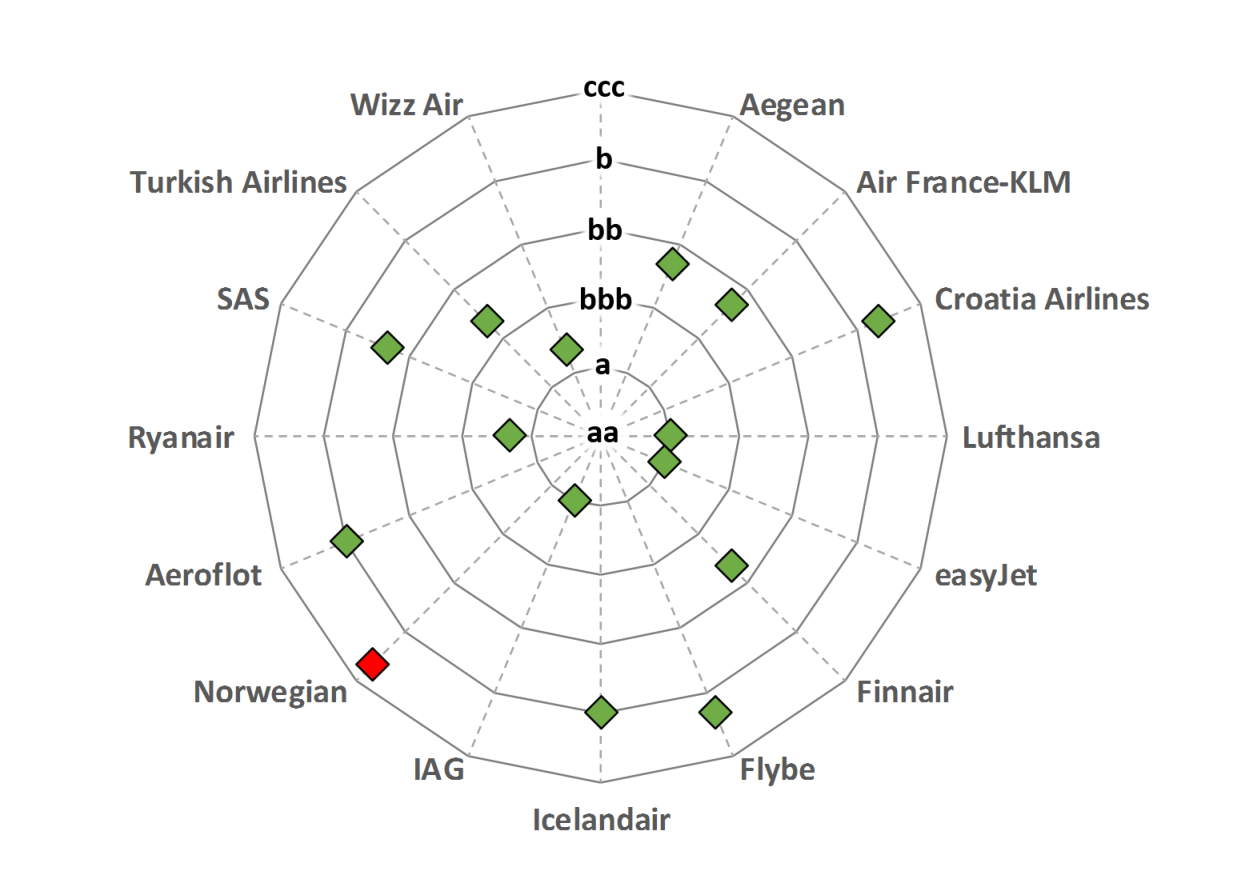 Source: S&P Global Market Intelligence. For illustrative purposes only.
Note: IAG operates under the British Airways, Iberia, Vueling, LEVEL, IAG Cargo, Avios, and Aer Lingus brands. (January 3, 2019)
S&P Global Market Intelligence's sister division, S&P Global Ratings, issued an industry outlook for airlines in 2019 noting that the industry is poised for stability.2 It stated the global air traffic remains strong and is growing above its average rate at more than 6% annually. The report also cited rising interest rates dampening market liquidity while increasing the cost of debt refinancing and aircraft leases. Oil prices are expected to settle, and any further gradual increases in oil prices are expected to be compensated by rising airfares and fees. The most significant risks for airlines are geopolitical. Potential downside scenarios include a crisis in the Middle East or other disruptions in oil, causing oil prices to spike. The possibility of trade wars and uncertainty surrounding the Brexit withdrawal agreement represent additional sources of potential disruption or weakening in travel demand.
Flying into the danger zone
Although Norwegian has so far dismissed any notion of financial distress as speculation, it has simultaneously implemented a series of changes to prevent further turbulence.3 The airline announced a $230mm cost-saving program that included discontinuing selected routes, refinancing new aircraft deliveries, divesting a portion of the existing fleet, and offering promotional fares to passengers to shore up liquidity.
In Figure 2, we rank Norwegian's financial ratios within the global airline industry and benchmark them against a selected set of competitor European budget carriers (Ryanair, easyJet, and Wizz Air). Through this chart, we can conclude that Norwegian's underlying problems are persistent and the company's financial results are weak. Norwegian's business model of rapid growth and a debt-heavy capital structure have resulted in severe stress for its financials. Norwegian ranks among the bottom 10% of the worst airlines in the industry on debt coverage ratios, margins, and profitability. This is in sharp contrast to other European budget carriers, which are often ranked among the best in the industry. On the flip side, Norwegian's high level of owned assets represents its strong suit and gives the carrier some flexibility to adjust its operations and improve performance in the future.
Figure 2: Flying at Low Altitude
Norwegian's financial ratios are among the worst in the industry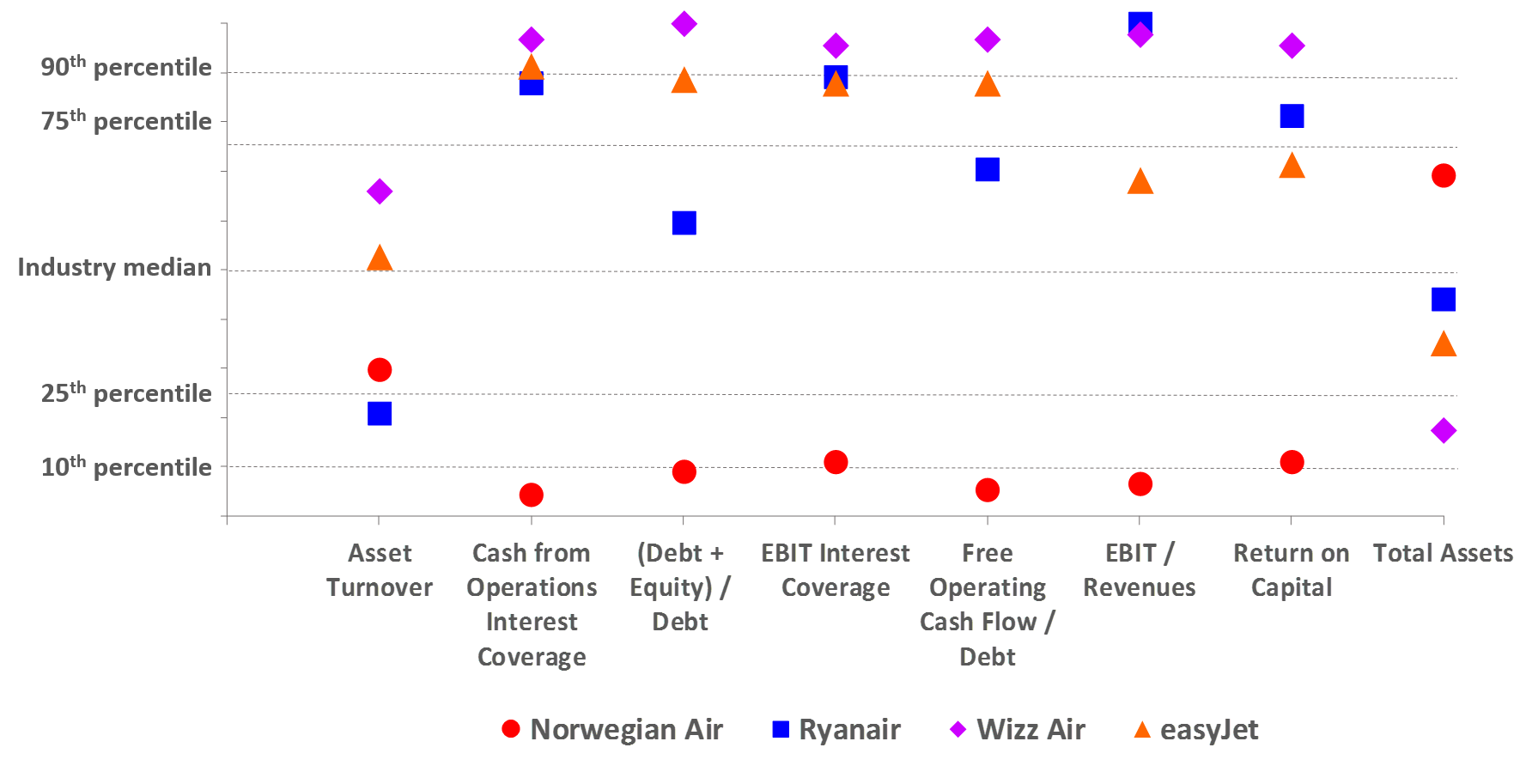 Source: S&P Global Market Intelligence. For illustrative purposes only. (January 3, 2019)
Note: Presented financial ratios are used in CreditModelTM Corporates 2.6 (Airlines) to generate quantitative credit score in Figure 1.
Faster, Higher, Farther
Norwegian has undergone a rapid expansion in recent years, introducing new routes and flying over longer distances. Between 2008 and 2018, the carrier quadrupled its fleet from 40 to 164 planes.4 This enabled it to fly more passengers and become the third largest budget airline in Europe, behind Ryanair and easyJet. However, unlike its low-cost rivals, Norwegian ventured into budget long-haul flights. After establishing its new base at London Gatwick, it started operating services to the U.S., South-East Asia, and South America.
As a result of this expansion, Norwegian's capacity as measured by available seat kilometres (ASK) and traffic as measured by revenue passenger kilometres (RPK) grew nine-fold between 2008 and 2018, as depicted in Figure 3. By offering deeply discounted fares, the carrier was able to attract more passengers and significantly grow its revenues, which were expected to reach $5bn in 2018. However, to be able to support this rapid growth, Norwegian accumulated a significant amount of debt and highly increased its financial leverage. This rising debt is putting Norwegian under pressure to secure enough liquidity to repay maturing debt obligations.
Figure 3: Shooting for the Stars
Norwegian's rapid growth propelled by debt
Source: S&P Global Market Intelligence. All figures are converted into U.S. dollars using historic exchange rates. Figures for 2018 are estimated based on annualized YTD 2018 figures. For illustrative purposes only. (January 3, 2019)
Norwegian's strategy to outpace growing debt obligations by driving revenue growth is coming under pressure. The data tells us that expansion to the long-haul market and the undercutting of competitors to gain market share proved to be costly and negatively impacted Norwegian's bottom line. Operational performance, measured as unit revenue (passenger revenue per ASK) and yield (passenger revenue per RPK), have been slipping continuously since 2008, as depicted in Figure 4. Negative free operating cash flow required Norwegian to continuously find new sources of capital to finance its operations, and profitability suffered. The carrier was able to ride a tailwind of low oil prices and cheap financing for a while, however, the winds seem to be turning.
Figure 4: Gravitational Pull
Slipping operational and financial performance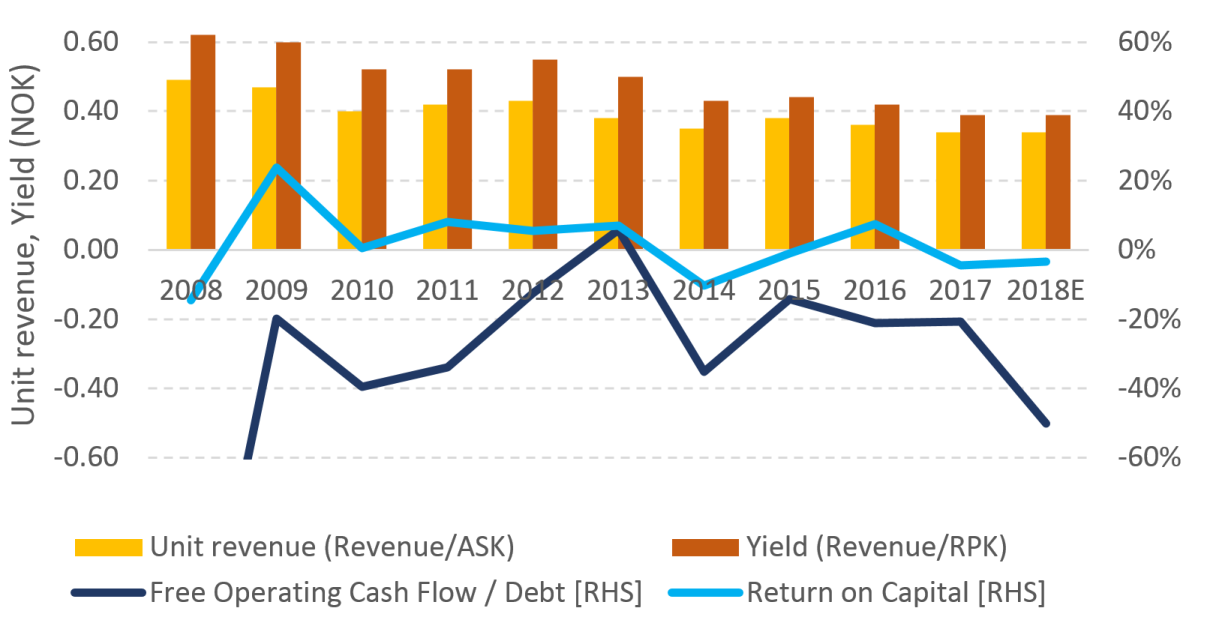 Source: S&P Global Market Intelligence, Norwegian Air Shuttle ASA: "Annual Report 2017", Norwegian Air Shuttle ASA: "Interim report - Third quarter 2018". Figures for 2018 are estimated based on annualized YTD 2018 figures. For illustrative purposes only. (January 3, 2019)
Norwegian's plan to outrun a looming mountain of debt obligations is resulting in a turbulent flight. While growing its top line, the carrier has been unable to convert increased capacity and traffic into consistent profit. With a stable industry outlook and cost-cutting measures in place, Norwegian lives to fly another day. However, any additional operational issues or adverse macroeconomic developments could send Norwegian deep into the danger zone.
Learn more about S&P Global Market Intelligence's Credit Analytics models.
Learn more about S&P Global Market Intelligence's RatingsDirect®.
S&P Global Market Intelligence leverages leading experience in developing credit risk models to achieve a high level of accuracy and robust out-of-sample model performance. The integration of Credit Analytics' models into the S&P Capital IQ platform enables users to access a global pre-scored database with more than 45,000 public companies and almost 700,000 private companies, obtain credit scores for single or multiple companies, and perform scenario analysis.
S&P Global Market Intelligence's RatingsDirect® product is the official desktop source for S&P Global Ratings' credit ratings and research. S&P Global Ratings' research cited in this blog is available on RatingsDirect®.
1 S&P Global Ratings does not contribute to or participate in the creation of credit scores generated by S&P Global Market Intelligence. Lowercase nomenclature is used to differentiate S&P Global Market Intelligence PD credit model scores from the credit ratings issued by S&P Global Ratings.
2 S&P Global Ratings: "Industry Top Trends 2019: Transportation", November 14, 2018. https://www.capitaliq.com/CIQDotNet/CreditResearch/viewPDF.aspx?pdfId=36541&from=Research.
3 Norwegian Air Shuttle ASA, "Update from Norwegian Air Shuttle ASA", press release, December 24, 2018 (accessed January 3, 2019), https://media.uk.norwegian.com/pressreleases/update-from-norwegian-air-shuttle-asa-2817995.
4 Norwegian Air Shuttle ASA: "Investor Presentation Norwegian Air Shuttle", September 2018.
Tesla Contemplates Going Private; But Who Is Going to Power Its Batteries
Learn More
Sears Strikes Out What Is In Store For Other Retailers In The US
Learn More