Dec. 26 2017 — There has been such a frenzy of media coverage focused on the acquisition of a significant amount of 21st Century Fox Inc. assets by the Walt Disney Co. (finally announced on December 14), but few have focused on the long, arduous journey ahead, as the two companies attempt to convince the government that the combination is a good thing. Although remarks from President Donald Trump have been favorable to the deal, it will be hard to reconcile the Department of Justice nixing the acquisition of Time Warner Inc.'s Turner by AT&T Inc. while approving the acquisition of some of the crown jewels of the media industry by the Walt Disney Co.
There are four areas that we believe the government will focus on:
The Walt Disney Co.'s share of content will be immense. Looking just at U.S. box office (the combined company will also have a huge share of TV productions, plus a huge film & TV library), Disney had a 26.6% share of the domestic box office in 2016, while Fox released films that garnered 13.5% of the box office that year. The only two studios that came close were Time Warner at 16.9% and NBCUniversal Media LLC at 13.6%.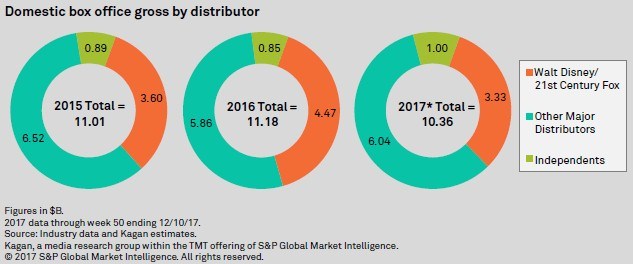 The DOJ is likely to frown upon a company which, on a good year, has 40% of the domestic box office compared to 52% for all of the other major studios combined. There are two reasons for this.
First, exhibitors are having a tough time with the box office weakness, and their cash flow margins are precariously thin. Disney's dominance at the box office will give them further leverage to increase the split of the box office (known as rentals) that it receives from exhibitors, which will only further erode theater margins. "Disney is becoming the Wal-Mart of Hollywood: huge and dominant," Barton Crockett, media analyst at B. Riley FBR, told Bloomberg Businessweek following the deal's announcement. "That's going to have a big influence up and down the supply chain."
Second, Walt Disney has already signaled that they want to keep their content exclusive to them during the post-theatrical release window for their two new OTT streaming platforms, announcing in August that their deal with Netflix would not be renewed. Since there will be no open bidding process for this content, the DOJ could raise issues around this, causing Disney to have significant pricing power over consumers, with what some believe is must-have content. Disney executives have announced that their Disney-branded OTT service will debut with a price-point significantly below Netflix Inc. (their other sports streaming service will be dubbed ESPN Plus). Over time, however, as more content is added, the price will likely go up. Disney has revealed that it will have four to five movies per year that will be exclusive to the OTT platform, while airing the Disney, Pixar, Marvel, and Star Wars films after they play in theaters. There will also be exclusive TV series based on the Marvel and Pixar libraries, as well as a "High School Musical" series.
We think the DOJ will focus on the concentration of sports rights. Although in theory ESPN (U.S.) and the regionals don't compete, the rising cost of sports rights is concerning to multichannel operators and consumers, and it has been the driving force behind cord cutting and cord shaving.
Walt Disney will likely argue that sports rights are not an issue as the RSNs aren't bidding against ESPN for national sports rights. That's because they are broken down into tiers, where the national networks like ESPN and FS1 bid on the first- and second-tier rights. These are the nationally televised games, and usually the top bidder gets the first pick of the most competitive and nationally relevant games that week.
The remaining third-tier rights are available to the regional sports networks, which get the exclusive in-market broadcasts based on a specific team's TV territory, which is determined by the league. These rights are negotiated between the RSN and the local teams themselves. The national rights are negotiated by the national networks and the leagues.
The majority of a team's games are available in-market on the RSN, with the exception of any exclusive nationally televised game.
There is an argument that the national networks compete with RSNs for viewers, as most local fans want to watch/cheer for their local teams. The reason RSN sports rights are so valuable is that they own exclusive in-market rights. So in any given market across the nation, most local fans will prefer to watch the RSN over a national telecast of other teams.
The Fox Regional Sports networks' market share of affiliate fees is huge at 49%, with Comcast Corp. being the No. 2 player.
The DOJ could argue that the RSNs paired with ESPN would give the Walt Disney Co. significant leverage with multichannel operators, which would allow them to significantly increase prices to distributors, and, in turn, increase prices for consumers. As the graphics below show, ESPN and the Fox RSNs together would account for 30% of all affiliate fees for basic cable networks and RSNs, and a massive 58% of affiliate fees for basic cable sports networks and RSNs.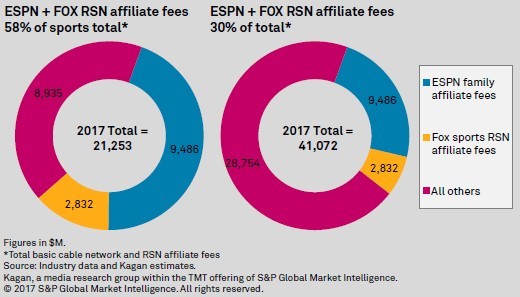 The DOJ will likely focus on Walt Disney becoming the majority owner of Hulu LLC, a major growth engine in both OTT in the U.S. and VSP with its still-in-trial Hulu Live offering. Although the partnership agreement related to Hulu has not been made public, there have been numerous leaks in the press about the partners requiring unanimous consent of the three 30% shareholders — Comcast/NBC Universal, Walt Disney, and 21st Century Fox (Time Warner Turner holds a 10% equity stake) — for major strategy decisions.
Rich Greenfield (co-head of research, managing director and media and technology analyst at BTIG LLC's research division) wrote in December that many investors believe Disney wants to buy Comcast's 30% stake and fold Hulu into its streaming service. However, it's extremely unlikely Comcast would sell its interest in Hulu, as this would only hurt Comcast's video business if Hulu were exclusively available only as part of a Disney bundle.
In addition, Greenfield wrote that he believes that this refusal will ultimately result in Walt Disney selling its stake in Hulu to Comcast/NBCUniversal.
Many of these issues could be resolved by Walt Disney entering into a consent decree with the government with various concessions, as Comcast did in 2011 to get approval of its purchase of a majority stake, which later became full ownership, in NBCUniversal. The biggest sticking point is likely to be one of the same stumbling blocks in getting government approval of AT&T's acquisition of Time Warner Turner, with the government claiming that AT&T could make a large portion of its content exclusive to AT&T, or alternatively pricing it so high that competitors don't believe it would be economically feasible to carry the channels or license the content. This same issue could be raised in the Disney-Fox transaction.