May. 23 2018 — From an online bookseller that launched in 1995 to a high-tech conglomerate with global reach, Amazon.com Inc. has a bullseye on every market it touches. Today, Amazon is a retailer, hardware developer, cloud services provider, content streaming service, clothing designer, and, more recently, a home security company with its announcement to purchase Ring Inc. on February 27, 2018.
The company has rallied 37% this year, crushing Wall Street expectations for its first quarter earnings, posting $1.6 billion in profit, and prompting nearly two dozen firms to up their price targets on the e-commerce giant. A few of those newly minted price targets place the company north of the $1 trillion threshold.1
Not surprisingly, the market is questioning — is Amazon unstoppable? And if so, what is Amazon's next target?
How do Amazon's acquisitions stack up?
Amazon, along with its subsidiaries, has made 96 merger and acquisition transactions since its 1995 launch, the largest being its acquisition of Whole Foods Market Inc. for approximately $13.7 billion, announced on June 16, 2017.
Figure 1: Amazon's largest acquisitions ($M) from January 1, 2008 – April 27, 2018
Figure 2: Amazon's M&A activity by industry (%)
To compare the disruptive impact of innovation in the various sectors that Amazon has entered, we looked at Amazon's 10 largest deals announced since January 1, 2008 and examined industry and company-level probability of default (PD) changes using our PD Market Signal Model, a structural model that calculates the likelihood of a company defaulting on its debt or entering bankruptcy protection over a one-to-five year horizon.
Among these 10 major acquisitions, Amazon's announcement to purchase food retailer Whole Foods Market Inc. on June 16, 2017 was the most disruptive, with the food retail sub-sector PD increasing from 3.73% on June 15, 2017 to 4.85% on June 23, 2017, or by about 30%. We attribute the PD escalation to the sheer size of the transaction, more than 10x the size of any of its past transactions, as well as the saturation within the food retail sub-sector.
But is the Amazon hype overblown?
With the exception of the Whole Foods purchase, our PD Market Signal model shows Amazon may not be the 'Death Star' it is hyped up to be. Seven of Amazon's 10 largest acquisitions –Annapurna Labs Ltd. (Semiconductors), Souq.com FZ-LLC (Internet and direct marketing retail), Elemental Technologies LLC (Application software), Ring Inc. (Consumer electronics), Zappos.com Inc. (Internet and direct marketing retail), Twitch Interactive Inc. (Internet software and services), and Audible Inc. (Internet software and services)– had a positive impact on the short-term market perceived quality of the target industry, with the magnitude of PD changes significantly greater for Amazon's more recent acquisitions– Annapurna Labs Ltd. (01/22/2015), Souq.com FZ-LLC (03/28/2017), and Elemental Technologies LLC (09/03/2015).
By contrast, only slight PD changes were observed for acquisitions during Amazon's earlier years – Zappos.com Inc. (07/22/2009), Twitch Interactive Inc. (08/25/2014), and Audible Inc. (01/30/2008) when the market perception of the "Amazon Effect" was less in full flight.
In the case of Amazon's most recent announcement to buy Ring Inc. for $992.8 million, we attribute the positive impact – the median PD for the consumer electronics sub-sector decreased 13.76% from 9.45% on February 26, 2018 to 8.15% on March 6, 2018 – to the lack of a 'surprise factor.' Amazon had previously invested in Ring through the Alexa Fund, which exclusively provides funding to Alexa-enabled devices.
Figure 3: One-week median U.S. Industry Market Signal Probability of Default change following Amazon's acquisition announcement: January 1, 2008 – April 27, 2018
On a company-level, the "Amazon Effect" is more obvious. For example, significant escalations in PD were observed for both small- and large-cap companies in the peer groups of the acquired companies. Small-cap WOD Retail Solutions Inc.'s one-year PD increased from 0.12% on August 24, 2014 to 1.81% on September 1, 2014 (1,409.73% change) following Amazon's announcement to acquire live streaming video platform company Twitch Interactive Inc. Similarly, Alphabet Inc.'s PD rose 170.75% from .03% on January 29, 2008 to .08% on February 6, 2008, following Amazon's decision to buy Audible Inc., one of the world's largest audio entertainment and information providers, on January 30, 2008.
Figure 4: Amazon's target peer group: Largest changes in One-week Market Signal Probability of Default following acquisition announcement, January 1, 2008 – April 27, 2018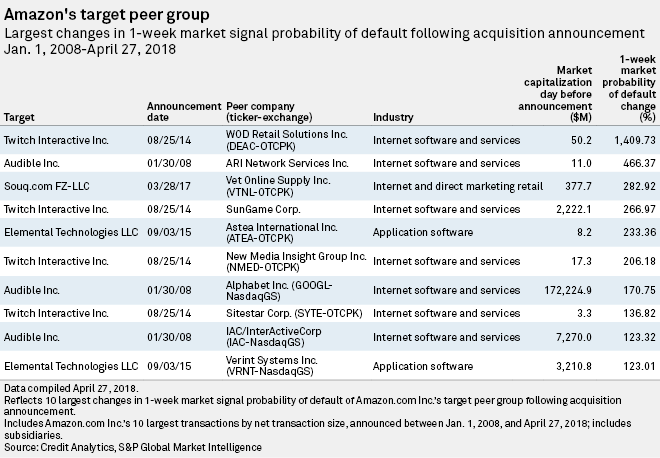 What is Amazon's next battleground?
While Amazon's plans with Ring have yet to be disclosed, the deal certainly gives Amazon a leg up on Google and Apple in the smart home market, which many market participants expect to be Amazon's next battleground. Ring already supports Amazon's virtual assistant Alexa, which Amazon's Director of Applied Science and Alexa Machine Learning, Ruhi Sarikaya, recently announced will soon be able to track memory and context.2
Ring, alongside Alexa can be leveraged with the smart lock system, Amazon Key, to facilitate the safe delivery of Amazon products in home. In just a few years, the trifecta Ring-Key-Alexa integration could lead to a completely new home landscape from security, to deliveries, and even lifestyle. Intelligent personal assistants, smart keys, and video doorbells could be as ubiquitous as television sets.
While the immediate impact of the Ring acquisition might have had a positive impact on the sub-sector's PD, this move might provide a glimpse into how disruptive Jeff Bezos' longer-term strategy might be. With its smart doorbells and security cameras, Ring literally opens the door for Amazon to start selling services, not just goods. Is the market letting a giant through the front door?
Would you like to learn more about the credit risk solutions and sector data used in this article's analysis? Request more details.
1 McDonald, L. (2018, May 08). Why Amazon could be the next black swan for the market.
2 Making Alexa More Friction Free (April 25, 2018). Retrieved April 27, 2018.
Beyond Amazon, Alibaba Leads Disruptive Innovation In Race To $1 Trillion Valuation
Learn More