Aug. 29 2018 — Bankruptcy Summary
Poundworld Retail Ltd (Poundworld) is a discount store operator located in the United Kingdom that on June 11, 2018, while operating around 350 stores, filed for administration in order to work to find a buyer for the chain1. S&P Global Market Intelligence's Fundamental Probability of Default (Fundamental PD) increased nearly fivefold from 1.69% (an implied credit score of 'bb-'2), a level that was better than the median general merchandise store in the U.K., to 10.39% (an implied credit score of 'ccc+') between fiscal year (FY) 2015 and FY 2016. To summarize, the increased Fundamental PD is similar to a credit score decline from 'bb-' to 'ccc+'. The following year between FY 2016 and FY 2017, the Fundamental PD increased nearly 72% from 10.39% to 17.84% (an implied credit score of 'ccc-').
As of the reporting date November 10, 2016 for the period ending March 31, 2016, 19 months before the company filed for bankruptcy, Poundworld fell into 'ccc' range and was unable to recover. Poundworld's inability to recover was due to competing in an increasingly competitive discount retail environment where there was less foot traffic to traditionally populous town centers and exchange rate pressure due to importing goods while the pound was weaker than the dollar3. This resulted in increasingly narrow margins, higher leverage, and decreasing profitability.
Exhibit 1: Fundamental PD Escalation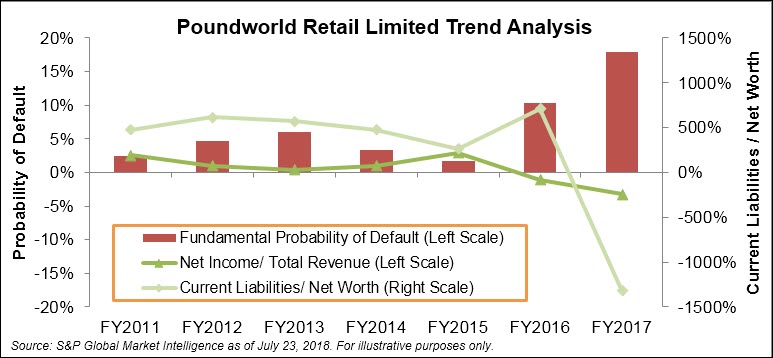 Business Description
Poundworld operates a chain of discount department stores in the United Kingdom and sells products through its online shop. It offers food and drinks, cleaning and laundry products, health and beauty products, home products, garden and outdoor supplies, pet care products, electrical products, stationery items, toys, baby products, party and gift products, and leisure time products. Poundworld was founded in 1974 and is based in Normanton, United Kingdom.
Fundamental Probability of Default Analysis
The analysis of S&P Global Market Intelligence's one-year Fundamental PD reveals Poundworld had consistent implied credit scores in the 'single b' range for 10 of its 13 reporting periods from FY 2005 to FY 20174. In the time after FY 2012 the volatility of the implied credit scores increased in response to the volatility of Poundworld's net income. As recently as FY2015, Poundworld, with a PD of 1.69% (implied credit score of 'bb-'), sat in the top half of UK general merchandise stores. However, in FY 2016 the company fell into the worst 25% of its UK peers with a PD of 10.39% (implied credit score of 'ccc+'), roughly a year and a half before filing for administration. Subsequently, in FY 2017, it approached the worst 10% of its UK peers with a PD of 17.84% (implied credit score of 'ccc'). This shows a notable escalation in risk, both on an absolute basis and with respect to its peers.
The Fundamental PD as of August 16, 2017 for the reporting period ended March 31, 2017 (FY 2017) highlights business and financial risk were significant problems for the company with vulnerable and highly leveraged scores, respectively. The most noteworthy factors contributing to the increased PD were total revenue, profit margin (net income to total revenue), a ratio of how much of every dollar earned is kept within the company, and current liabilities to net worth, a measure of how leveraged the company is/how much debt is used to finance the business. Poundworld experienced a revenue growth rate decline of 57.15% between FY 2015 and FY 2016 from 22.32% to 9.56% with a subsequent decline of 40.88% ultimately ending with a profit margin of 5.65% by FY 2017. As revenue growth for Poundworld slowed, the company became exceedingly leveraged. The average current liability to net worth ratio between FY 2013 and FY 2017 was an extraordinary 667%, signaling the company was unable to pay off debt obligations that were due within a year. In addition to the increasing leverage, Poundworld was battling diminishing profit margins until they eventually became negative, with an average profit margin of -0.02% between FY 2013 and FY 2017. Poundworld's illiquid position made the company particularly vulnerable to the other operating expenses which totaled approximately £9MM in FY 2016 and FY 2017, which only carried the company closer to the brink of bankruptcy.

Source: S&P Global Market Intelligence as of July 19, 2018. For illustrative purposes only.
Note: Current Liabilities to Net Worth ratio in FY 2017 is actually -1317%, but the model assumes the worst possible profile and assigns the value of 10842%

Source: S&P Global Market Intelligence as of July 19, 2018. For illustrative purposes only.
1 Unless otherwise noted, all information sourced from the S&P Capital IQ platform as of July 24, 2018.
2 S&P Global Ratings does not contribute to or participate in the creation of credit scores generated by S&P Global Market Intelligence. Lowercase nomenclature is used to differentiate S&P Global Market Intelligence PD scores from the credit ratings used by S&P Global Ratings.
3 Source: Financial Times, Poundworld files for bankruptcy, as published on June 11, 2018. https://www.ft.com/content/5f00154e-6d54-11e8-852d-d8b934ff5ffa
4 Source: S&P Capital IQ platform as of July 24, 2018.
Credit Analytics Case Study The Bon-Ton Stores, Inc
Learn More
Credit Analytics Case Study: Carillion Plc
Learn More