May. 02 2018 — A number of large, publicly traded U.S. financial institutions have been investing in blockchain startups, and none has been more active in the space of late than Citigroup Inc.
Through its holding company and various subsidiaries, Citigroup has invested in seven startups since the start of 2015, which is more than Goldman Sachs Group Inc. and JPMorgan Chase & Co. combined. Based on our research, which looked at private placements from all publicly traded U.S.-based financial services companies, we think this could be a wise move. One of the perceived benefits of blockchain is that there is not a central intermediary influencing the system, so investing in the technology at arm's length might play to Citigroup's favor.
We chose 2015 as our starting point because that was when U.S. financial services companies seemed to take a keen interest in blockchain, enough that they began discussing it on conference calls, at investor days and at industry events.
Citigroup has tended to invest in blockchain startups focused specifically on financial services applications, which makes sense. In addition to offering a potential return, funding a startup can help the incumbent institution become well-versed in the technology without having to do development work in-house. This might explain why JPMorgan, for instance, made fewer investments, since it created its own organic blockchain initiative known as Quorum.
But JPMorgan's approach has reportedly presented some issues. JPMorgan is trying to spin off Quorum because other banks were reluctant to use a system linked so closely to the bank, according to a Financial Times article published in March. This might serve as a good argument in favor of the passive investment route. That way, the incumbent can potentially benefit without being perceived as too involved in the process. Startups can likewise gain from such relationships.
In addition to the obvious monetary benefits, the startup can use its backers as beta testers in pilot programs. Since blockchain is a network technology, it helps to have large institutions testing it out in the early stages. R3 offers a prime example. The software firm, known for its open-source distributed ledger platform Corda, has attracted more than 40 of the world's largest banks as investors, including Bank of America Corp., Wells Fargo & Co., and Citigroup from the U.S. Those large banks have in turn tested new concepts using the platform. In March, for instance, Credit Suisse Group AG and ING Groep NV announced that they settled a securities lending transaction using Corda.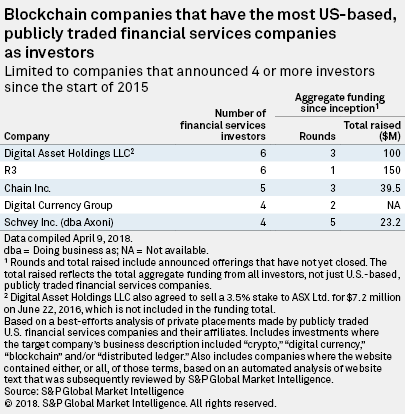 It remains to be seen how the potential of blockchain is ultimately realized. In our view, investing in startups seems like a shrewd way for financial services companies to explore the many facets of the technology without seeming overbearing and without committing massive amounts of internal resources to projects.
More discussion of blockchain can also be found on the Street Talk podcast, which is available via iTunes.