The segment of U.S. broadband households not subscribing to traditional multichannel soared in the third quarter, with its ranks swelling sequentially by 1.2 million. This is the household subset's largest quarterly gain since we began tracking the metric.
Kagan estimates 23% of broadband households serviced by either cable or telco did not subscribe to legacy multichannel at the end of the third quarter, up 8.5 percentage points in the last three years.
The streaming plebiscite is reverberating virtually through the entire media and telecommunications universe, as underscored by the following select year-to-date, as of Sept. 30, domestic metrics:
Traditional multichannel subscribers, - 2.8 million, including a 1.1 million drop in Q3 alone.
Virtual multichannel customers, +2.1 million.
Wireline broadband subscriptions, +2.0 million.
Netflix Inc. paid subscribers, +4.1 million.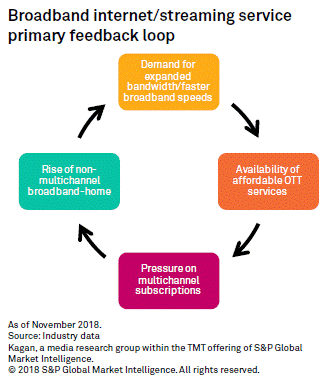 The feedback loop that has led to the streaming revolution is now spinning full speed, compelling venerable media and telecommunications household names such as AT&T, Comcast and Walt Disney to embrace, or at least take steps toward, over-the-top video.
With Disney's direct-to-consumer service slated for a launch in 2019, talks of a Netflix-competitorrollout by AT&T the same year and the rumored Comcast streaming device potentially not far behind, our year-ahead segment forecast could prove quite conservative in about 13 months.
Top US ISPs Expand Gigabit Internet Availability To 49 States
Learn More
5-Year Virtual Multichannel Revenue Forecast Underscores Segment's Opportunities
Learn More