The race to become the first trillion dollar company is heating up, with everyone paying close attention to the tech mega-caps — Alibaba Group Holdings Ltd. (NYSE: BABA) and Amazon.com Inc. (NASDAQ: AMZN).
Despite a lack of consensus over who will take the crown, one thing is evident: no two companies in the race are as neck and neck and as similar in business strategy and operations as Amazon and Alibaba. Both champion the e-commerce landscape in their specific countries – Amazon in the U.S. and Alibaba in China - and both have made their forays into new industries such as food and healthcare.
Wall Street is following these companies closely, with Alibaba slightly in the lead in terms of analyst recommendations. As of April 2, 2018, the Chinese e-commerce behemoth has received 37 buy ratings and just two hold, according to S&P Global Market Intelligence data. The average analyst price target of $226.44 suggests upside potential of roughly 23%. Amazon, in contrast, has received 31 buy ratings and two hold. The average analyst price target of $1,709.05 suggests upside potential of roughly 18%.
To keep a tally of the race, we used the RatingsDirect® Monitor, a data visualization portfolio monitoring tool that provides risk/return insights and helps track and analyze market movements for publicly-traded companies that are rated by S&P Global Ratings.
Figure 1: Tech Mega-Caps: S&P Issuer Credit Rating (FCLT) vs. 3M Stock Price Volatility (%)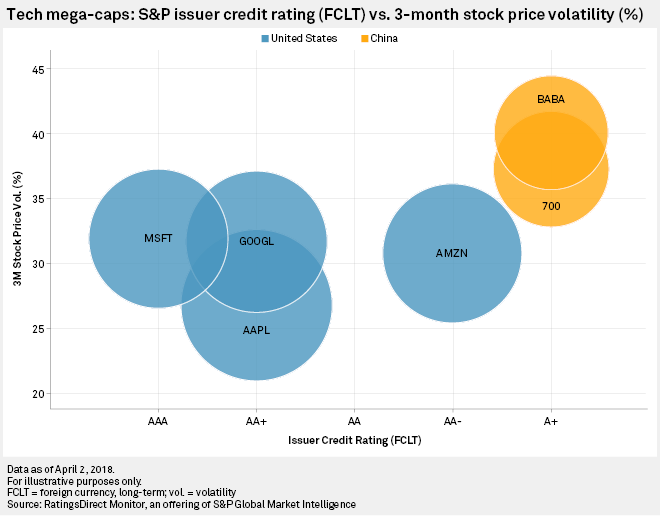 For illustrative purposes only.
At a market cap of $471.6 billion, Alibaba is not too far off from catching up to Amazon's $700.7 billion cap. Alibaba stock's price has observed a three-month price volatility of 40.1%, the largest among the tech titans and far surpassing Amazon's 30.8%.
Although the higher volatility and lower S&P Global Ratings' long-term credit rating present more risks for investors, Alibaba's higher return on assets and lower P/E and leverage ratio suggest more opportunities for the Chinese e-commerce behemoth to grow and reach the $1 trillion valuation first.
Comparing disruptive levels of innovation
To compare the disruptive level of innovation in the various sectors that Amazon and Alibaba have entered, we selected comparable events between the two conglomerates and examined industry-level probability of default (PD) changes of the PD Market Signal Model, a structural model that calculates the likelihood of a company defaulting on its debt or entering bankruptcy protection over a one-to-five year horizon.
The war for groceries
Both Amazon and Alibaba have been stepping up their battle in the grocery business. Just last year, Amazon's announcement to purchase Whole Foods Market Inc. for $13.7 billion shocked investors, with shares of some of U.S. food's largest players – Kroger Co. Supervalu Inc., Costco Wholesale Corp., Target Corp., and Wal-Mart Stores Inc. – dipping on the news. The market perceived credit risk of the U.S. food retail industry also escalated. One week following the announcement, the U.S. food retail PD jumped from 3.73% on June 15, 2017 to 4.85% on June 23, 2017, or about a 30% increase in the industry's probability of default.
Figure 2: U.S. Food Retail Median Market Signal Probability of Default: June 15, 2017 – June 23, 2017 (%)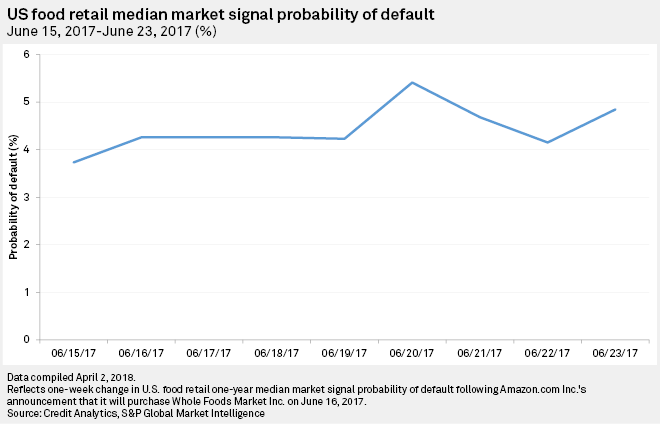 Alibaba also aggressively expanded its food footprint in 2017 with its rollout of new supermarkets under the Hema Xiansheng brand and its $2.9 billion investment in China's largest hypermarket operator Sun Art Retail Group. Just this year, reports that Alibaba held early development talks with Kroger Co. left the Chinese food industry shaking. One week following reports of the discussions by Reuters and New York Post, China's food retail PD increased 109.10% from 3.05% on January 23, 2018 to 6.39% on January 31, 2018. [i] [ii]
Figure 3: China Food Retail Median Market Signal Probability of Default: January 23, 2018 – January 31, 2018 (%)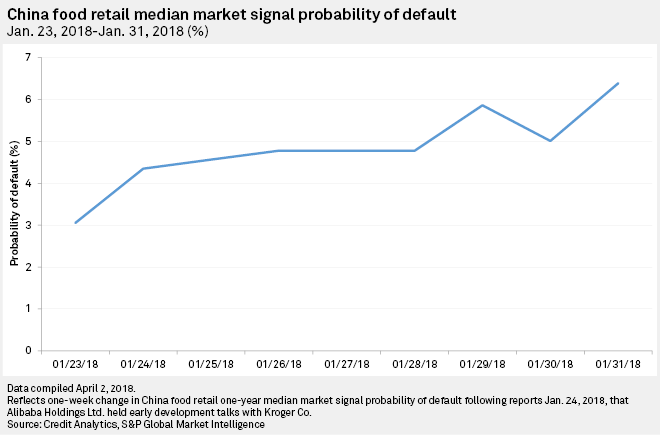 The battle for pharma
Pharmaceuticals have been another potential battleground for the e-commerce giants.
According to an October 5, 2017 note published by Leerink Partners managing director Dr. Ana Gupte, Amazon is "hiring relevant talent and are in active discussions with mid-market PBMs [pharmacy benefit managers] and possibly even larger players such as Prime Therapeutics." Following publication of the note, the U.S. drug retail PD escalated 22.55% from 16.16% on October 4, 2017 to 19.81% on October 12, 2017.
Figure 4: U.S. Drug Retail Median Market Signal Probability of Default: October 4, 2017 – October 12, 2017 (%)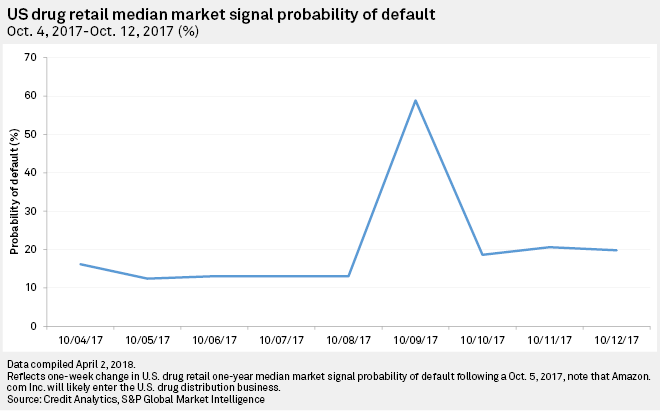 Similarly, China's drug retail PD jumped 90.67% from 1.55% on February 1, 2018 to 2.96% on February 9, 2018, following Alibaba's February 2, 2018 announcement to partner with European pharma giant AstraZeneca PLC.
Figure 5: China Drug Retail Median Market Signal Probability of Default: February 1, 2018 – February 9, 2018 (%)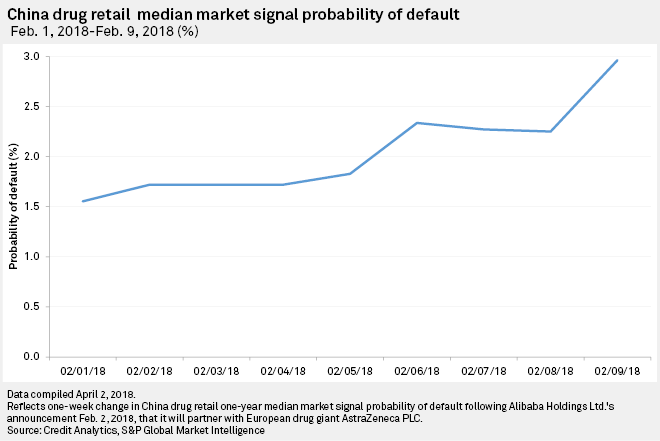 The risks of innovation
In summary, our PD Market Signal model shows that Alibaba disrupts the short-term market perceived credit quality of firms more than Amazon does. The Chinese e-commerce behemoth is viewed by many investors as a proxy for China's consumer economy and growing middle class, whereas Amazon is not, and PD movements are reflective of this. As illustrated by our RatingsDirect® Monitor, Alibaba has a much lower leverage compared to Amazon, with a last-twelve-months Debt/EBITDA ratio of 1.4, compared to Amazon's 2.9. Alibaba also has higher growth potential from the perspective of ROA and P/E. Alibaba's ROA stands at 7.4%, compared to Amazon's 2.4%. Further, Alibaba's lower P/E ratio of 46.3, compared to Amazon's 235.3, suggests that the Chinese firm may be undervalued.
Figure 6: Tech Mega-Caps: ROA (%) vs. Debt/EBITDA (x)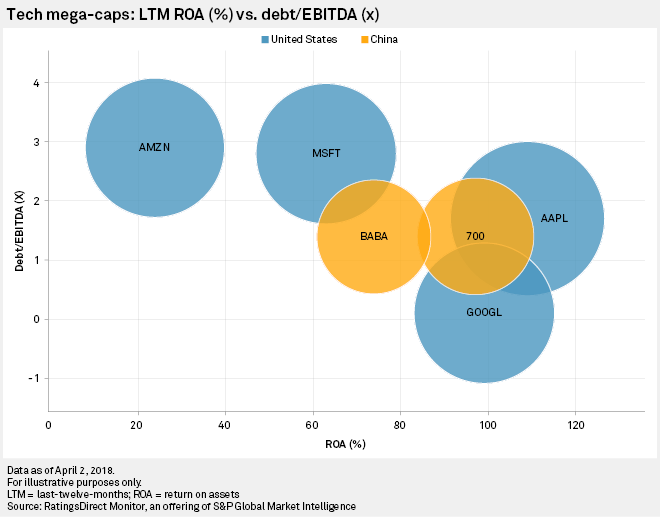 For illustrative purposes only.
Figure 7: Tech Mega-Caps: ROA (%) vs. P/E Ratio (x)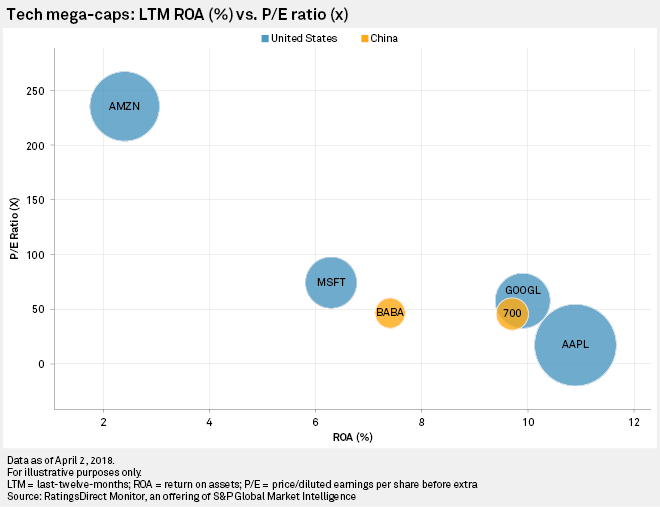 For illustrative purposes only.
Whether Alibaba will claim the $1 trillion title before Amazon, however, remains to be seen. A fast growing company, Alibaba faces significant challenges from China's ever-changing business environment, including potential regulatory, litigation, and international expansion risks, as outlined in roughly 45 pages of the firm's most recent annual report.
Despite the inherent risks, what sets Alibaba apart is its domination of China's online marketplace, which is the single-largest in the world. Founder Jack Ma has also been faster than Bezos to expand his business lines. The use of Alipay, one of the world's largest mobile payment platforms, and the firm's roughly $350 million investment in Chinese electric-vehicle maker Foxconn Technology Group are just a few examples of the firm's growing economies of scale.
[i] Alibaba, U.S. grocer Kroger had early business development talks: source. (n.d.). Retrieved March 01, 2018, from https://www.reuters.com/article/us-kroger-alibaba/alibaba-u-s-grocer-kroger-had-early-business-development-talks-source-idUSKBN1FE0EF
[ii] To battle Amazon, Kroger eyes Alibaba alliance. (n.d.). Retrieved March 01, 2018, from https://nypost.com/2018/01/24/krogers-answer-to-amazon-go-alibaba/