Jan. 30 2019 — The cable network industry was largely dominated by advertising revenue in its early days, with affiliate fees playing a much smaller role. The notable exceptions to this rule were sports channels such as ESPN. In 1989, ESPN generated about 40% of its revenue from advertising. This number dropped by nearly half to 22% by 2009, which is about on par with current revenue at 21.3%.
In contrast, the average cable network generated 54.1% of its revenue from advertising in 1989. This number declined to less than 50% in 1993, but then advertising became the dominant piece of revenue. By 2007, ad revenue had declined to 45.1% and the Great Recession caused a major setback, with a drop to just 41.8% in 2009.
As cable networks have another revenue stream with affiliate fees, also known as license fees, that are locked in with healthy long-term growth rates, they are more insulated from recessions than other media sectors — like the broadcast networks — that generate nearly all of their revenue from advertising.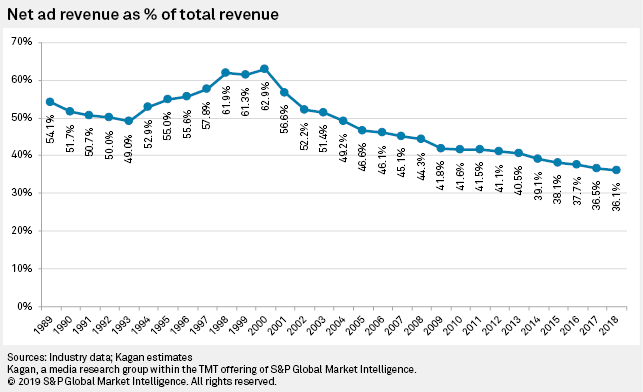 Less than 5% of cable networks we track generate 75% or more of their revenue from advertising. Only 22% of networks garner more than half their revenue from advertising, which is a huge decline from the 1990s.
Almost half of cable networks generate ad revenue of between 25% and 50%, whereas 28.7% are under the 25% mark, including 3.6% that are at 0%.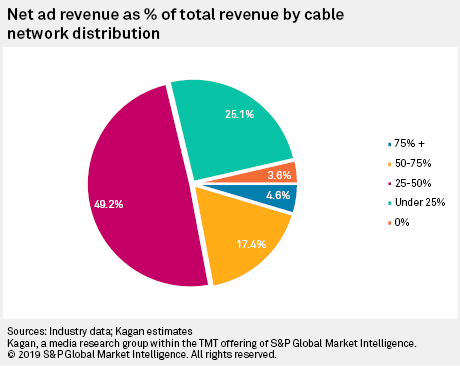 There are still a handful of networks with no license fees that generate all of their revenue from advertising, such as R&R TV, INSP, Justice Central and also HLN, which is included if CNN is licensed. Hallmark Movies & Mysteries has a similar model to HLN in that multichannel operators receive it for free if they take the core Hallmark Channel. However, this type of arrangement is rare.