Introducing IMI – A forward-looking view on risk outlook and market sentiment of active investment managers on US equities
With the expertise you expect from S&P Global, our Investment Manager Index™ (IMI™) is a survey-based indicator of market sentiment derived from active fund managers at institutional investment firms. IMI is designed to provide insights into what's driving markets as well as the forward-looking investment appetite and risk outlook for U.S. equities. The monthly survey asks respondents for their subjective view on a range of topics over the next 30 days including:
Market performance and key drivers
Upside and downside risks
Sector outlooks and preferences
Current risk appetite
Return expectations
Forces driving valuations
Topical questions based on current developments and market-moving news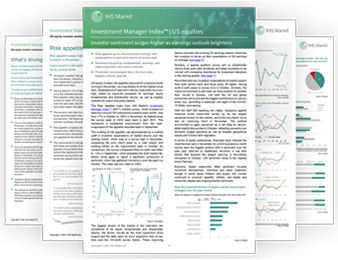 Investment Manager Index benefits all market participants and is used by financial and corporate professionals to better understand where the market is headed and to uncover opportunities. Whether you are a corporate issuer looking at investor appetite or on the buy side or sell-side looking at peer comparisons, the insights from IMI will help shape your perspective.