Curated forward-looking insights and risk analysis and data to build and maintain a best-in-class corporate security function within your organization
Business may be global, but security is almost always local. Corporate security managers increasingly face questions that require geo-referenced, risk tagged, actionable intelligence combined with highly proprietary data on their organization's operational footprint, business cadence and personnel locations around the world.
Designed for pro-active corporate security teams our Foresight Corporate Security service provides granular forecasts and location-specific risk analysis for 211 countries and territories, and enables security professionals to:
Understand location-specific threat environments: We assess and score security risk at a granular local level, providing risk scores for every 500m X 500m globally to help our clients understand the threat to them.
Anticipate change: Foresight delivers relevant indicators of the future business environment to decision makers, highlighting changing operational and security environments early enough for those risks to be efficiently managed.
Monitor risk exposures: The quantified threat metrics, granular forecasts, and location specific intelligence events provide actionable inputs for strategic monitoring of risk exposures with the ability to track your specific operational footprint globally.
Communicate effectively internally: Foresight's analysis is concise, actionable and commercially relevant. It empowers more than 100 corporate security teams to support their business grow profitably and safely.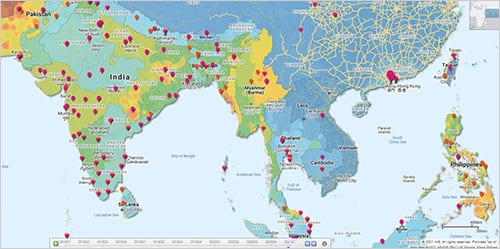 Click to enlarge