Understanding consumer spending, market analysis, market size, and opportunity by segment or population with our Consumer Diversity Model .
As consumer demographics change and evolve, companies should target messaging and products to specific demographics to ensure they are reaching the right markets, at the right time, with the right offering. Marketers, retailers, and planners require richer data on their customer segments to engage with their target audience.
Our Consumer Diversity Model provides the data needed to accurately define their addressable US market and track trends for each segment. Our analysis provides a clear view into where US consumers are now—and where they will be in the future—enabling effective execution of multicultural marketing programs that meet and exceed commercial goals.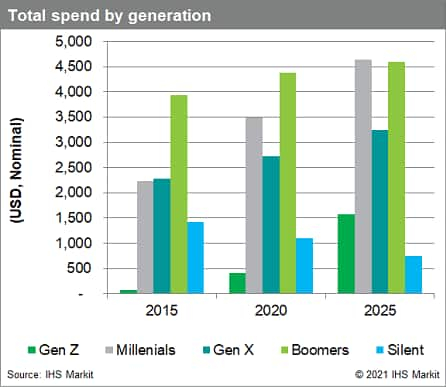 Over the 2015-2025 time period, you can see:
Gen Z and Millennials markedly increasing total spend as they grow into 'Head of Household' age
Boomers and Gen X increasing in spend but at a decreasing rate
By 2025, Millennials' spending as much as Boomers