A mobile app that works where you work.
The S&P Capital IQ Pro mobile app is your extra screen for essential intelligence, whenever you need it, wherever you are.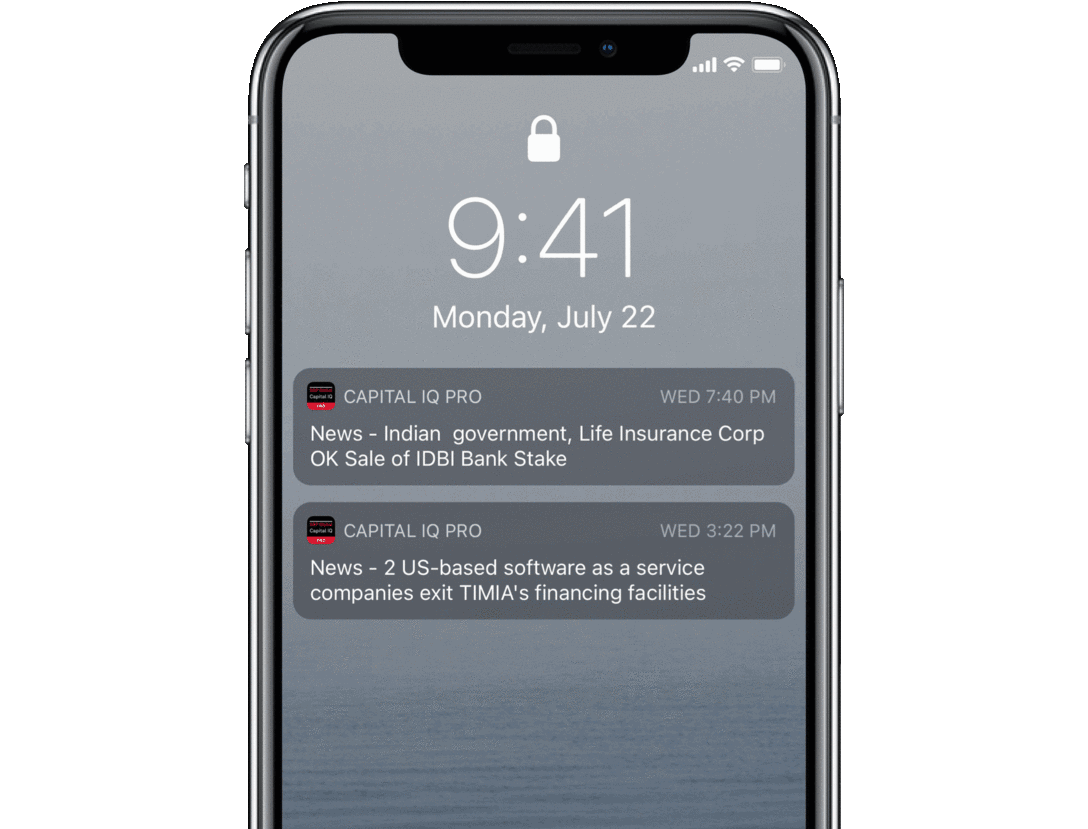 Meet our mobile app
We know you need data around the clock, and you're not always at your desktop. With the S&P Capital IQ Pro mobile app, your iPhone or iPad, or Android device becomes your personal assistant. Receive important push alerts, get 5-minute smart before a meeting, read top industry news, and monitor intraday market movements for your portfolio. The app is included with a S&P Capital IQ Pro platform subscription.
---
---
Sector-focused news without the noise
Filter down to what matters
Curate your feed based on Saved Lists, Industry, or Geography criteria of your choice. Then sort your News home feed by 'Most Recent' or by 'Relevance' to prioritize the order.
Market Ticker with 3D Touch
Tap and hold the market ticker across the top of the News homepage to dive deeper into your market monitoring.
Curated and Real-Time Alerts
Choose the categories that are most relevant to your professional interests to get notified on exclusive news and research.
---
Watchlists to keep tabs on the market
Use saved lists or make new lists
Toggle between custom lists that you can edit on the fly. Changes will sync to and from your List Manager in the desktop.
View data the way you like it
Reorder columns to your preferred order, and it will stick as your default view. Switch between Light and Dark Mode.
Take it to the next level
Tap the last price or Intraday chart to open the expanded time series chart. Or, tap the entity to open up its Corporate Profile for more information.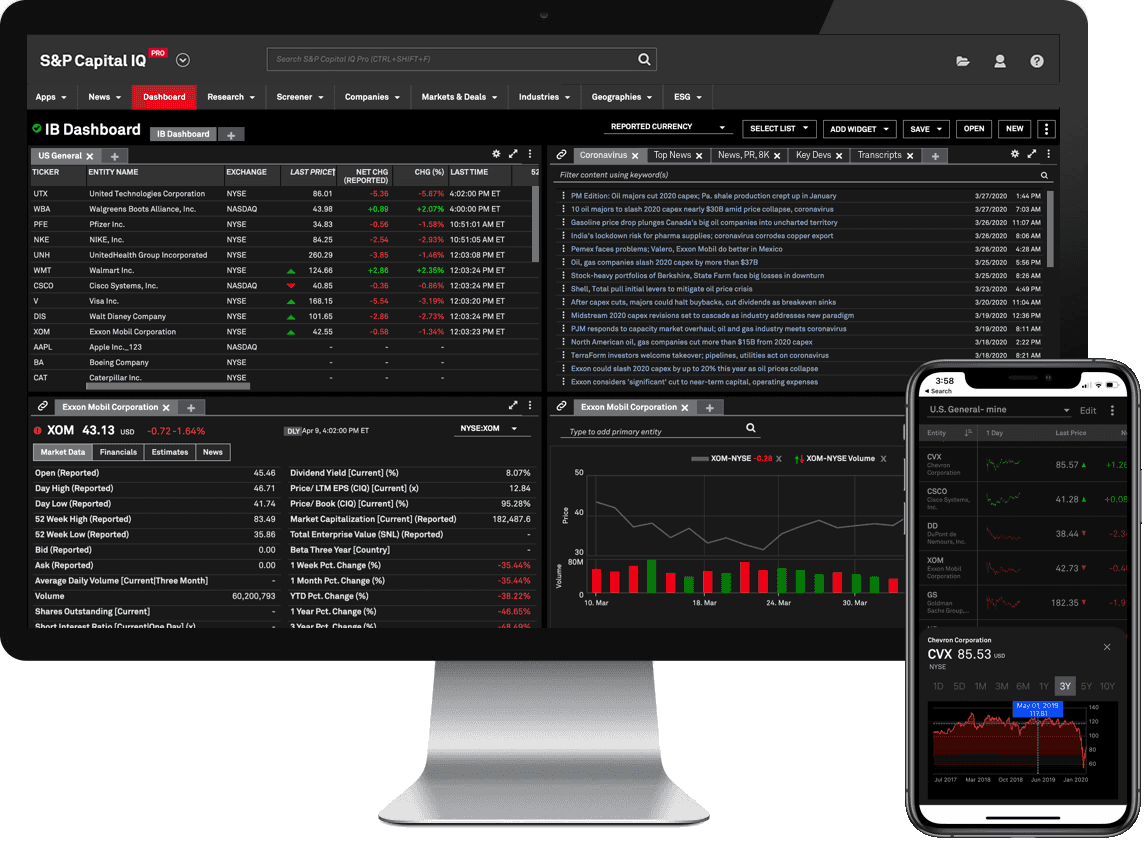 ---
Corporate profiles for public and private companies
The Snapshot and the Big Picture
Our mobile-minded corporate profiles are designed to condense the full picture of a company down to one scroll, with the ability to tap into the details where you please.
Public Company Profile
Includes market data, latest news activity, documents & transcripts, key developments, financials, estimates, price ratios, officers & directors, transactions, and more.
Private Company Profile
Includes corporate data, officers & directors, industry details, funding data, recent news, key developments, transactions, current/pending investors, and more.
---
Push notifications to stay alert on your terms
Convert email alerts to mobile push alerts
Our inboxes could all use a little breathing room. Check a box in 'Manage Alerts' to select the mobile push notification alert type. You must have the app installed for it to work.
Manage alerts from your app or desktop
Customize alert frequency and criteria for triggers spanning: News & Industry Research, Documents & Filings, Events, Transcripts, Key Developments, Investment & Market Research, Stock Price, New/Restated Financial Periods, Screening alerts, Estimates, and more.
New Curated Topical Alerts
Choose a category that interests you, and let our veteran editors push their top picks of the most insightful content straight to your mobile device.
Dual-sync for a seamless flow between devices
Profile Settings and preferences
Your preferences remain in sync as you make changes on desktop or mobile.
Access Saved Items
Smart Download syncs your saved articles, transcripts and documents as offline content that won't require a network connection to view.
Continue where you left off
When you first open the app, a prompt may appear letting you pick up where you left off on the last article.
---
Don't have the S&P Capital IQ Pro platform yet?
Learn More
---
Privacy, not at the cost of convenience
Enable Face or Touch ID
Tired of remembering all your passwords? Facial recognition or a fingerprint will do.
Auto-Lock Your Screen
When enabled, the Screen Lock setting locks the app after inactivity. Set it to take effect immediately, after 1 minute, 15 minutes, or 1 hour.
Stay Logged In & Remember Me
Clients have observed less frequent login prompts when using the app compared to the desktop. Our monthly app releases don't cause you to log in again either.
---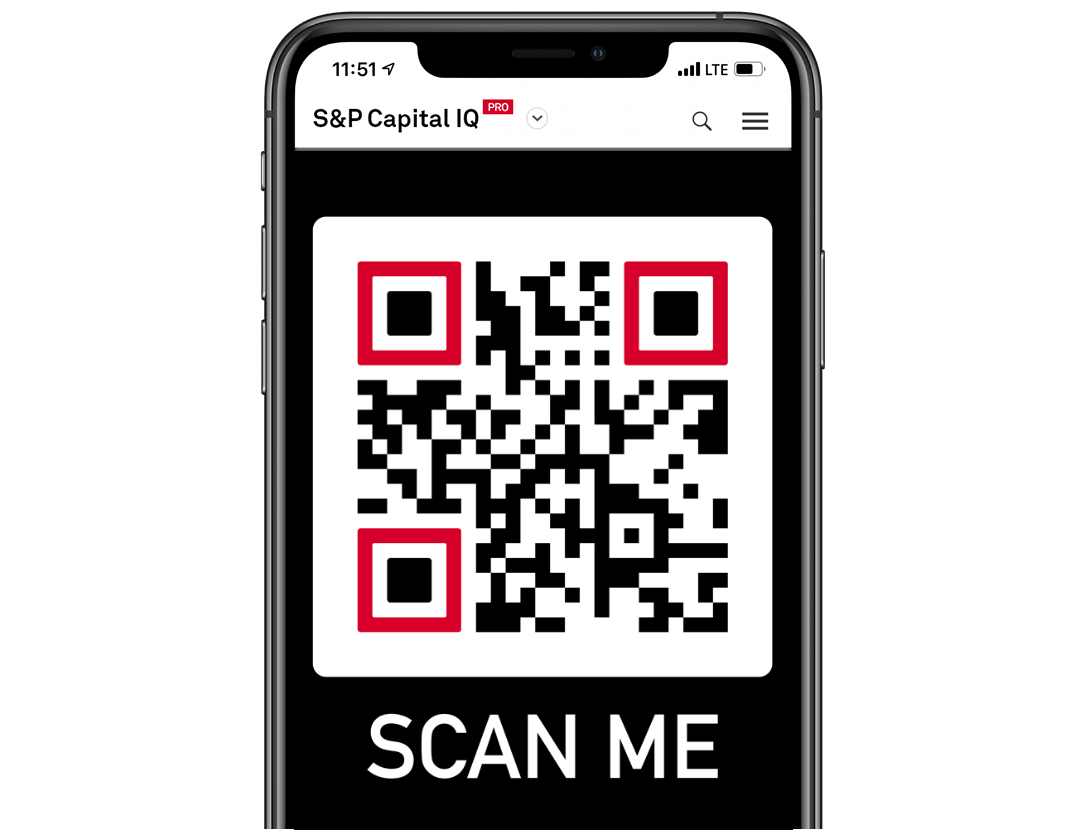 Scan and go
To get the app, open the camera or QR reader app on your mobile device and hold it up to the QR code on the left to scan. After you download the app, you will be prompted to enter your log in credentials which are the same as the desktop platform.