Start every business day with our analyses of the most pressing developments affecting markets today, alongside a curated selection of our latest and most important insights on the global economy.

El Niño Season Is Upon Us
Weather agencies and economists are used to keeping an eye out for El Niño, a global climate pattern that can impact trade routes and agricultural yields. El Niño happens on an irregular basis every few years. It is caused by unusually warm temperatures in the Pacific Ocean, bringing heavier rainfall to regions such as East Africa and East Asia but dry weather to places such as South Asia, Australia and Central America. Luckily, El Niño is not expected to affect global food supply in 2023–24. It is, however, already starting to have consequences for trade through the Panama Canal.
Australia's Bureau of Meteorology first predicted in June "that sea surface temperatures may rise to 3 degrees [C] by October and 3.2 [degrees] by November," according to S&P Global Commodity Insights. These temperatures indicated a 70% chance of El Niño forming this year. There were concerns that several key crops would be affected, but for now, S&P Global Commodity Insights expects only Australian wheat to be hit by the weather pattern. "[E]stimates showed that other food commodities seem unaffected by El Niño in 2023–24, in sync with historical trends," analysts wrote in a September infographic.
A lower wheat harvest in Australia will naturally lead to lower exports. The Australian Bureau of Agricultural and Resource Economics and Sciences forecast the country's wheat exports to fall 29% year over year during the marketing year 2023–24. This could provide a competitive edge to Argentina, the wheat exports of which are now expected to jump to 13.5 million metric tons from 5 MMt in the same period.
Meanwhile, growing El Niño conditions have contributed to a drought in the Panama Canal watershed, said Barbara Troner, senior managing editor of Americas freight at S&P Global Commodity Insights, on the Sept. 7 episode of the "Commodities Focus" podcast. On June 13, the Panama Canal Authority introduced water conservation measures such as allowing fewer daily transits and limiting drafts. A draft is the amount of water a ship needs to float, so when drafts are restricted, ships must lighten their cargo load. "This has all resulted in longer wait times on the Pacific and Atlantic side," said S&P Global Commodity Insights Americas tankers reporter Catherine Rogers. "With the increased number of ships waiting to transit the canal in either direction, shipowners have raised freight costs as reimbursement."
Troner noted that the US National Oceanic and Atmospheric Administration estimated a 95% chance that El Niño will influence weather into 2024. "We could see a reactive shift as importers establish their contracts for next year, potentially shifting to options that don't use the [Panama] Canal or have more forgiving and favorable terms for canal charges," said Laura Robb, container freight markets reporter at S&P Global Commodity Insights.
This El Niño cycle won't be as impactful as it could have been, with most crops forecast to be unharmed. But shippers will likely face difficulty in the first half of 2024 as they contend with limitations on the key Panama Canal.
Today is Tuesday, September 26, 2023, and here is today's essential intelligence.
Written by Claire Delano.
Economy
---
Economic Research: Economic Outlook Eurozone Q4 2023: Slower Growth, Faster Tightening
S&P Global Ratings maintains its GDP growth forecasts for the eurozone economy. It still expects growth to soften considerably to 0.6% this year from 3.4% in 2022 and barely accelerate next year (0.9%), before potentially returning to an annual increase of 1.5% in 2025-2026. This baseline assumes no new external shocks, especially in terms of geopolitics, external trade and commodity prices. It also expects the labor market to remain quite resilient and European Central Bank (ECB) policy rates to remain unchanged until the second half of next year.
—Read the report from S&P Global Ratings
Access more insights on the global economy >
Capital Markets
---
Bank Margins Under Pressure As Deposit Mix Shift Is Far From Over
Deposit costs at US banks increased notably in the second quarter as banks sought to protect their core funding. Those efforts were largely successful, with deposit outflows slowing from earlier this year, but the defensive posture came with a cost in the form of lower net interest margins. Banks have also built their reserves for loan losses as they prepare for credit quality to slip from pristine levels. S&P Global Market Intelligence expects the defensive moves to continue in the second half of 2023, resulting in a hit to earnings.
—Read the article from S&P Global Market Intelligence
Access more insights on capital markets >
Global Trade
---
Singapore Economy Continues To Be Hit By Slumping Exports
Singapore's economic growth momentum in 2023 year-to-date has slowed significantly compared with annual GDP growth of 3.6% in 2022. A key factor driving the weakness of economic growth has been contracting manufacturing output and exports. The near-term outlook is expected to remain constrained by weak demand in several important export markets for manufactures, notably the US and European Union (EU), with the pace of recovery in mainland China also weak.
—Read the article from S&P Global Market Intelligence
Access more insights on global trade >
Sustainability
---
Unraveling Uncertainty: 2023 Scenarios And Net-Zero Cases
Explore energy transition pathways and S&P Global Commodity Insights' emissions outlook to 2050. Five long-term outlooks describe contrasting futures for global and regional energy demand, fossil fuel consumption and greenhouse gas emissions, but also illustrate striking similarities emerging across all cases.
—Read the report from S&P Global Commodity Insights
Access more insights on sustainability >
Energy & Commodities
---
Listen: Show Me The Money: Oil Sector Walks Tightrope To Drive Shareholder Returns
Compared with 2014, the last time oil prices surged to the triple digits, the top 50 US oil and gas companies analyzed by EY more than tripled their earnings last year, according to EY's annual E&P benchmarking study and earnings analysis. And improved efficiency of exploration and production operations and a commitment to capital discipline are allowing for continued shareholder value. Patrick Jelinek, EY's oil and gas leader for the Americas, and Bruce On, EY's West region energy strategy and transactions leader, joined the podcast to offer some context on the payouts shareholders saw last year, expectations for the future and how US producers are navigating both market and political realities.
—Listen and subscribe to Capitol Crude, a podcast from S&P Global Commodity Insights
Access more insights on energy and commodities >
Technology & Media
---
Survey: Consumers Express Concerns Over Security, Privacy In Metaverse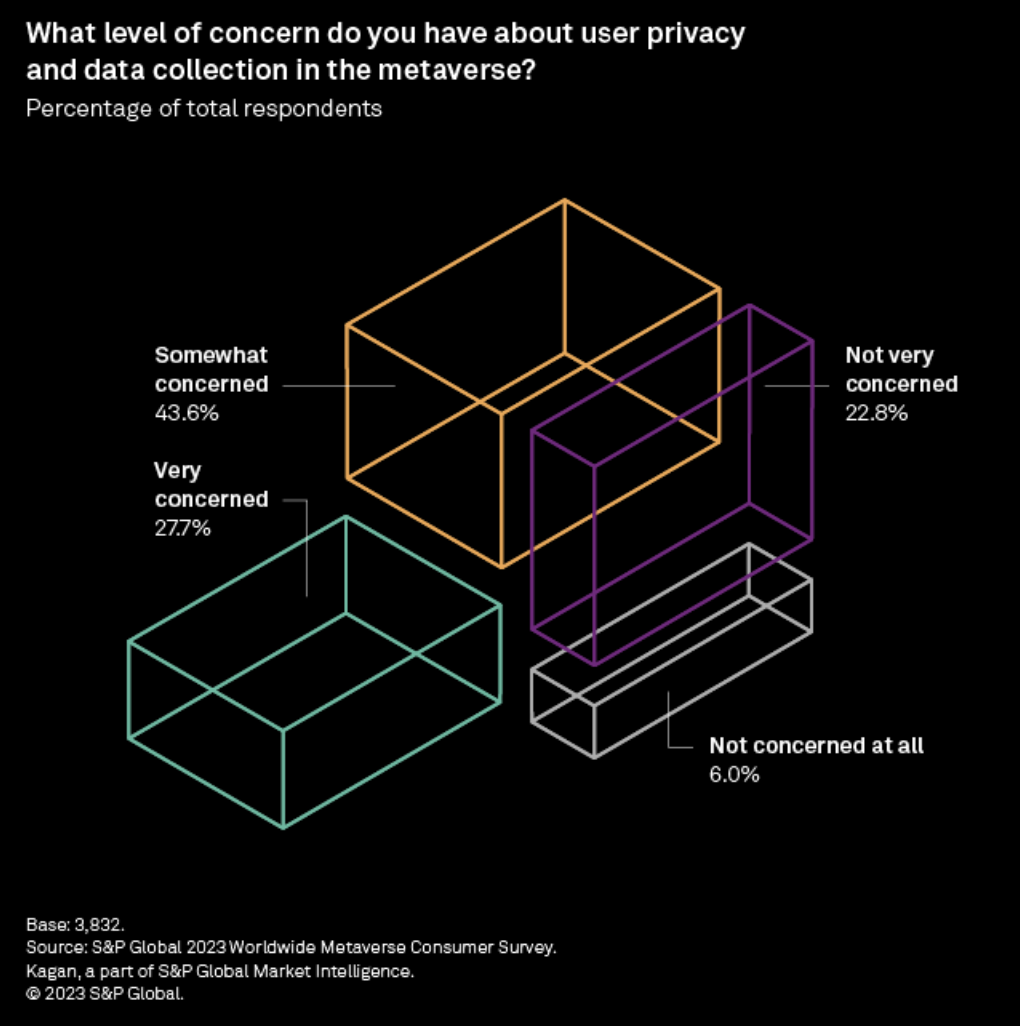 A strong majority of the respondents to S&P Global's recent consumer metaverse survey expressed concerns about how virtual environments are currently operating. Issues ranging from user privacy and data collection to the security of payment transactions in the metaverse were all viewed as problematic. While these respondent concerns are not overly surprising to anyone who has spent time in a virtual environment, they highlight some key barriers to broader acceptance of the consumer metaverse.
—Read the article from S&P Global Market Intelligence