Subscribe on LinkedIn to be notified of each new Daily Update—a curated selection of essential intelligence on financial markets and the global economy from S&P Global.
With the U.K. hunkered down during its second coronavirus wave and leaders facing an imminent deadline to avoid a "no-deal" Brexit, the country has announced a 10-point "green industrial revolution" plan to become a net-zero economy. However, ahead of the U.N. Climate Change Conference it will host next year, Britain has yet to set a new nationally determined contribution target for lowering emissions by 2030—required for all countries participating in the Paris Agreement, to be submitted by Dec. 31.
Prime Minister Boris Johnson announced on Nov. 17 that the U.K. will invest £12 billion in creating 250,000 sustainable energy jobs; quadrupling offshore wind capacity; expanding low-carbon hydrogen production and large-scale nuclear generation; supporting electric-vehicle (EV) technology and manufacturing; improving energy efficiency across households and public buildings; targeting carbon capture; innovating sustainable finance mechanisms; and preserving the nation's nature. Under the green plan, the U.K. accelerated its timeline for prohibiting the creation of new fossil fuel-generating vehicles by a decade, from 2040 to 2030. Hybrid vehicles that are both battery- and petroleum-powered will be allowed to be sold through 2035.
Largely lauded as a significant step in the right direction, the plan was also criticized by some lawmakers as not going far enough to address climate change.
"The funding in the government's long-awaited 10-point plan doesn't remotely meet the scale of what's needed to tackle the unemployment emergency and climate emergency we are facing, and pales in comparison to the tens of billions committed by France and Germany," U.K. Shadow Business and Energy Secretary Ed Miliband tweeted on Nov. 17.
The country's refining sector expressed opposition to the government's climate agenda. In contrast, vehicle manufactures and steelmakers voiced enthusiasm about the sustainable plan but foresee supply chain risks, according to S&P Global Platts.
"We are pleased to see government accept the importance of hybrid transition technologies—which drivers are already embracing as they deliver carbon savings now—and commit to additional spending on purchase incentives," Mike Hawes, chief executive officer of the U.K.'s Society of Motor Manufacturers and Traders, told S&P Global Platts. "Investment in EV-manufacturing capability is equally welcome as we want this transition to be 'made in the UK,' but if we are to remain competitive—as an industry and a market—this is just the start of what's needed."
U.K.-based Liberty Steel Group echoed a similar sentiment. "We welcome the government's plan. GFG Alliance's mission is to deliver a low-carbon economy by transforming foundation industries such as steel and aluminum. For the U.K. to meet its climate commitments it must seize the chance to reinvent its steel sector as a low-carbon leader—encouraging innovation and problem-solving, and rewarding those who move fastest in the transition to green steel," Sanjeev Gupta, executive chairman of Liberty Steel's parent company, GFG Alliance, told S&P Global Platts.
Member of Parliament Andrew Griffith was appointed as the U.K.'s Net Zero Business Champion on Nov. 17 to help the country's business sector make credible plans to reach net-zero by or before 2050.
"Our global leadership on climate change can open up new large and attractive sectors in the world economy in which British businesses will be well placed to succeed," Mr. Griffith said in the statement, according to S&P Global Platts.
But with just five weeks until the end of this year, Prime Minister Johnson may face pressure to match the country's emissions-reductions target with its progressive climate plan. The U.K. government is expected to announce its new nationally determined contribution for 2030 on Dec. 12, which is the Paris Agreement's five-year anniversary.
"There is no way that this will get the U.K. to net zero in 2050, even if we all ride bicycles," University of Edinburgh professor Stuart Haszeldine told the Financial Times. "Carbon storage of 10 million tonnes a year by 2030 is a very welcome milestone, but the U.K. needs to treble that quantity on our journey to 2050."
Today is Monday, November 23, 2020, and here is today's essential intelligence.
Market Volatility
---
The Market Is Up, But So Is Volatility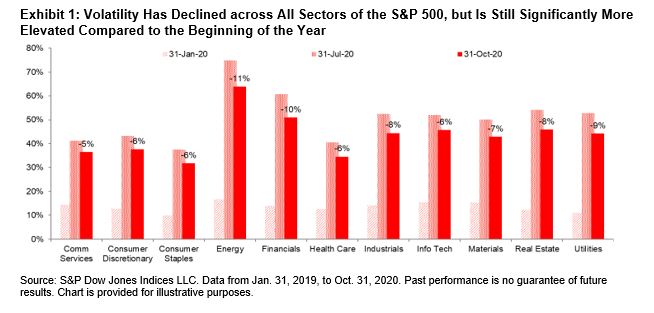 So far, 2020 has brought us a global pandemic, a coordinated global economic shutdown, and, in the U.S., a notably contentious election. So it's no surprise that volatility has been, and remains, elevated. Despite all this, equities have fared reasonably (some would say surprisingly) well, with the S&P 500® climbing 13% through Nov. 19 since the end of 2019.
—Read the full article from S&P Dow Jones Indices
ESG in the Time of COVID-19
---
How Hydrogen Can Fuel The Energy Transition
S&P Global Ratings believes hydrogen can push the energy transition forward, but this would require coordinated policy, lower hydrogen production costs, and massive growth of renewables. Energy transitions typically take decades.
—Read the full report from S&P Global Ratings
GM to Increase EV Investment to $27 Billion By 2025
General Motors plans to increase its global all-electric vehicle offering to 30 models by 2025 and has increased its financial investment EVs and autonomous vehicles (AVs) to $27 billion over the same period.
—Read the full article from S&P Global Platts
Renewable Energy Groups See New Day Under Biden Administration
Eager to advance their agenda under supportive new leadership in Washington, renewable energy groups have released policy wish lists, confident that President-elect Joe Biden's administration can work with what could be a narrowly divided Congress to strengthen renewable energy tax credits, invest in new transmission and establish a national renewable energy portfolio standard.
—Read the full article from S&P Global Market Intelligence
New Mexico's Haaland, Possible Interior Pick, Calls For More Clean Energy On US Lands
US Representative Deb Haaland, Democrat-New Mexico, who reportedly is being considered for secretary of the Interior Department by President-elect Joe Biden, said there are too many extractive industries operating on federal lands and that leasing practices should be changed to encourage more clean energy activity.
—Read the full article from S&P Global Platts
Listen: California's Clean Car Ambitions Clear First Roadblock With Biden Win
California and its clean car ambitions had a lot riding on the US presidential election. In this episode of Capitol Crude, hear two interviews today on California's clean car ambitions: Jennifer McIsaac, lead analyst of emissions and clean energy for Platts Analytics' Future Energy Outlook Service, on the market, policy and logistical challenges ahead; and John Boesel, president and CEO of CALSTART, a clean transportation nonprofit, about the results of a recent study showing that auto suppliers want policy makers to set strong standards in this area.
—Listen and subscribe to Capitol Crude, a podcast from S&P Global Platts
The Future of Energy & Commodities
---
U.S. Coal Jobs Down 24% From The Start Of Trump Administration To Latest Quarter
Despite a campaign promise to put coal miners back to work and support "beautiful clean coal," President Donald Trump is on track to leave the White House with the nation posting the lowest coal production and jobs figures in recent history.
—Read the full article from S&P Global Market Intelligence
Biden Victory Could Be A Boon For Uranium, But Obstacles Remain
As president-elect of the world's biggest uranium consumer, observers believe Joe Biden could help bring about a proverbial sea change to the politics around nuclear power compared to his former boss Barack Obama, as bipartisan support appeared to grow for legislation aimed at bolstering the U.S. nuclear sector.
—Read the full article from S&P Global Market Intelligence
US Auto Manufacturers And Others Facing Steel Shortage
Since October, multiple flat-rolled service center sources have noted the lack of steel availability was of growing concern to OEM customers, particularly automotive, as demand was outpacing supply.
—Read the full article from S&P Global Platts
Energy Transition Aside, Saudi Arabia To Maintain Oil Exports 'For Decades,' Official Says
OPEC kingpin Saudi Arabia is likely to continue exporting oil at the same levels "for decades to come," even as the world hastens the shift towards renewables, its former energy minister Khalid al-Falih said Nov. 21.
—Read the full article from S&P Global Platts
G20 members pledge to ensure stable energy supply throughout pandemic
Leaders of the G20 member states have pledged to ensure "a stable and uninterrupted supply of energy" as the world recovers from the pandemic, according to a declaration published at the close of their summit in Riyadh Nov. 22.
—Read the full article from S&P Global Platts
Written and compiled by Molly Mintz.