Start every business day with our analyses of the most pressing developments affecting markets today, alongside a curated selection of our latest and most important insights on the global economy.

APAC Struggles to Shake Off Coal Consumption
Burning fossil fuels, especially coal, is now widely recognized as the main culprit behind CO2 emissions that are warming the planet and accelerating climate change. To combat the threat of extreme climate events, nearly 200 nations pledged to phase down their use of coal, which is considered the dirtiest fossil fuel. However, shifting away from coal to clean energy is proving a tough challenge for many countries in Asia-Pacific.
While coal consumption has declined dramatically in the West, it shows little sign of fading in Asia-Pacific. According to a report by S&P Global Ratings, China and India alone account for 70% of global coal demand and are committed to only phase down, not phase out, the fossil fuel's use.
The dependence on coal in Asia-Pacific is mainly attributed to energy demand growth outpacing clean energy supply growth. "Close to 60% of growth in global power demand for the next two decades will be in APAC," S&P Global Ratings said. The region still relies on fossil fuels to generate 70% of its electricity, and the report estimates that coal will not be fully displaced by renewables over the next two decades. By contrast, S&P Global Commodity Insights Head of Future Energy Pathways Dan Klein said renewables are responsible for 11% of electricity generation in the region, slightly below the global figure of 12%.
In China, fossil fuels are still the primary power source and will remain so for the next 20 years. Coal has made a comeback after demand for the fuel fell during the pandemic due to plant closures and stay-at-home orders. In 2022, a record 86 GW of new coal-fired power capacity was approved by the Chinese government. This elicited questions as to whether the country has changed course on its energy transition pathway and whether it will still seek to meet its climate goal of peak emissions by 2030.
S&P Global Commodity Insights analysts said the new coal plants in China are meant as a reliability measure following tightened global energy supply caused by the war in Ukraine and prolonged drought in China over summer 2022. Given the lack of natural gas resources, the increasing need for flexible power generation capacity to meet demand fluctuations and the growing importance of battery storage to support large-scale renewable resources deployment, policymakers in China "regard coal as the most viable option to ensure generation capacity adequacy and address energy supply security concerns at this stage," the analysts said.
For India, coal remains relevant as a power source even as renewable capacity outpaced coal in the country over the past couple of years. The country's steelmaking industry also relies on metallurgical, or coking, coal, and India has surpassed China as the biggest importer of this more efficient and less carbon intensive coal grade from Australia. India is expected to import more Australian coking coal as it seeks to achieve net-zero by decarbonizing steelmaking. Using Australia's coking coal "means less coke needed per metric ton of steel, enabling steelmakers to maximize their use of renewable energy as their power source," S&P Global Commodity Insights reported, citing industry insiders.
Coal also remains the go-to fuel source in Indonesia as it is cheaper than renewables and electricity prices in the country are subsidized. "The country's energy transition hinges on government policy, determining who will pay to support the transition, and whether technological advances such as carbon capture are viable," S&P Global Ratings analysts said.
In Australia, the coal-to-clean energy transition is faring a lot better. Fossil fuels comprised about 55% of the country's energy supply in 2022, while renewable power accounted for about 35%. The country's coal plants are also becoming increasingly unviable due to age and are being retired. By comparison, coal plants elsewhere in Asia-Pacific are relatively young, delaying incentives to retire them early.
With coal being the single largest source of CO2 emissions and the biggest source of electricity globally, according to the International Energy Agency, pursuing energy transition pathways while ensuring energy security is a tough balancing act for many countries, particularly in Asia-Pacific. As energy demand continues to outpace clean energy supply in the region, how soon can the region wean off coal? That is the burning question.
Today is Friday, June 9, 2023, and here is today's essential intelligence.
Written by Pam Rosacia.
Economy
---
Indonesia And Vietnam Developers Face Steeper Path To Growth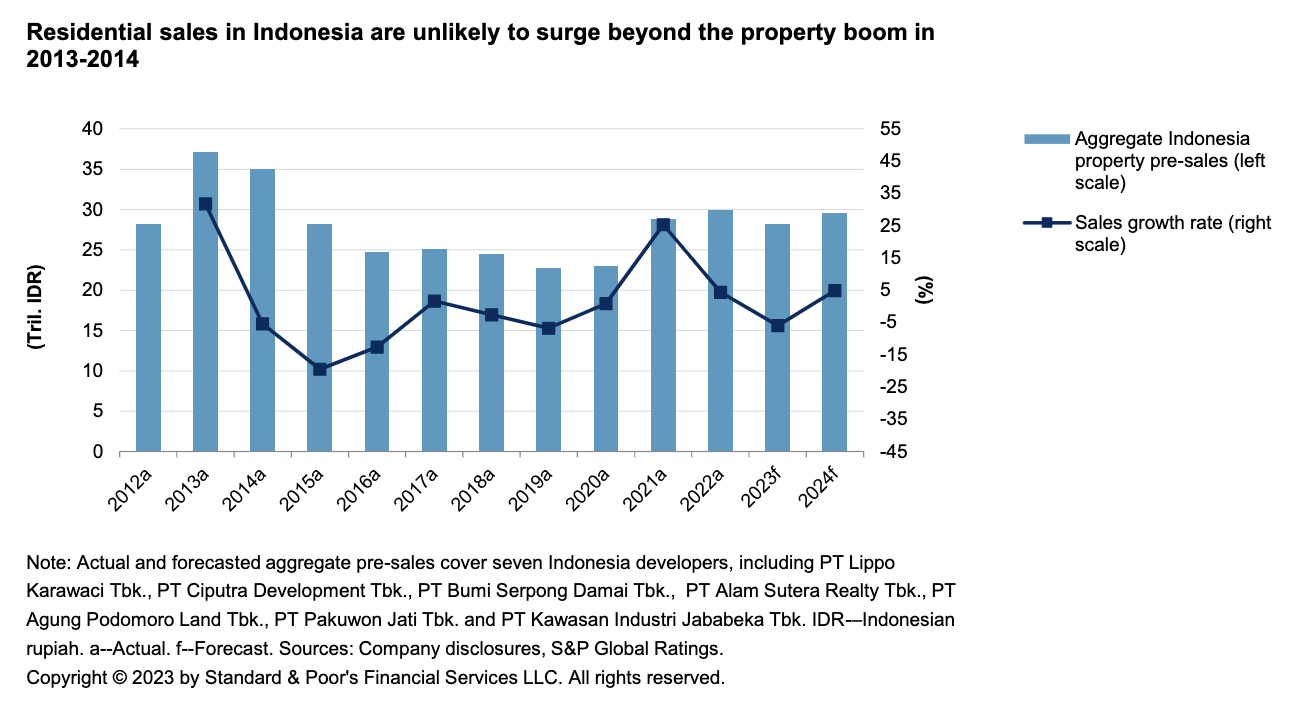 For property developers in Vietnam and Indonesia the path to long-term growth is steep. In the next 12 months they face various hurdles. Among them are funding access and evolving regulatory policies. Property markets in the two markets are a study in contrast. The sales cycle in their residential markets diverge, and they have different buyer profiles, an S&P Global Ratings comparative analysis shows. For Vietnam, tighter credit conditions, project delays and a decline in sales incentives from developers will hurt buyer sentiment and likely lead to a larger contraction in sales than in Indonesia.
—Read the report from S&P Global Ratings
Access more insights on the global economy >
Capital Markets
---
S&P 500 Low Volatility Index May 2023 Rebalance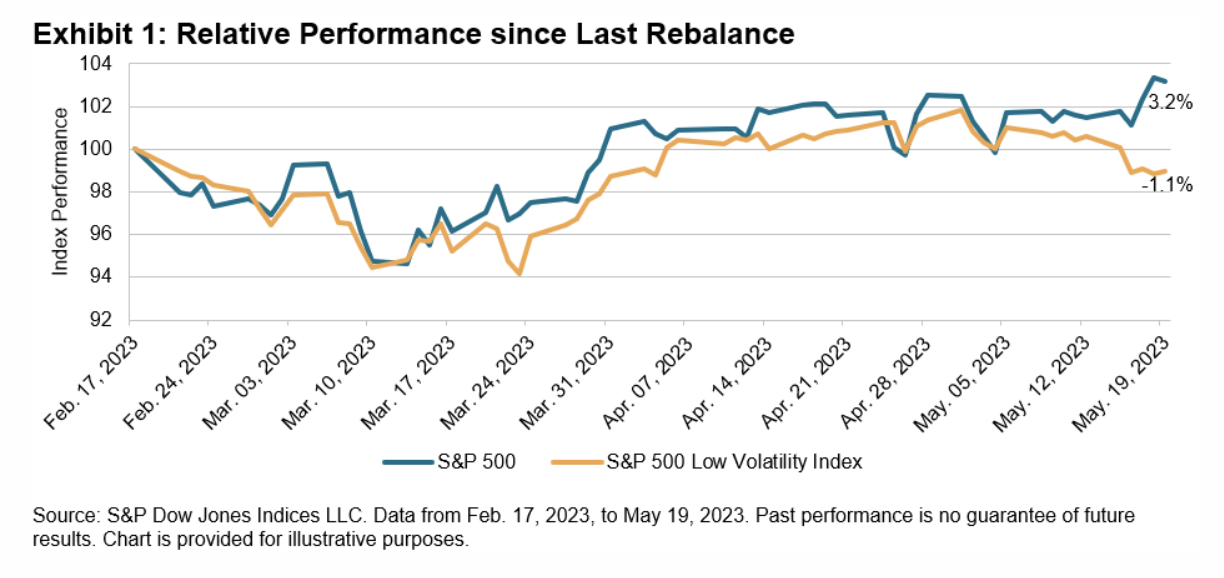 Since the last rebalance for the S&P 500 Low Volatility Index on Feb. 17, 2023, the S&P 500 finished up 3.2% despite briefly dropping in mid-March during the collapse of Silicon Valley Bank. Exhibit 1 shows that during this period, the S&P 500 Low Volatility Index underperformed the S&P 500 by 4.3%. This divergence is mainly due to the significant performance contributions from the mega-cap tech stocks as a result of their strong performance and large weights in the S&P 500.
—Read the article from S&P Dow Jones Indices
Access more insights on capital markets >
Global Trade
---
Battery Next: EV Makers Use Model T Playbook Due To Metal Supply Fears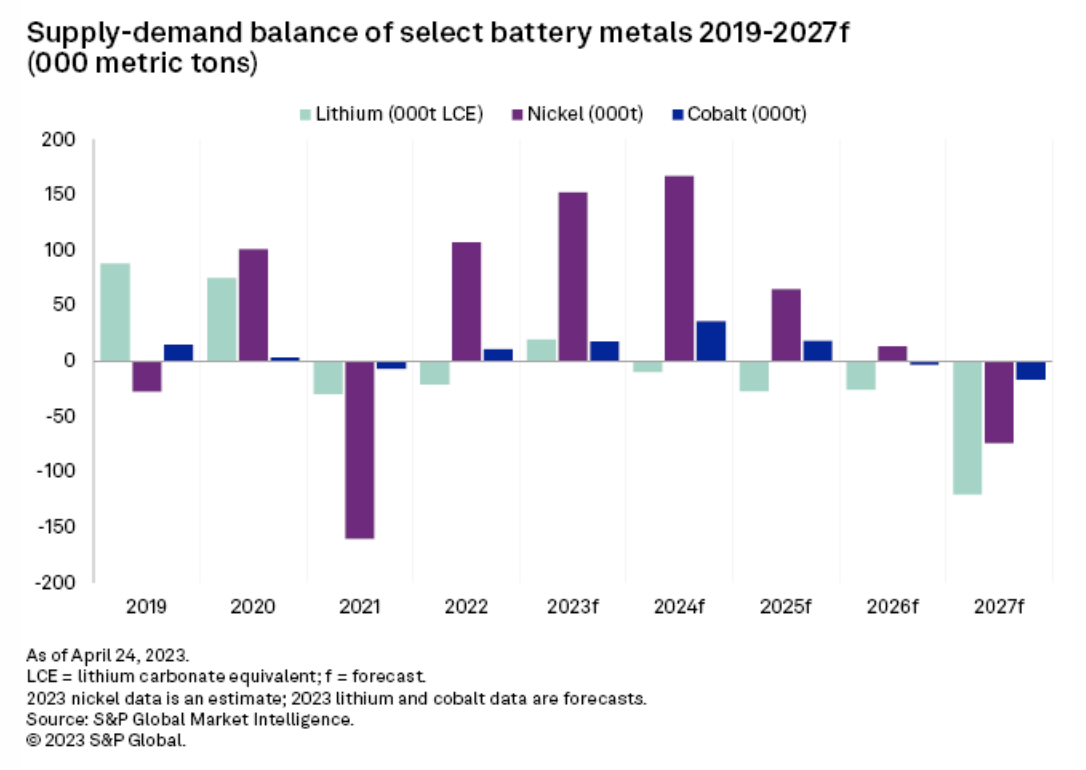 Large mining companies' reluctance to invest heavily in the energy transition has exacerbated supply shortages and high prices for key battery metals, pushing electric-vehicle makers to experiment with new battery chemistries and make unprecedented investments in metal production. Many miners have taken a conservative approach to investing in new battery metal projects. Despite a strong signal from 196 signatories of the Paris Agreement on climate change in 2015, mining companies have been leery of chasing debt-fueled growth that caught some off guard in the 2010s during a protracted bear market. As the energy transition took hold, large miners took advantage of soaring prices to reward shareholders with stock buybacks and dividends.
—Read the article from S&P Global Market Intelligence
Access more insights on global trade >
Sustainability
---
Sustainability Insights: Research: Carbon Capture, Removal, And Credits Pose Challenges For Companies
Each potential decarbonization solution carries its own risks, and companies that pursue CCS, CDR or carbon credits could face considerable uncertainties about financial costs and evolving regulations and voluntary guidance. S&P Global Ratings believes disclosure and transparency by companies about their chosen emissions-reduction solutions, and how they are planning for the associated risks, will better enable analysis of how companies might meet their decarbonization commitments. As solutions continue to evolve, companies that are able to understand and manage potential technical challenges are likely to be better placed to deliver the most efficient solutions, limiting financial costs and reputation risks.
—Read the report from S&P Global Ratings
Access more insights on sustainability >
Energy & Commodities
---
Listen: The Cost Of Wildfires And Inflation On Canadian Crude Production
Canada's crude production has been reduced in recent weeks by wildfires in Alberta, tightening price discounts for some Canadian crude grades. While the bulk of output has returned, and longer-term output is expected to rise 500,000 b/d by 2030, high development costs are threatening that outlook, with Equinor announcing a delay of its Bay du Nord project. S&P Global Commodity Insights' Jeff Mower, director of Americas oil news, discusses these market conditions and their impacts with Americas crude pricing reporter Julia Pecha and Calgary correspondent Ashok Dutta.
—Listen and subscribe to Platts Oil Markets, a podcast from S&P Global Commodity Insights
Access more insights on energy and commodities >
Technology & Media
---
Apple Pushes Into AR/VR Hardware, And Meta Plants Its Feet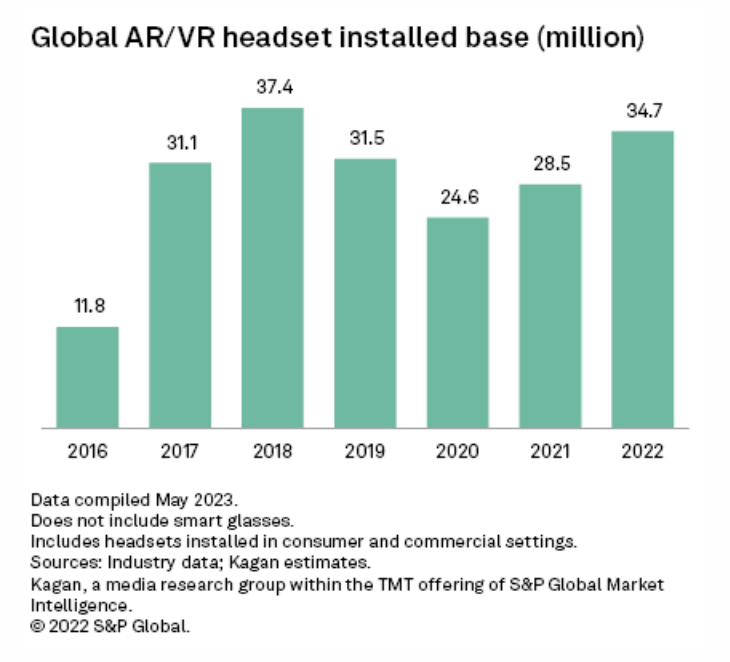 After years of winding up, Apple Inc. on June 5 finally announced that it would throw its hat into the AR/VR hardware market with the Apple Vision Pro. Apple's announcement was the clearest articulation yet of the idea that AR and VR are not just for gaming or niche commercial settings but can be used in daily life as one would use a laptop or a phone. While other VR headset vendors have incorporated or have said they were working on similar features announced for the Apple Vision Pro, Apple has a far stronger sales pitch because its hardware already commands a strong presence in users' daily lives. Potential customers are far more likely to trust Apple in transitioning to a new computing platform as many users have already done just that over the past two decades.
—Read the article from S&P Global Market Intelligence