The expansion of the fixed broadband market remained unabated in the Latin America and Caribbean region during 2022, driven by increased demand for fast and reliable connectivity as well as the continued impact of the COVID-19 pandemic in the form of enduring hybrid work schemes by many companies and the multiplication of streaming services' offerings.
Kagan data shows that the region achieved 50.4% residential fixed broadband penetration as of the end of 2022, after growing at an 8.4% compound annual growth rate (CAGR) in the 10 years to 2022, reaching a total of 103.3 million subscribers. The region's fixed broadband market is expected to keep expanding in 2023, pointing to a yearly expansion of 6.4% to 109.9 million subscribers with 52.8% market penetration.
The Take
The Latin America and Caribbean region achieved 50.4% residential fixed broadband penetration in 2022, and fixed broadband platforms are expected to reach 52.8% of the region's households by the end of 2023.
Fiber optics broadband will account for 53.2% of the Latin American residential broadband market by the end of 2023. Fiber to the home (FTTH) became Latin America's leading fixed broadband technology in 2021 when it surpassed cable as the main platform.
Legacy DSL services are rapidly being phased out in several countries as FTTH takes its place. The platform shrank from nearly 65.0% market participation in 2012 to under 12.0% in 2022. Chile and Uruguay are forecast to have fully phased it out by 2026.
Peru is estimated to be the fastest-growing FTTH market in the region with a 95.2% 10-year CAGR. Colombia, on the other hand, ranks as the fastest-growing ground for residential fixed broadband among the five largest regional markets — Brazil, Mexico, Argentina, Colombia and Chile — at a 10.1% 10-year CAGR as of the end of 2022.
Multichannel services will continue on a downward trend, losing 0.56% subscribers across the region (358,121 subscriptions) in 2023, mostly on the back of direct-to-home (DTH) disconnections.
Apollo Global Management Inc.'s potential buyout of Millicom International Cellular SA for $10 billion could dominate the region's M&A market during the year, despite a slowdown on other transactions.
Brazil remains the largest fixed broadband market in the region, with 36.4% of the total residential fixed broadband subscribers (37.6 million) as of the end of 2022, followed by Mexico with 22.7% (23.4 million) and Argentina with 10.9% (11.3 million). Colombia with 8.8 million subscribers and Chile with 4.0 million complete the top five largest markets across the region, which in turn account for 82.4% of the regional market.
The fastest-growing markets were Bolivia, with a 10-year CAGR of 26.3% to 2022, when the Andean market reached 1.2 million fixed broadband households and penetration of 30.9%, followed by Honduras with 494,111 fixed broadband households and 21.7% penetration, and Paraguay with 692,880 households subscribed and 35.4% penetration.
The slowest-growing markets in the region, in particular Barbados and The Bahamas, are countries where market penetration is already higher than the average for the region, while Puerto Rico is experiencing a long-standing economic slump, compounded by hurricanes in 2017 and 2022 that caused severe damage to infrastructure, as well as steady population migration to the continental US.
FTTH is the name of the game
The fast-growing fiber optics platform is expected to attain a 53.2% participation of the Latin American and Caribbean residential fixed broadband market by the end of 2023 as the expansion of small internet service providers in Brazil and heavier demand across the region have pushed larger and incumbent players to accelerate their own deployment plans in a region that only crossed over 50% fixed broadband penetration in 2022.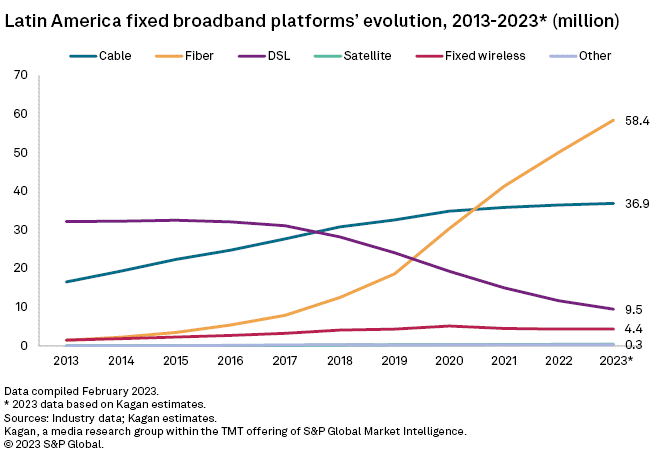 Internet service providers (ISPs) have been increasingly expanding their FTTH networks across the region to cope with demand for fast, reliable internet, targeting new areas of coverage as well as upgrading their legacy DSL and cable offerings with fiber in markets already covered, according to research by Kagan. Brazil, in particular, has been home to an accelerated growth of small and medium-sized fiber-centric ISPs that have challenged the leadership of incumbent companies and helped fiber explode into the market.
The region is moving in line with the results of September 2022 Kagan Global Telco Operator survey, which pointed to operators deploying FTTH to future-proof their networks and address customers' demand for higher internet bandwidth.
The platform most affected by this trend is DSL, the region's top delivery platform for fixed broadband up until 2016, which shrunk at a 9.0% annual rate from 2012 to 2022, from 64.8% market participation to 11.3%. Our research points to the platform approaching the end of its life in Latin America in the coming years, dropping to about 4.1% of the regional market by 2027 as companies, especially former state monopolies across the region, replace the aging, legacy network with fiber.
Some countries are advancing more quickly than others along that road. Chile and Uruguay are expected to fully phase out the DSL platform as soon as 2026, by which time we estimate that market share for FTTH in these markets will reach 79.9% in Chile and 89.3% in Uruguay. DSL is forecast to account for only 0.13% of the Brazilian market by 2027 and 0.01% of the Peruvian market.
Meanwhile, cable reached its largest market share in the region in 2019 at 40.7% of the Latin American market, but it has also been affected by the expansion of FTTH services. Still, we estimate cable to end 2023 with a 33.6% market share in the region, with Kagan estimating a 28.2% regional market share by 2027.
Fixed wireless broadband services are forecast to remain fourth in terms of subscribers in the region, at least until 2027. The platform accounted for 4.2% of fixed broadband subscribers in 2022 across the region and is expected to reduce its participation to 3.5% by 2027, while satellite internet will remain at approximately 0.4% of the market for the foreseeable future, according to our research.
Multichannel decline continues: OTT services on the rise
Multichannel services remain in a downward trend for the region and are expected to continue to lose market penetration for the foreseeable future. As of 2022, penetration of pay TV in the region fell to 34.1% of TV households, from 35.2% in 2021, as part of a trend that has been going on in the region since 2016 when multichannel penetration reached an all-time high of 42.0%.
Multichannel services ended 2022 with 63.9 million subscribers in Latin America and the Caribbean, of which 49.8% were cable subscriptions, followed by DTH services with 36.3% and new generation IPTV services with 13.0% of the market. The rest of the subscribers are served by a mixture of older generation fixed wireless services and pay digital terrestrial television, which account for about 1.0% of subscribers.
Our forecast for the region points to the multichannel industry losing an additional 358,121 subscribers during 2023, a 0.56% year-over-year contraction. The industry will lose 660,260 subscribers in the five years to 2027, a 1.03% decline to 63.2 million subscribers.
Most of the losses for multichannel services in recent years have come from DTH as the service's inability to offer fast internet connection in double- or triple-play bundles has turned customers away from the platform. DTH lost 9.4 million subscribers in the region between 2018 and 2022, while cable lost 3.3 million subscribers in the same period, despite its ability to offer convergent services.
DTH companies have combined offerings of mostly fixed wireless internet across the region in recent years to counter the decline. DIRECTV parent company Vrio Corp. announced plans to launch broadband services in Argentina, Chile, Brazil, Peru and Ecuador. The company has offered fixed wireless broadband services in Brazil, Colombia and Argentina for a few years, with limited reach — Argentina also has some locations with satellite and fiber broadband — and launched fiber broadband services in Brazil in 2022 by leasing network capacity from Telefônica Brasil SA spinoff Fibrasil Infraestrutura Fibra Otica SA.
The bright spot for the market shines on newer-generation, FTTH-based IPTV services, which have been sprouting in several countries over the years and combine the ability to integrate pay TV, fast internet and access to downloaded content as well as OTT services into one platform. IPTV services gained 5.3 million subscribers across the region between 2018 and 2022 to 8.3 million households. IPTV is forecast to continue that trend in the near future and will reach 9.4 million subscribers in 2023 and 12.1 million by the end of 2027, a 45.2% increase.
Argentina, Paraguay and Brazil have shown the fastest growth in IPTV services deployment, showing 134.4% 10-year CAGR for Argentina from 2012 to 2022, followed by Paraguay with 113.7% and Brazil with 74.4%. The largest market for IPTV services is still Mexico, with 2.96 million IPTV subscribers at the end of 2022, followed by Brazil with 1.26 million and Chile with 1.11 million subscribers.
A good part of the loss of subscribers for traditional multichannel providers in Latin America and the Caribbean has come from the increased availability of OTT services such as Netflix, Amazon Prime Video, Disney+ and others, which became a staple during the years of the COVID-19 pandemic. Netflix showed a 4.3% increase in subscribers in 2022 in the region to end the year with 41.7 million, according to our report discussing Netflix global subscriber estimates.
Millicom-Apollo deal could dominate M&A landscape in 2023
After a few years of healthy activity in Latin America, the technology, media and telecommunications M&A landscape could show a bit of a slowdown as newly created companies, especially neutral networks in the Brazilian market, start consolidating their business models and facing investors' demands after launching IPOs.
The main event for 2023 could be the reported takeover by Apollo Global Management and the Claure Group of Millicom International Cellular in a transaction that could be valued at $10 billion. Luxembourg-based Millicom is one of Latin America's largest telecommunications and multichannel companies, operating under the Tigo brand, and serves 4.9 million fixed broadband and 3.8 million multichannel subscribers as of the end of 2021, as well as 41.7 million mobile customers. The company confirmed Jan. 25 that a potential acquisition was being discussed but did not clarify any terms, adding that there was no certainty that it could materialize.
Besides that potentially massive deal, the rest of the activity seems to continue to focus on expanding neutral network operators, with several mobile sites' acquisitions in Chile and Brazil as well as the continuation of fiber optics deals mainly in Brazil.
Vrio Corp, owner of DTH provider Sky Brasil, also announced in April 2022 its intention to buy Oi SA's satellite postpaid customer base for $156.6 million at the time the deal was announced.
The deals for infrastructure assets seem to reinforce the trend for consolidation of open, neutral networks operators, such as Phoenix Tower International LLC, which are better able to monetize costly assets such as towers and fiber-optics backbones, while ISP providers, multichannel operators and others focus on providing services to the end customers.
5G starts to gain traction across the region; spectrum auctions line up
New-generation 5G services are starting to gain momentum across the Latin American and Caribbean region as governments have been advancing on retrieving and repurposing spectrum via the ongoing shutdown of analog free-to-air TV for digital terrestrial television deployments and by the phasing out of older mobile technologies.
As of the end of 2022, 12 countries across the region, not counting the US Virgin Islands, already saw deployments of commercial 5G services. Brazil has five operators with América Móvil SAB de CV's Claro Brasil, Telefônica's Vivo, Oi S.A., TIM Brasil Serviços e Participações S.A. and Algar Telecom SA Chile has three operators: Empresa Nacional de Telecomunicaciones SA (Entel), Telefonica Moviles Chile SA and WOM SA Mexico and Puerto Rico have three operators each, with AT&T operating 5G in both countries, and América Móvil and Telefónica (using AT&T's network) in Mexico. T-Mobile and Verizon complete the roster in Puerto Rico. In Peru, the recent launch of Movistar took the country to three operators, including Entel Perú SA and Claro Perú.
The Dominican Republic (Altice Dominicana SA and Claro Dominicana) and Guatemala (Claro Guatemala and Millicom International Cellular's Tigo) have two operators each. Argentina (Telecom Personal SA), Colombia (DIRECTV Colombia Ltda.), Suriname (Telesur), Trinidad & Tobago (Telecommunications Services of Trinidad and Tobago Ltd.'s Bmobile), and Uruguay (Administración Nacional de Telecomunicaciones) have one each.
Other countries, such as Costa Rica and Ecuador, could be next in line for deploying their 5G services and are in the process of setting up the timelines for spectrum auctions, according to a recent report by the UN's Economic Commission for Latin America and the Caribbean.
2022 LatAm top groups: Traditional pay TV losing battle vs. streaming
Read More
Latin American multichannel, broadband market 2021 recap
Read More