The multichannel pay TV market in the Asia-Pacific region continued to post steady growth in subscribers and revenue in 2022, while the growth trends in developed and developing regions diverged, and multichannel platforms signaled different potentials.

* The Asia-Pacific multichannel pay TV subscription and revenue are projected to grow modestly in the coming five years.
* Emerging markets tend to drive subscription growth with increasing demand for IPTV and direct-to-home TV services.
* IPTV remains the primary growth driver in most markets with packages bundling with over-the-top and self-run streaming services.
* Multichannel penetration is estimated to drop in the coming decade.
* The Asia-Pacific economy has recovered from the impacts of COVID-19, but export-reliant economies will see concerns under the U.S.-mainland China technology war.

The Asia-Pacific region amassed 696.08 million subscribers by year-end 2022, representing 1.0% growth from 2021. Subscription revenue grew by an estimated 2.1% in the same year, reaching $35.93 billion by 2022.
Our model suggests that multichannel subscribers in the Asia-Pacific region will keep growing at a 10-year CAGR of 0.7% by 2032, compared to a 10-year CAGR of 1.0% by 2028. The penetration of Asia-Pacific multichannel TV was estimated to drop from 68.6% in 2022 to 59.0% in 2032.
The mild growth trend indicates that the traditional pay TV market still sees opportunities despite competition from online streaming services. However, the declining CAGR and penetrations suggest stagnation of the Asia-Pacific multichannel market in the longer term.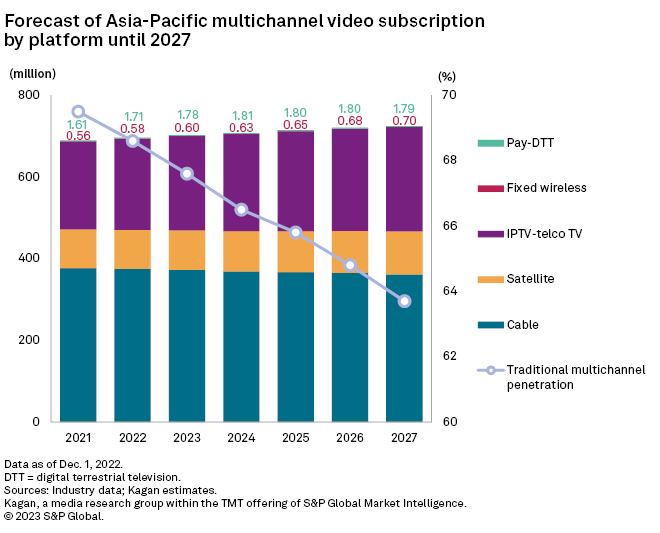 Emerging markets drive growth
Despite a larger overall subscriber base, multichannel has been declining in nearly all advanced economies of the region, which include Australia, Hong Kong, Japan, Malaysia, New Zealand, Singapore and Taiwan. Vietnam was a new market that posted subscription loss in 2022. South Korea posted a subscription increase due to its relatively strong IPTV growth.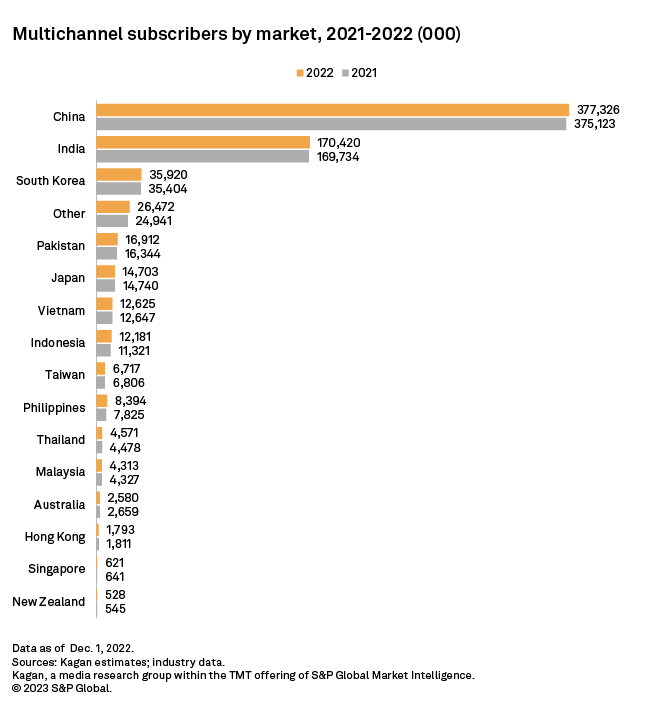 Most of the declining multichannel markets have one or more of the following commonalities: market saturation with high service adoption, a rising over-the-top sector and a strong free broadcast TV presence.
Emerging markets including mainland China, India and most of Southeast Asia continued to post growth in the traditional multichannel space. Indonesia, the Philippines and Pakistan posted the highest subscription growth from 2021 to 2022, with yearly increases of 7.6%, 7.3% and 3.5%, respectively. However, Vietnam posted a loss in overall multichannel households mainly due to faster loss in direct-to-home, or DTH, cable and pay digital terrestrial TV, or DTT, subscribers compared to relatively slower gains in IPTV subscriptions.
Mainland China and India remained the top two largest multichannel markets of the region by 2022. Mainland China boasted the world's largest IPTV subscriber base, with three state-owned telcos serving an estimated 179.7 million subscribers as of 2022. India DTH subscriptions topped its multichannel market with an estimated 68.1 million subscribers by the end of 2022.
IPTV operators explore new revenue streams
Cable continued to lead the Asia-Pacific multichannel subscription market share with 53.9% of the total 696.08 million subscribers in 2022, followed by IPTV with 32.1% of the market share. This also translated into revenues, as cable and IPTV also topped the Asia-Pacific multichannel revenue market with 55.6% and 18.1% shares, respectively.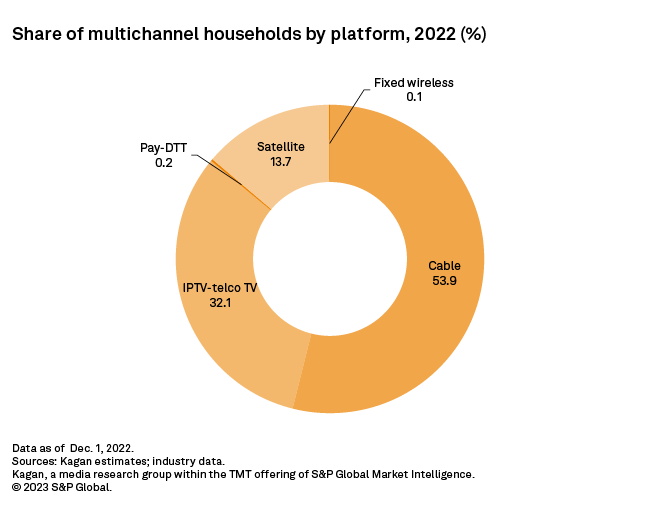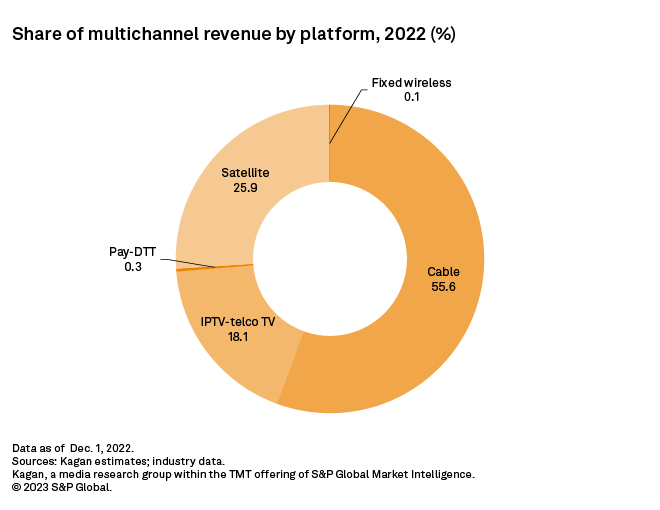 Kagan estimated that IPTV markets, except Japan, India and Singapore, have all expanded subscriber bases in 2022. IPTV amassed 223.29 million subscribers by the end of 2022, according to our model, and the number of subscriptions is estimated to rise at a CAGR of 2.7% in the next five years.
Mainland China and South Korea topped the sector with the most IPTV subscribers, while Thailand IPTV subscription was estimated to have grown 26.1% year over year during 2022, making it the fastest-growing IPTV market.
Thailand telco incumbent Advance Info Systems Inc., or AIS, led the growth of IPTV subscriptions in the market with an estimated 675,554 subscribers by the end of 2022. Similar to other IPTV operators, the telco benefited from the fast growth of residential broadband adoptions and its strategy to bundle its IPTV service, AIS Play, with broadband, mobile and OTT streaming services. AIS partners include Viu International Ltd., Tencent Holdings Ltd.'s WeTV and Walt Disney Co.'s Disney+ Hotstar since 2021.
AIS IPTV subscription was estimated to have increased by 18.9% year over year in 2022. Kagan's model suggests the AIS IPTV subscription growth should slow down, with a five-year CAGR of 4.5% by 2027.
China Telecom Corp. Ltd. was still the largest IPTV operator in the Asia-Pacific region with 124.4 million subscribers estimated by 2022. KT Corp. also topped the South Korean IPTV market with an estimated 8.3 million subscribers a year ago. Kagan estimates China Telecom and KT Corp.'s IPTV subscriptions will grow at a five-year CAGR of 1.7% and 1.5%, respectively.
In response to a growing OTT sector, some IPTV operators have developed their IPTV into virtual multichannel, or VMC, services that provide the same linear and video-on-demand content to subscribers via streaming platforms, such as web browsers, mobile apps and TV boxes. Examples include Thai AIS Play, Singaporean StarHub TV+ and Australian Foxtel Australia Pty. Ltd.'s Foxtel Now. VMC services help IPTV operators attract new users and earn extra revenue streams. See our discussion of the details of their VMC initiatives.
DTH subscriptions were estimated to have grown 0.3% year over year, driven by the Philippines and Indonesia. India remained the largest DTH market by the end of 2022, despite an estimated slight subscription loss of 0.6% year over year, due to competition by online streaming services. Indian DTH operators such as Bharti Airtel Ltd. and Tata Play also planned to invest in online streaming portals. See our discussion of the details.
The number of cable subscriptions decreased by 0.5% year over year due to the strong presence of IPTV and online streaming services. Half of the markets posted subscription drops in 2022, which mostly are saturated multichannel markets with high OTT penetration, such as Australia, Taiwan, South Korea and Hong Kong. Vietnam and Thailand also recorded cable cord cutting, while both markets' numbers of IPTV households were estimated to have grown double digits in 2022.
Fixed wireless video was estimated to hold 578,074 subscriptions by the end of 2022 and is projected to grow at a five-year CAGR of 3.8%. Pay DTT video subscription is expected to grow at a CAGR of 0.9% during the same period.
Affordability, revenue and penetration
Asia-Pacific multichannel video services have been generally affordable, keeping affordability lower than 1% on average by the end of 2022. It means a household spends less than 1% of its annual gross income on pay TV service. The affordability is projected to stay the same or more affordable as the multichannel average revenue per user is growing more mildly compared to consumers' gross income.
Asia-Pacific multichannel monthly ARPU was estimated to be $4.32 by the end of 2022, compared to $4.27 in 2021. Kagan anticipates ARPU to continue to rise moderately in the next five years.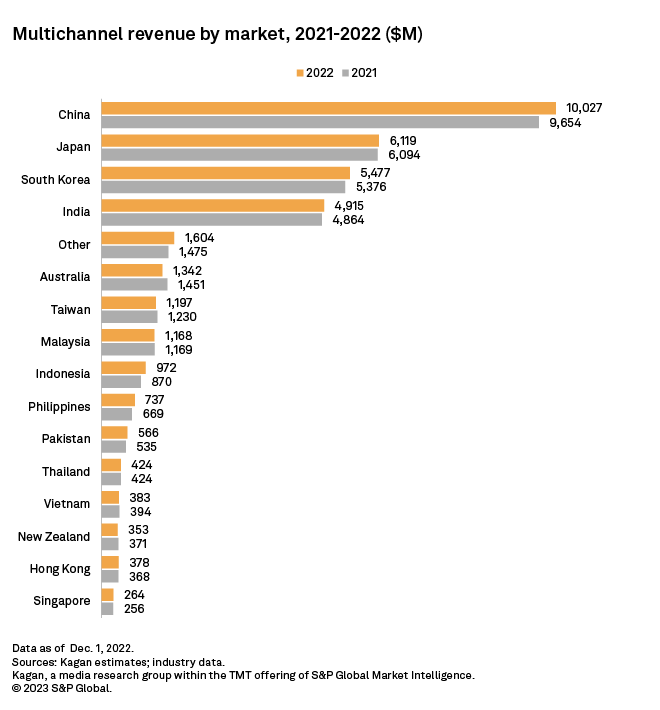 Asia-Pacific multichannel revenue totaled $35.93 billion by the end of 2022, representing 2.1% growth year over year, according to Kagan's estimate. Mainland China accounted for 27.9% of the region's total revenue, leading the market. Japan and South Korea ranked second and third with $6.12 billion and $5.48 billion, respectively. Kagan estimates the five-year CAGR of the Asia-Pacific multichannel revenue to be 2.7% by 2027.

However, the penetration of the multichannel subscription is going down in most of the markets. South Korea, Pakistan, the Philippines, Indonesia and Thailand are the only five markets, out of 15, that saw penetration increase from 2021 to 2022.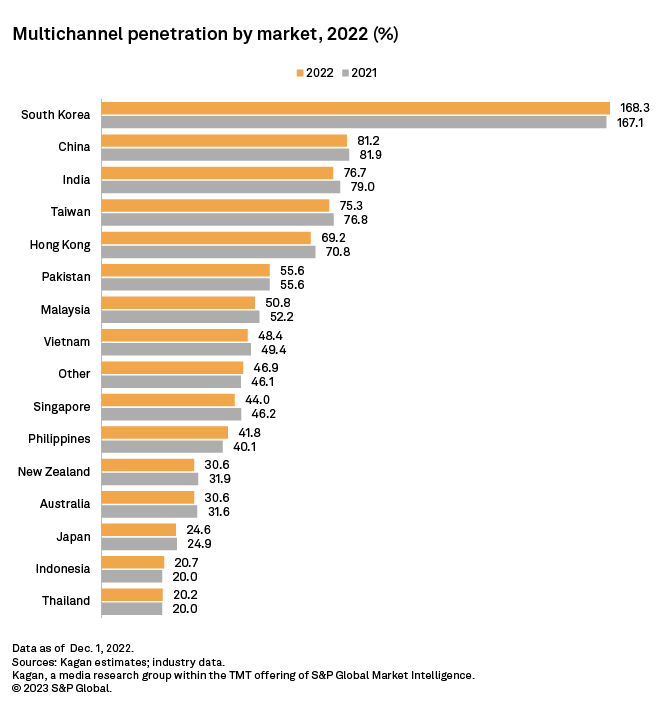 Half of the Asia-Pacific multichannel markets' penetrations were above 50% in 2022. South Korea was the only market that recorded a penetration above 100%, mainly due to high IPTV penetration at 92.9% and overlapping cable subscriptions. Some South Korean households, mainly in apartments, have cable cords installed but are not in use. The market's IPTV services, bundling with abundant online streaming products and broadband choices, were very affordable, accounting for 0.5% of a subscriber's gross income. Therefore, subscribers tend not to bother suspending their services despite spending more time on online streaming.
Thailand was estimated to have the lowest multichannel TV penetration at 20.2% by 2022 and is projected to see penetration grow, with IPTV penetrating more households in the coming decade.
Economic and advertising recovery continues
The Asia-Pacific region's economy has recovered from the impact of COVID-19 as most of the markets dismantled restrictions for cross-border travel and social activities in 2021 and 2022.
An exception from the rest of the Asia-Pacific region, major cities of mainland China went through strict lockdowns in most of 2022, but the lockdown measures were lifted by the beginning of 2023. As the Chinese government is likely to further push social activities back to normal and the Chinese central bank to keep the interest rate stable in 2023, we expect Chinese consumption to be encouraged by the loosened policies.
The U.S.-mainland China technology war is expected to continue in coming years after the U.S. posted more technology export controls on mainland China in October 2022, the industrial parts acquisitions by Chinese manufacturers have seen new barriers, which clouds the future growth of Asia's largest economy in terms of aggregated GDP. Mainland China's GDP grew 8.1% year on year to $17.73 trillion in 2021, according to the World Bank.
Meanwhile, economies reliant on semiconductor exports such as South Korea and Taiwan will see their growth affected by the U.S. restriction on mainland China, their largest export destination, according to data by the Observatory of Economic Complexity. In 2021, South Korea's GDP grew 4.1% year over year, according to the World Bank.
India's GDP grew 8.7% year over year to $3.18 trillion in 2021, the highest GDP increase in 2021 among the 15 Asia-Pacific markets we studied. India reportedly surpassed mainland China to be the most populous market by the end of 2022 and is expected to see rising domestic consumption power, capital expenditure, infrastructure investment and import demand.
East Asia, Pacific, and South Asia in combination recorded average GDP growth of 6.9% from 2020 to 2021, according to the World Bank's data.
The Asia-Pacific region's advertising spending returned to a normal growth rate, a year-over-year growth of 5.2% to $247.19 billion by the end of 2022, according to data from Magna Global. This is compared to the 18.1% growth rate from 2020 to 2021, a bounce-back for the advertising market after the COVID-19 hit.
Cinema ad spending led the growth of the overall ad market with a 30.4% year-over-year increase. Digital ad spending accounts for 68.2% of the overall market, encroaching ad spending markets of outdoor, print, TV and radio. By 2027, digital ads will continue to lead ad spending in terms of market share with a CAGR of 7.6%.
Global Multichannel is a service of Kagan, a media research group within S&P Global Market Intelligence's TMT offering.
This article was published by S&P Global Market Intelligence and not by S&P Global Ratings, which is a separately managed division of S&P Global.
Gain access to our full news & research coverage and the industry-specific data that informs our insights.
Request Follow Up