Shippers — often called beneficial cargo owners or BCOs — are eager to outsource their supply chain and logistics technology operations. These enterprises that count the movement of goods as central to their operations have multimillion-dollar digital transformation budgets that are growing at double-digit percentages. Vendors specific to logistics technology, as well as those providing general IT infrastructure and software for industries, could land massive amounts of new business supporting the digitalization of shipping at such firms, spanning a range of industries including consumer-packaged goods, industrial and high-tech components, and food and beverage.
According to our Supply Chain Digital Transformation Enterprise Survey 2023, about seven in 10 shippers today have a digital transformation strategy in place. While some of that high number may be due to how individual companies define "digital transformation" or what it means to have a strategy in place, there is no doubt that the companies participating in the supply chain and logistics sector have undergone technology disruption that started before the COVID-19 pandemic and has accelerated since.
The survey asked 500 enterprise shippers, logistics service/technology providers and transportation carriers (trucks, planes, ships, etc.) about their technology needs and plans. For enterprise shippers, specifically, the median digital transformation budget was $7.5 million, significantly higher than that for logistics providers and carriers — and shippers' digital transformation spending is poised to continue increasing, at an average of 20% this year.
Perhaps the most telling finding is the high level of transportation technology outsourcing in the shipper community. About seven in 10 currently outsource their transportation technology, with another 28% planning to do so within two years. Particularly heavy users of outsourcing among shippers include those in the medical/pharmaceutical and food and beverage industries.
Among the digital use cases adopted by shippers, purchase order management is the most popular, followed by supply chain planning and real-time tracking. Meanwhile, projects such as distribution yard management and last-mile delivery technology have comparatively low adoption rates today, but are poised to increase greatly in coming years (Figure 1).
Figure 1: Digital transformation use cases among shippers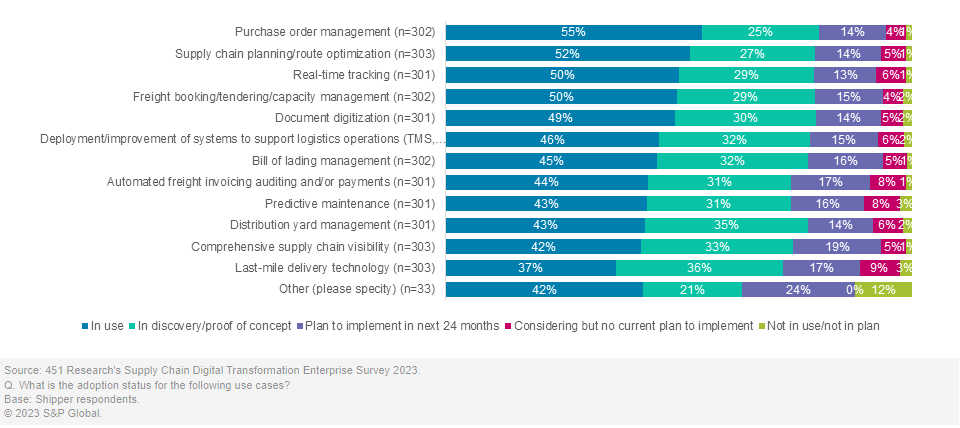 Track disruption, innovation, and digital transformation across the Tech, Media & Telecom space.
Learn More